The Conference Carolinas Tournament started up today with the quarterfinals as the semifinals will take place on Friday before the championship on Saturday. All of those will be played at the highest seed remaining – which is the #1 seed anyway – in King, as the four winners will all travel. Below is the updated bracket as well as information about all four of those winners and their matches in achieving a postseason victory.
Advancing The Bracket: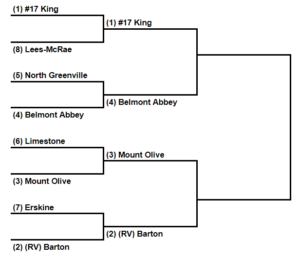 (1) #17 King Def. (8) Lees-McRae 3-0 (25-12, 25-12, 25-15)
King made quick work of the lowest seed in the tournament to reach the Conference Carolinas semifinals, as now they look to win and make it further than they did a year ago. They've got to feel good about the way they're playing, as it was an all-around dominating performance with 13 aces, a 6-2 edge in blocks and a .322 hitting percentage compared to a -.072 mark from the opposition. Jeff Sprayberry continued the rhythym he's had all season long too, with a match-high nine kills on a .438 mark to pair with five aces.
(4) Belmont Abbey Def. (5) North Greenville 3-1 (25-20, 25-21, 20-25, 25-23)
These two teams actually met in their regular season finales too, and it also went four sets. The difference was that NGU came out on top, but it must have given Belmont Abbey a good look at their opponent and how to approach them. NGU actually won the block and ace battle, but a lack of termination offensively and strong Belmont Abbey floor defense kept North Greenville to a .170 mark compared to the .243 clip put together by BA. That was enough for a close four-setter that almost went five, as Belmont Abbey now gets a crack at King in the Conference Carolinas semifinals.
(3) Mount Olive Def. (6) Limestone 3-0 (25-21, 25-18, 25-19)
The Trojans continued their strong run in the Conference Carolinas as they are now 12-1 against the non-top two teams. The only issue is they advance to the semifinals to take on one of those top two, who they are 0-4 against. Still, they took Barton to five sets earlier this season and if they can play defense like they did against Limestone (who hit .075) with an astounding 44 digs and 10 blocks in three sets, they should have a chance. Still they'll need some offensive contributions from all-around as they hit just .204 in this one, but if Robert Poole (nine kills, .185, four digs) can prove to have one of his efficient matches ahead, UMO showed plenty to support it in this match.
(2) (RV) Barton Def. (7) Erskine 3-0 (25-15, 25-18, 25-18)
Barton's offense overpowered Erskine in this one, as the co-Conference Carolinas regular season champions hit .338 for the match. When adding seven aces and a 7.5-6 advantage in team blocks, it was too difficult for Erskine to overcome as they hit a negative mark of -.014. Barton will look for the offense led by setter Oscar Fiorentino (36 assists) and attacker Angelos Mandilaris (15 kills, .500, three aces) to continue rolling into the semifinals with a difficult matchup against Mount Olive ahead.