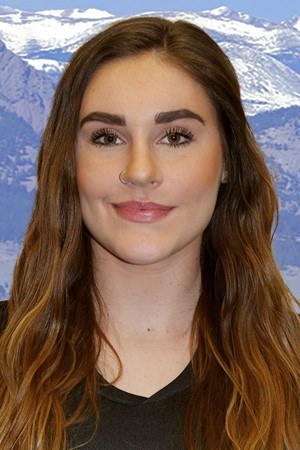 Former Iowa State libero Branen Berta has transferred to Colorado for the 2017 season. Berta is a native of Aurora, Colorado, meaning that this will be a return closer to home for her. She will have 1 year of eligibility remaining, and is already listed on Colorado's spring volleyball roster.
Berta started the season as Iowa State's starting libero last year, making 7 starts and recording a season-best 26 digs against #18 Creighton. That honor earned her a Big 12 Defensive Player of the Week honors. She would eventually be supplanted by redshirt freshman Hali Hillegas, who played in all 29 matches for the Cyclones and started the final 16 at libero. Hillegas was a unanimous selection to the Big 12 All-Freshman team.
In total, Berta played in 73 games for Iowa State, hampered by an injury during her sophomore season that cost her the entire month of November.
In her career, Berta averaged 1.97 digs/set and had 44 aces from the service line. Her service game will bring a unique angle for the Buffalos: she finished her sophomore season ranked 5th in the Big 12 with .30 aces/set, using a lethal serve. While her production from the service line fell during her junior season, she has a very fast knuckle-ball jump-float serve with no spin – consistently – which is rare at the division one level.
Colorado has two liberos currently listed on their roster, Gabby Carta-Samuels and Rachel Whipple. Both saw most of their action last season at defensive specialist. Colorado graduated their co-captain and the school's all-time digs leader Cierra Simpson, who finished with 1,840 – exactly 300 more than the next-closest player in program history.
The Buffaloes finished last season a disappointing 14-16, and just 6-14 in the Pac-12 after spending the early part of the year ranked in the top 25. That included losing 9 of their last 11 games.
Colorado will be highly rated again early in the season, however. While they graduate 4 players, including a good complementary player in middle blocker Katelyn Cuff, they didn't have any seniors last season with more than 100 kills of 50 blocks.