Western Athletic Conference Tournament
Nov. 16-18, 2017
Edinburg, Texas
Cal State Bakersfield finished off a run through the WAC Tournament with a four-set win over No. 2 seed and tournament host Texas-Rio Grande Valley on Saturday.
The victory, the Roadrunners' second upset in as many days, secures the team its first NCAA Tournament berth since 2014.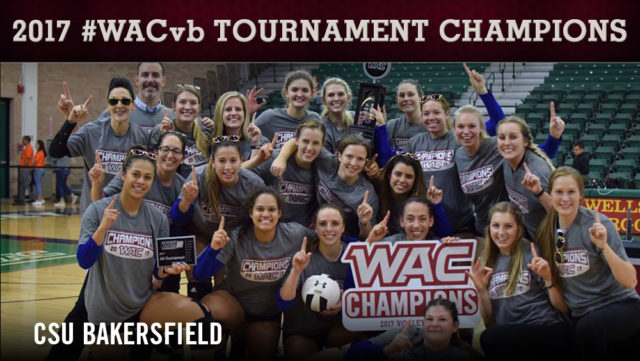 MATCH STATS
Cal State Bakersfield def. Texas-Rio Grande Valley 3-1 (25-27, 25-18, 30-28, 25-18)
Cal State Bakersfield moves to 19-13; UTRGV falls to 17-12
WAC CHAMPIONS 2017!!!!!! We did it! #lockedin #allin #together #waccompete @wacsports @ UTRGV -… https://t.co/xLMSoWWP9j

— CSUB Volleyball (@CsubVolleyball) November 19, 2017
Key Stats: Ten aces and 14 point advantage in kills (61-47) lifted CSUB to victory. The Roadrunners outhit the UTRGV .183 to .167 and outserved them 10-4. UTRGV won the block 11-10.
Key Players: Four CSU Bakersfield players notched double-digit kills led by redshirt senior middle blocker Sydney Haynes, who downed 19 kills, while hitting at a team-best .459 clip. Senior outside Aleksandra Djordjevic (14), junior right side Mattison DeGarmo (12) and freshman outside Desiree Sukhov (10) followed. Djordjevic rounded out a double-double with 12 digs and a team-best four blocks, while Sukohov also notched double-digit digs with 11. Junior outside Briannah Mariner and redshirt senior middle Haylee Roberts posted four blocks apiece, while senior libero Emily Lopes led the backcourt with 19 saves.
Junior outside Ragni Steen Knudsen led UTRGV with 18 kills and 11 digs, while sophomore middle Barbara Silva added 11 kills and six blocks. Junior middle Alexandra Ecker paced the team at the net with eight stuffs, while junior libero Gysell Zayas notched 19 digs.
It Was Over When: After nine ties, last at 11, Bakersfield pulled away with an 8-2 run. Mariner turned in three kills and a block, while three UTRGV errors also aided the Roadrunner charge, which made it 19-13. UTRGV was within four twice, last at 21-17, but CSUB wrapped up the set on a 4-1 run. A Sydney Wicks ace and Haynes kill set up the final point, which came on a Knudsen hitting miscue.
How They Got There: CSUB bested Seattle U via sweep in Thursday's first round, then ousted regular season champ and No. 1 seeded New Mexico State in four sets on Friday. UTRGV earned a first round bye as the No. 2 seed and topped No. 3 Utah Valley in four sets on Friday to make the title match.
WAC All-Tournament Team
Fabiana Andrade, CSU Bakersfield
Madison Dennison, Utah Valley
Sydney Haynes, CSU Bakersfield
Ragni Steen Knudsen, UT Rio Grande Valley
Bojana Mitrovic, UT Rio Grande Valley
MVP: Aleksandra Djordjevic, CSU Bakersfield
PRESS RELEASES
Courtesy: Cal State Bakersfield Athletics
After pulling the upset on Friday night in the semifinals over Western Athletic Conference Champion New Mexico State, the CSU Bakersfield volleyball team was looking for back to back upsets and an automatic bid to the NCAA tournament with a victory over tournament host and second seeded UTRGV.
The first set was back and forth early, but after an Aleksandra Djordjevic kill, UTRGV had to take the first timeout of the match with the `Runners taking a 10-6 lead.  UTRGV made a run and the match was tied at 13.  It remained tied at 15, 16 and 17.  `Runners won two points in a row and then UTRGV answered to make it 19 all.  Tied at 20.  21.  Just incredible and an amazing atmosphere at UTRGV.  22-22.  Djordjevic made it 23-23 with a kill.  UTRGV made it 24-24 fighting off a CSUB set point.  Tied at 25, this time CSUB fending off a UTRGV set point.  UTRGV would get a kill from Dubravka Vukoja to take the first set 27-25.
After the first set, CSUB Senior Sydney Haynes led the `Runners in kills with four and senior Emily Lopes led the `Runners in digs with three.  Sophomore Sidney Wicks led CSUB with six assists.
UTRGV went on an early 4-1 run to take a 5-2 lead to start the second set and CSUB took a timeout to try to stop that momentum.  UTRGV would jump out front 9-4, but CSUB would go on a 3-0 run to cut the lead to 9-7 and UTRGV took a timeout.  `Runners fought all the way back and went on a 6-1 run to tie the match at 10.  And the run of back and forth started at 10-10.  The set was tied at 10, 11, 12, 13, 14 and 15.  Two teams playing like they know what is on the line.  And they do.  The `Runners go on a 4-0 run to force UTRGV to use their final timeout of the set and CSUB led 18-15.  The run continued to 6-0 before UTRGV could stop it and CSUB led 20-16.  `Runners trailed 15-14, but finished the set on an 11-3 run to tie the match at one with a 25-18 second set victory.
Haynes DOMINATED the second set.  She had nine kills, NINE, in the second set alone to lead all players with 13 kills through two sets.  Wicks had ten assists in the second set and led CSUB with 16 after two.  Djordjevic has had double doubles in the first two rounds of the WAC tournament and the senior had four kills and seven digs through two.
The `Runners doubled up UTRGV early in the third set by taking an 8-4 lead.  CSUB would take an 11-6 lead and UTRGV would call their first timeout of the set.  The `Runners would take a 17-8 lead and at that point CSUB had won 28 of the last 39 points since the middle of the second set, when they trailed 15-14. But the host's would go on a 6-0 run to cut CSUB's lead to 17-14.  UTRGV would continue their run and it was a 12-3 run to tie the set at 20-20.  Then, of course, 21-21.  22 all.  `Runners made it 24-22, but UTRGV would win two in a row to make it 24 all and fend off two set points.  25-25, 26-26, 27 all.  Unbelievable volleyball from both teams.  The `Runners fight off UTRGV set point and tie it at 28 and CSUB would win the next two points to win the third set 30-28.
Djordjevic gets the set winning kill and after three gets her third consecutive double-double of the tournament.  10 digs and 11 kills. Lopes, who did not make the first or second All WAC Conference team, had 15 digs through three sets and the senior is now fifth all time in WAC history for digs in a season.
The fourth set, as expected, was back and forth and was tied every time all the way to 7-7.  UTRGV would take a timeout with the `Runners taking a 13-11 lead.  CSUB would go on a 4-1 run and force UTRGV to take their final timeout with the `Runners leading 17-12.  `Runners took a 20-14 lead, but back to back UTRGV points and CSUB would take a timeout with a 20-16 lead and five points away from the NCAA tournament.  The `Runners would go on and win the WAC tournament with a 25-18 victory in the fourth set and earn the automatic bid to the NCAA tournament.  The `Runners won three consecutive sets to win the Championship, 25-27, 25-18, 30-28, 25-18.
CSUB was led by Haynes 19 kills, Djordjevic ends the match with 14 kills and 12 digs and Lopes had 19 digs.  Djordjevic was voted WAC tournament Most Valuable Player and deservedly so.
Giovana Melo, CSUB's Director of Volleyball received a Gatorade bath right before being interviewed.  After drying off, Melo was asked what it meant to her and the girls.  Melo said, "I'm seriously out of words.  The girls have fought so much throughout the whole year and it means everything.  It means a lot to me because of them."
The crowd of 1,634 fans at the championship match is a UTRGV record for a volleyball match and those fans were treated to an instant classic.
The `Runners will watch the NCAA tournament selection show to see where they play in the first round of the NCAA tournament on Nov. 26 at 6 p.m. on ESPNU.
Courtesy: UTRGV Athletics
The second-seeded University of Texas Rio Grande Valley (UTRGV) volleyball team fell to fourth-seeded CSU Bakersfield 1-3 (27-25, 18-25, 28-30, 18-25) in the Western Athletic Conference Tournament Championship match on Saturday at the UTRGV Fieldhouse in front of record crowd of 1,634.
UTRGV (17-12) finishes the season 11-1 at home after welcoming a program-record 8,861 fans to the UTRGV Fieldhouse.
Junior Ragni Steen Knudsen and senior Bojana Mitrovic earned All-Tournament Team honors. Knudsen averaged 5.50 kills and 2.50 digs per set while Mitrovic averaged 3.13 kills and 2.63 digs per set during the tournament.
In this match, Knudsen led UTRGV with 18 kills and 11 digs for her 10th double-double of the season. Sophomore Barbara Silva recorded 11 kills on .308 hitting with a season-high six blocks. Junior Alexandra Ecker posted a season-high tying eight blocks.
Sydney Haynes led CSU Bakersfield (19-13) with 19 kills on .459 hitting. Aleksandra Djordjevic recorded 14 kills, 12 digs and four blocks. Mattison DeGarmo finished with 12 kills. Desiree Sukhov recorded 10 kills on .318 hitting with 11 digs and four aces.
CSU Bakersfield led by as many as five in the first set, going up 11-6. UTRGV responded by winning the next four serves as part of a 6-1 run to tie the set at 12. Neither team led by more than two the rest of the way. CSU Bakersfield had the first crack at set point, going up 24-23 on a Djordjevic kill before a Silva kill and an ace by freshman McAllen alum Kellie Woodin put UTRGV up 25-24. One serve later, with the set tied at 25, Mitrovic and junior Dubravka Vukoja came up with kills to end the set.
The second set was tight early, with UTRGV going up 15-14 on a Mitrovic kill. Haynes responded with four kills as CSU Bakersfield won six-straight serves to spark an 11-3 run to end the set.
CSU Bakersfield's momentum carried over to the third set, as the team ran out to a 17-8 lead. That's when UTRGV caught fire, scoring six-straight points as part of a 13-3 run to take a 21-20 lead. CSU Bakersfield won four of the next five serves to get to set point at 24-22. A Knudsen kills and an attack error allowed UTRGV to tie the set. UTRGV ended up successfully defending on set point four times, before reaching set point at 28-27 on an ace by sophomore Julia Moctezuma. Haynes and Briannah Mariner responded with a block and then Haynes and Djordjevic came up with kills to end the set.
The fourth set was close early, as a kill by freshman Los Fresnos alum Jackie Kingsbury tie the set at 11. CSU Bakersfield, however, won eight of the next 10 serves while closing the match on a 14-7 run.