By Anita Nall Richesson, Olympian & Nutritionist
If you are anything like me when I was a young athlete, you eat a lot of cereal. When I decided to transform my eating habits in order to achieve better health and increase performance, I realized the 'healthy cereal' I was eating wasn't so healthy. During the process of seeking vibrant health, I acquired an essential skill for having an elite mindset in nutrition; Ingredient reading is the first step in understanding what's going INTO your body. It's the number one thing to do when you're grocery shopping for foods other than fruit, vegetable and meat.
We are traditionally taught to look at fat, protein and carbohydrate first, so this may be a shift for some of you.  I am NOT saying macronutrient know-how isn't important, but understanding what's going into your body and the potential impact it could have is the key to optimal health and performance.  I am going to teach you how to recognize health-promoting ingredients versus health diminishing ones.
First, when picking up a box, bag or bundle of anything at the store, look at the list of ingredients.  It'll look something like this: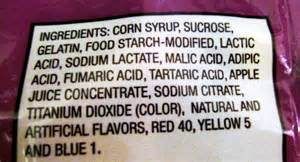 Next, see if your product contains any of the following list of my Ingredients to Avoid.  (You can print this list out, laminate it and put it in your wallet for the store)
INGREDIENTS TO AVOID:
Hydrogenated Oils
Sugar
High Fructose Corn Syrup
Sucralose, Acesulfame K & Aspartamine
MSG
Safflower, Sunflower, Canola, Soybean Oils
Red, Blue, Yellow #5, 40, etc.
Dextrose, Maltose, Fructose (OSE)
This list of ingredients diminishes health in numerous ways.  The main thing they all have in common is that they increase inflammation and as an athlete, you don't want increased inflammation.  I am not saying you'll never eat these things again, but reducing them will significantly improve your health.  It may improve your health in ways you didn't expect too.   Decreased acne & eczema, reduced migraines and even reduced joint pain are just a few symptoms I've seen change in people who take these ingredients out of their diet.Next, see if your product contains any of the following list of my Ingredients to Avoid.  (You can print this list out, laminate it and put it in your wallet for the store)
Lastly, if you notice that much of the food you consume contains these ingredients, begin to look for simple switches.  For example, there are a ton of peanut butters on the market now without hydrogenated oil.  There are several applesauce products on the market that contain only apples, water and vitamin C, choose these over their high fructose counterparts.  Look for more natural products with the least amount of ingredients- these products will be less likely to contain ingredients from our list.  These are simple switches you can make to reduce your daily inflammation and improve your performance.
BIOGRAPHY
Setting the swimming world ablaze at the young age of fifteen with 2 world records in one day propelled Anita into the fast lane of success. After swimming for the cycle (gold, silver, and bronze) in the 1992 Olympic Summer Games in Barcelona, many health challenges hampered her attempts at returning to an Olympic level. Challenged by a series of "mystery illnesses" that lasted a decade after the Olympics, Anita rediscovered health through food. Traditional
medicine's failed healing attempts drove her towards a personal quest for wellness and a passionate understanding of the healing power of food. Her profound experiences with illness, healing and professional athletics have given her a unique perspective she shares with clients.
After completing her undergraduate degree in Communications and Spanish from Arizona State University she pursued holistic nutrition education at Southwest Institute of Healing Arts in Tempe, Arizona. Anita is a Certified Holistic Nutrition Specialist, Certified Life Coach and accomplished motivational speaker. Anita is also an elite member of the International Swimming Hall of Fame.
Anita coaches clients on how to become the CWO (Chief Wellness Officer) of their own lives through her company Feed Me Anita. She completed 3 NFL seasons as Nutrition Consultant for the Jacksonville Jaguars NFL Football Team. She works with various elite professional athletes including UFC fighters, boxers & world-class swimmers as well as major corporations around the country. She recently began another business called More Than Medals. It is an empowerment program for teenage female athletes that centers around motivation, nutrition & increased self-esteem. www.morethanmedals.us
Read the following articles to learn more about Anita:
How Anita helped guide the NFL team the Jacksonville Jaguars.
How Anita caught Dana Vollmer's food allergies and helped her get on the right nutritional track to succeed at the Olympics.