Courtesy: Alan Hieber
Several fresh faces on the Wright State volleyball roster have taken the court by storm after starting the season 5-1. This includes middle blocker/right side hitter Teddie Sauer, who has already shown that she has the makings of being a sensational sophomore.
On Aug.25 the Raiders had one of their more significant victorious in recent memory with a 3-1 upset over a 21-win Big 12 squad from 2017 in West Virginia.
Sauer had a standout contest with 11 kills and four blocks. She proceeded to be named MVP of the three-match tournament at WVU, something that was a welcome surprise to her.
"That was crazy to me because I didn't think that I'd get it. All of my hard work paid off," Sauer said. "It feels amazing to have a big win with the team finally. We've all wanted this."
Sauer's voice was hoarse while discussing this, a good indicator of the strong effort she gave against the Mountaineers.
"Teddie had a great weekend and I was really proud of her. She played consistently well in all three of the matches, and that isn't an easy thing to do," WSU coach Allie Matters said. "To receive tournament MVP as a sophomore is an amazing accomplishment, and to earn that award as a middle is even better."
Shortly after becoming the head coach at WSU in February, Matters was quickly able to tell Sauer might be a special part of the program. It became even more apparent once the players returned from their summer break.
"Teddie is one of my favorite players to coach. She takes criticism well and always gives her best effort whenever she walks into my gym," Matters said. "She is pretty hard on herself, doesn't ever settle for mediocrity and always believes that she can improve."
The Fort Wayne, Ind. native Sauer probably inherited some of her endurance from her mother Jill, a former high school cross country runner and grittiness from her father Steve, who has a hockey background. This has had a positive influence on her athletically she says.
"My parents are so supportive and have pushed me to be the best I can in volleyball and any sport I've played," Sauer said.
There is also a bond between Sauer and her teammates.
"We don't just come here to practice. It's a group of friends doing what they love to do," Sauer said.
The addition of a past club teammate in freshman defensive specialist/libero Ellee Ruskaup has been notable too.
"I was really excited to hear when she (Ruskaup) committed here. I've always been really close to her being my libero during club season," Sauer said. "It's fun to have her on the team now and have that friendship."
Fellow sophomores Abby Barcus and Celia Powers were stepping up when facing WVU as well. They had 11 kills, two aces and one block and 10 kills and four blocks respectively. Matters was emphatic about the impressive performances from the younger players so far this season.
"Absolutely, I believe it is a great sign. Our young players, with the help of our upperclassmen, are helping me build a culture of competition," Matters said. "Players like Abby Barcus, Teddie Sauer, and Celia Powers are fitting into that culture and thriving in it!"
One of those upperclassmen helping Sauer is senior middle blocker Alannah Lemming.
"She has been a big mentor and brings positive energy to the court," Sauer said.
The Raiders have six more non-conference matches remaining. Once Horizon League play begins at home against Milwaukee Sept. 21, Sauer will surely be ready.
"I'm looking forward to the conference season, showing everyone what we've got and how far we've come," Sauer said. "We want to start a new era and culture for Wright State volleyball and be known for what we're doing now."
About Alan Hieber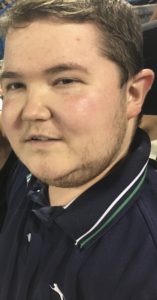 Alan Hieber is a freelance sports reporter who has been featured in publications such as SwimSwam, the Dayton Daily News and the athletics website for Wright State University, wsuraiders.com.
Alan was born with a genetic neuromuscular disease called Duchenne Muscular Dystrophy that weakens his muscles and has left him unable to walk since age 10. He hasn't allowed his disability to define him, channeling his passion for sports into writing and earning a Bachelor's degree in Mass Communication from Wright State.
When he isn't writing, Alan is often participating in 5k running events with his power wheelchair during the summer.