The women' 2018 NCAA volleyball competitive season hasn't even begun, and the Ohio State men's program, historically one of the first to release their schedule each season, has already announced their 2019 lineup.
The season will be the Buckeyes' last in St. John Arena, where they played in and won the 2017 NCAA Championship (their 2nd-straight title). In 2020, they'll move to the new, more intimate, Covelli Arena. Last season, the Buckeyes lost to eventual national champions Long Beach State 3-1 in the national semifinals, ending their quest for a threepeat.
The Buckeyes will play a challenging out-of-conference schedule that includes a Friday-Saturday double header on February 8th and 9th against Long Beach State, those aforementioned champions who are still fully-loaded for another title run. Other highlights early in the year include Penn State, a conference rival in most sports but not in men's volleyball, as the second game of the season on January 5th with a rematch on March 20th; and a west-coast swing that includes BYU on January 10th and Stanford on January 12th.
The Buckeyes will also play the EIVA regular season champions George Mason in January.
The schedule also reveals that the Big Ten/Pac-12 Challenge will return in 2018. Ohio State hosted the event last year, and this season they'll head west to face USC and UCLA (the order still hasn't been set) on March 8th and 9th.
The team will finish the regular season against long-time MIVA rival Ball State. The Buckeyes have played the Cardinals more times than any other current conference opponent in program history, and also have the lowest winning-percentage against them. The two teams split their matchups last season, including a Ball State win in the regular-season finale, again.
All-Time Records, Current MIVA Opponents:
Ball State – 98-84
Fort Wayne – 78-37
Lewis – 35-21
Lindenwood – 12-0
Loyola – 37-20
McKendree – 8-0
Quincy – 57-2
Ohio State graduated first-team VolleyMob All-American outside hitter Nicolas Szerszen at the end of last season, one of the team's last holdovers who made key contributions to the NCAA titles in 2016 and 2017. They also graduated HM All-America middle blocker Maxime Hervoir. That will elevate All-America third teamer Sanil Thomas and middle blocker Blake Leeson to become focal-points of the team. Leeson was a breakout of the 2018 squad, hitting .494 while averaging 1.64 kils/set and leading the team with 100 total blocks.
The team's 2nd-leading scorer, opposite Jake Hanes (400 kills, .273), also returns for the Buckeyes.
While Ohio State returns plenty of firepower, what they'll miss the most from Szerszen is his serve – he graduated as the school's all-time leader in aces, including 60 (with just 81 service errors) as a senior.
This year's NCAA Men's Volleyball Championship tournament will be hosted in Long Beach, California at the Walter Pyramid (which was predetermined, even before Long Beach State won last year's NCAA title).
Schedule Summary
28 regular season matches
15 home matches
14 MIVA matches
14 non-conference matches
Full 2019 Schedule is below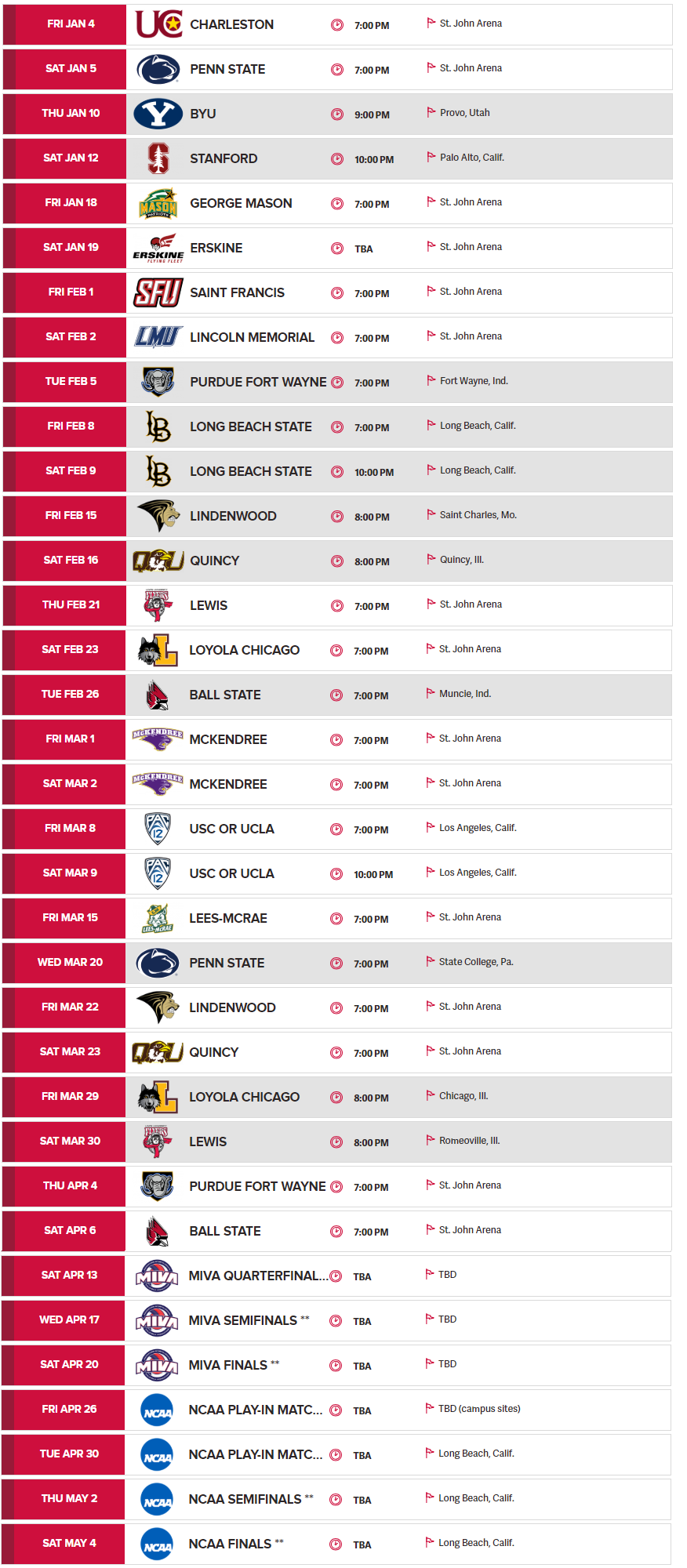 .