Courtesy: West Coast Conference
SAN BRUNO, Calif. – Following another record-setting season and its third straight berth in the NCAA Beach Volleyball Championship, No. 2 Pepperdine dominated the All- West Coast Conference and major individual honors as announced today. The Waves swept all four major honors and placed five on the first team.
All four individual awards – along with the All-WCC teams and the All-Freshman team – were voted on by the league's seven head coaches.
Senior Corrine Quiggle became the first Pepperdine student-athlete to capture WCC Player of the Year honors, teaming with first team selection and WCC Defensive Player of the Year Deahna Kraft in compiling a sparkling 22-5 record this season. Quiggle and Kraft rolled to a 14-match winning streak during the season and are 8-4 this season at No. 1 (current position) and 14-1 at No. 2.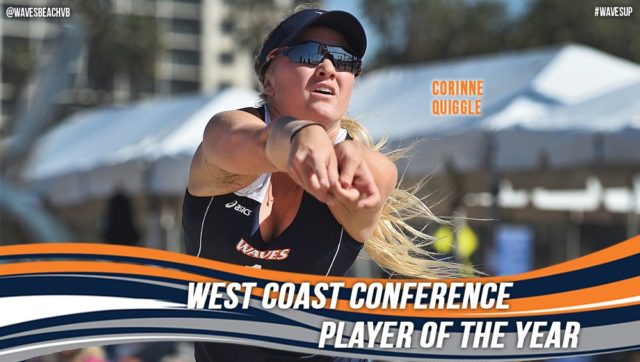 Kraft is the first Wave to earn top defensive honors since the conference added the sport in 2016. Quiggle and Kraft captured WCC Pair of the Month honors in March.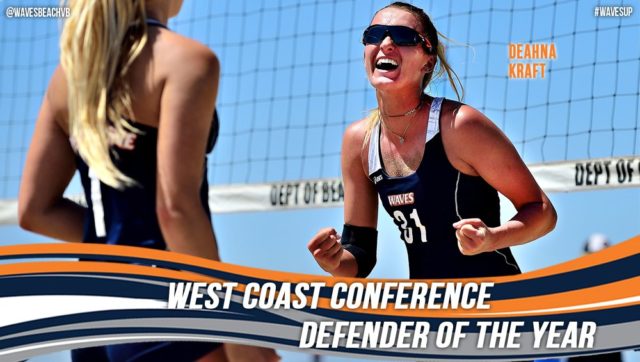 Brook Bauer is the first Pepperdine student-athlete to be named WCC Freshman of the Year and made an immediate impact playing at No. 1 and No. 2 in her first collegiate season. Bauer and fellow All-WCC First Team selection Madalyn Roh compiled a 20-7 overall record, going 9-6 at No. 1 and are 11-1 at No. 2 (current position).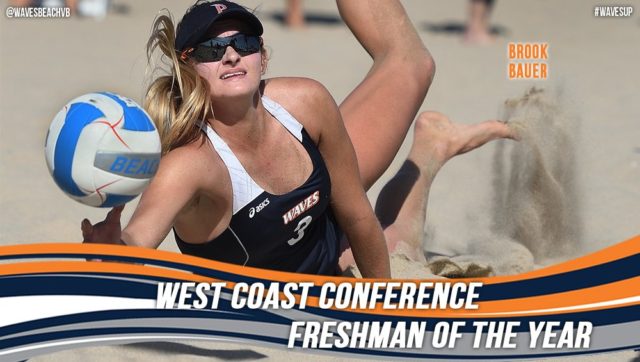 Nina Matthies claims her third straight WCC Coach of the Year nod in her final season at the helm for Pepperdine. The "Legend of the Beach" guided the Waves to a sparkling 24-3 overall record and a third consecutive WCC title. Pepperdine opens play in the NCAA Beach Volleyball Championships Friday, May 4 against No. 7 LSU.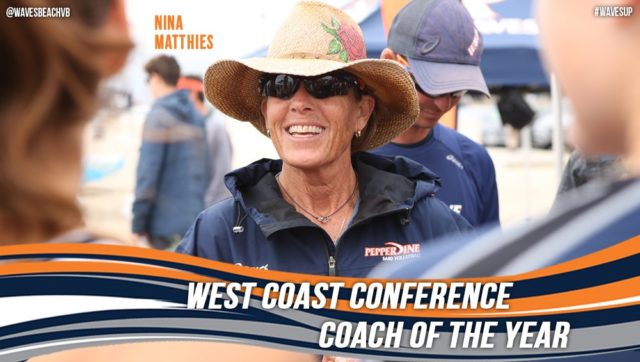 Of the 10-member All-WCC First Team, six appeared on the 2018 preseason All-WCC squad. Lindsey Knudsen of Saint Mary's and Roh earned their third straight All-WCC First Team selections, while Payton Rund of Saint Mary's and Quiggle collect all-league accolades for the second consecutive season.
All told five conference schools placed at least one student-athlete on the All-WCC first or second teams and four programs had at least one honoree on the All-Freshman squad. Pepperdine led all teams with eight total followed by Saint Mary's with six and Pacific with five.
2018 West Coast Conference Coach of the Year
Nina Matthies, Pepperdine
2018 West Coast Conference Player of the Year
Corinne Quiggle, Pepperdine
2018 West Coast Conference Defender of the Year
Deahna Kraft, Pepperdine
2018 West Coast Conference Freshmen of the Year
Brook Bauer, Pepperdine
2018 All-WCC Beach Volleyball First Team
| | | |
| --- | --- | --- |
| Name | Yr. | School |
| Brook Bauer | Fr. | Pepperdine |
| Sarah Chase | So. | Saint Mary's |
| Heidi Dyer | Jr. | Pepperdine |
| McKayla Ferris | Sr. | Loyola Marymount |
| Lindsey Knudsen | Jr. | Saint Mary's |
| Deahna Kraft | So. | Pepperdine |
| Jessie Prichard | So. | Loyola Marymount |
| Corinne Quiggle | Sr. | Pepperdine |
| Madalyn Roh | Jr. | Pepperdine |
| Payton Rund | Jr. | Saint Mary's |

2018 All-WCC Beach Volleyball Second Team
| | | |
| --- | --- | --- |
| Name | Yr. | School |
| Emily Bible | Jr. | Saint Mary's |
| Gigi Hernandez | So. | Pepperdine |
| Sara Kovac | Jr. | Loyola Marymount |
| Maycie LaBass | So. | Pacific |
| Andie Shelton | Sr. | Pacific |
| Savannah Slattery | So. | Loyola Marymount |
| Julia Topor | Gr. | San Francisco |
| Skylar Wine | So. | Pacific |

2018 All-WCC Beach Volleyball Freshman Team
| | |
| --- | --- |
| Name | School |
| Brook Bauer | Pepperdine |
| Anna Dalla Vecchia | San Francisco |
| Hanna De Schrijver | Pacific |
| Alexis Filippone | Pepperdine |
| Kelsey Knudsen | Saint Mary's |
| Jennifer Boo Laird | Saint Mary's |
| Kaitlyn Lines | Pacific |