On June 11, 2017, the 60 people entering the Kalev Sports Hall in Tallinn, Estonia for the early match between Qatar and Venezuela, probably did not expect to see a world record. Well, they spent 49 minutes watching a 45-43 3rd set that was won by Qatar. The previous highest set score of 44-42, which had happened twice. First in the 1999 World League match between Canada and Brazil. Second, was during the World Olympic Qualifying Tournament in Japan last year between France and Australia.
A little of the play-by-play in this match. Through the 2nd Technical Time Out, neither team had got more than a two point lead as Qatar lead 16-15. Coming out of the TTO, Qatar blocked three straight points to make the score 19-15 and Venezuela used their final time out. Qatar blocked another spike to make the score 21-16. A five point lead was erased with a Venezuelan block, ace and free ball kill to tie the score at 22. Qatar had used their final time out at 21-22. Qatar had set point at 24-23, but a Venezuelan block tied the score at 24. On to extra points.
Qatar was blocked again by Venezuela at 25-24. Venezuela dug a ball with a 27-26, but a setting mistake caused a double hit to be called, even at 27. Qatar lead 32-31, and Qatar blocked a ball, but just landed out to tie the score. The next serve, Henry Rojas aced for Venezuela to give them a 33-32 lead. Rojas then netted his next serve to tie again at 33.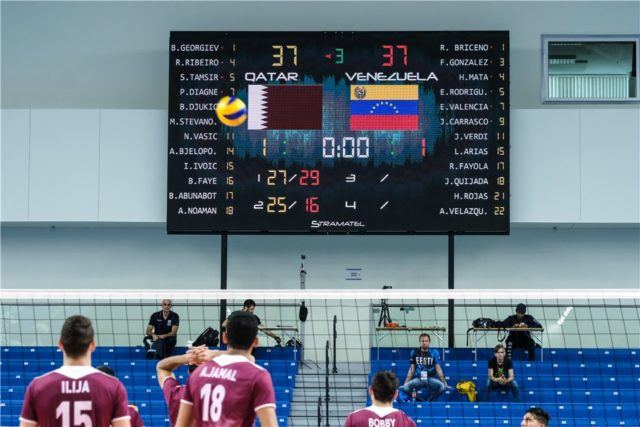 Each team quickly countered or hit off the block to get the score to 39-39.
On the 40-39 point, which was won by Venezuela, Emerson Rodriguez sprained an ankle after making a kill. He received treatment with the magic spray, but had to keep playing and did not look like he was at full speed. He did not play in the fourth set.
For 40-40, Venezuela could not keep a dug ball in play, which tied the score. Qatar took the lead 41-40 on a hitting error, but Venezuela matched with a kill off the block. Qatar nearly won the match at 43-42, but a great save by the setter off a poor serve receive pass, forced a bump set to the outside to tie at 43-43.
Qatar's Ilija Ivoic, killed from the left side off the block at 44-43 and went back to serve.
Ivoic served the next ball to zone 5, which was mishandled on an overhead pass, the ball then fell right in the middle of the Venezuelan side for the final score of 45-43 after 49 minutes of play.
Final data from the set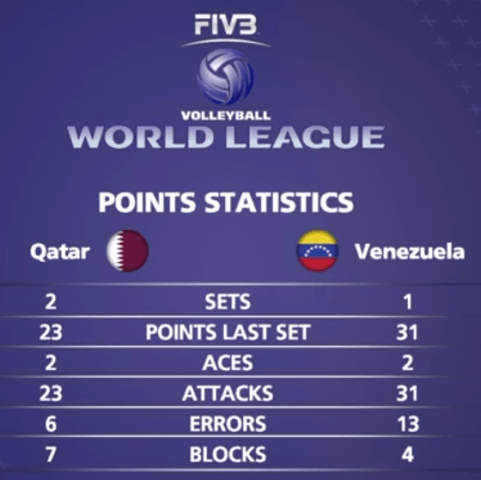 There were 9 lead changes and 31 ties in the match and over 14,000 views on YouTube. Qatar won the match 3-1 (27-29, 25-16, 45-43, 25-13) for the memorable four-set match.