Courtesy: Radford Athletics
The Radford volleyball program inked eight signees for the 2018 recruiting class, which was announced on Monday.
Head coach Marci Byers had this to say about the class, "Overall Chris, Caleb and I are very excited. They are great students, who will add depth at all positions and most importantly they are just great people."
Coach Byers is beyond thrilled for this class to come in and pick up where the 2017 team left off. Coach Byers continued to say, "We are excited that they will begin their college careers starting in June alongside the returners we have. Overall they are the most highly touted class we've had here, but they will all have lots of work to do in adjusting to the collegiate game. Our future continues to be bright here at Radford!"
GRACE GREEN
DS/L | 5-8 | Oak Lawn, Ill. | Marist HS
Green attended Marist High School in Chicago, Ill., where she played for four years. She helped the RedHawks win 120 games, including a 41-1 record her senior year. Marist won the Illinois 4A State Championship in her final season and advanced to sectionals the previous three years. Green had 543 digs, 61 aces, 91 assists as a senior and totaled 1,274 digs in her career. The Oak Lawn, Ill., native was on the Under Armour All-American Watch List and was named all-state honorable mention, a Sportstown Chicago All-Star and ESCC All-Conference. Her team was ranked No. 8 nationally by Max Preps and No. 1 by FloVolleyball during her senior season.
Byers on Grace Green
"Grace comes to us from Chicago where she lead her team to a prestigious Illinois State Championship this past fall. She will compete for time as a libero or defensive specialist immediately. She played for one of the top clubs in the country and is very well trained. She's a great academic kid and is a really solid addition to our program all around."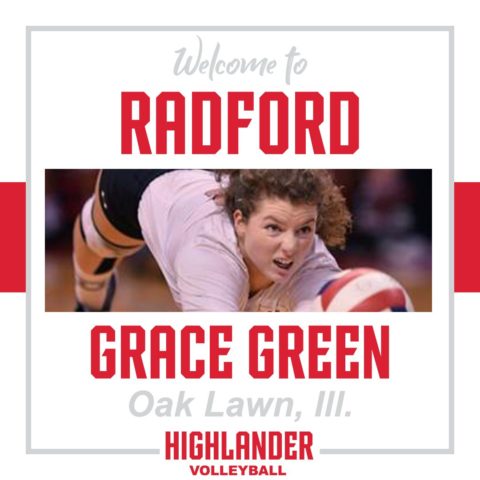 LILIJANA HENDERSON
MB | 6-3 | Wellington, Fla. | Wellington High School
Henderson competed at Wellington High School for three years and Boca Raton High School during her junior season. As a junior, she led Boca Raton to a 9A Florida State Title and a 24-2 record. That same year she was named AVCA Phenom Class of 2018 and second team all-conference. In her time at Wellington, she made two playoff appearances, accumulated 42 wins and was named three-time first team all-conference. As a sophomore she was a member of the USAV A1 National Training Team.
Byers on Lilijana Henderson
"Standing at a solid 6-3, Lili continues this classes theme of adding depth to a position. As a middle blocker she's very long and graceful as an athlete. She is a super easy jumper who is great off of two feet and should become a really good blocker once she gets acclimated to the pace of our level. Lili is a great kid that is a solid fit for us!"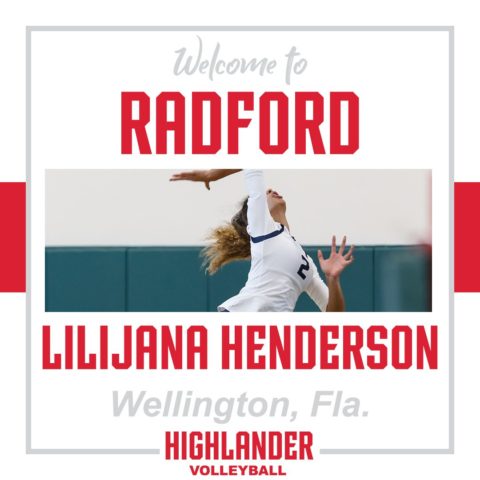 ERIN HETHERINGTON
S/RS | 5-10 | Roanoke, Va. | Northside HS
Hetherington played four years at Northside High School in Roanoke, Va. She guided the team to a 25-4 as a sophomore and 23-5 record as a junior. The Vikings made it to regionals each year Hetherington played. As a senior, Hetherington was named All-Timesland First Team, VHSL 3A All-State Second Team and Blue Ridge District First Team as a junior. She was also named Blue Ridge District Second Team as a sophomore and freshman. Hetherington tallied 668 career kills, 162 blocks, 606 digs, 859 assists over 351 sets played in her career. She set the school record with 256 career aces and set a single-season record with 89. Hetherington was an honor student and the valedictorian of Northside.
Byers on Erin Hetherington
"Erin is local product that hails from Roanoke. She has played multi-positions throughout her high school and club careers but will focus solely on setting for us. At 5-11 she has great size for that position and will look to make an impact in our program. She is a very good academic student and will be apart of our Honors College."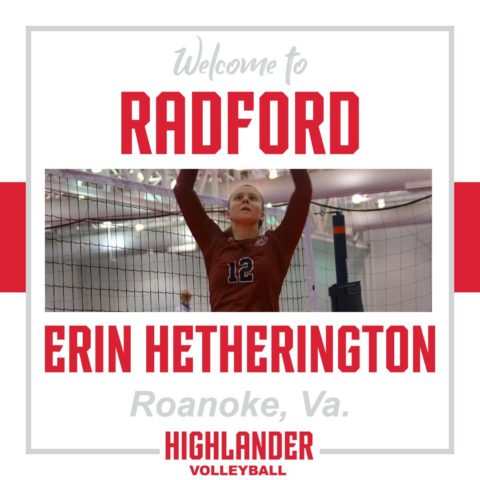 KENNEDI JOHNSON
MB | 6-0 | Clearwater, Fla. | Dunedin HS
Johnson played three years at Dunedin High School in Dunedin, Fla. She led the Falcons to two semifinal appearances along with a district championship as a junior. The middle blocker was named all-district, second team all-county and won numerous player of the week and month awards. Against Seminole High School, Johnson recorded 15 kills and 10 blocks as a junior.
Byers on Kennedi Johnson
"Kennedi comes to us after really flourishing the last few years on the club scene. She will be able to play both middle blocker and opposite as her 6-0 frame and athleticism will allow her that versatility. Kennedi is very fast and really solid off of one foot. Look for her to gradually make her impact in our program!"
TAYLOR MOORE
DS | 5-5 | Birmingham, Ala. | Briarwood Christian High School
Moore competed four years at Briarwood Christian High School. She was named Honorable Mention All-Metro team and nominated to the "All Over the Mountain Team," which is a sports journal out of the metro-Birmingham area. Moore played on the Southern Performance Volleyball Club and played sand volleyball for them. She made the JVA Watchlist and won the 17 Club AAU National Championships.
Byers on Taylor Moore
"Taylor was a much needed addition to our program as she will give us depth in the defensive specialist position. She comes to us from a well-trained club environment and long line of athletes in her family. She is quick, athletic with a solid platform and is willing to fly around on defense. Taylor will look to compete for time in a position that lost three kids to graduation last fall."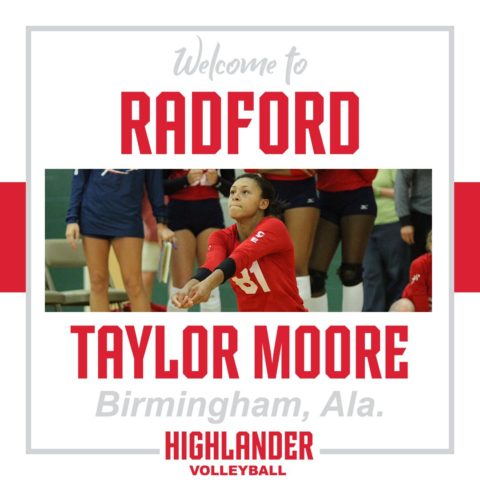 TAYLOR O'NEAL
OH/DS | 5-11 | Orlando, Fla. | Lake Highland Prep
O'Neal competed four years at Lake Highland in Orlando, Fla. She and the Highlanders made it to the state finals in her junior and senior seasons. Prior to that, Lake Highland made it to the regional finals in 2015 and regionals as a freshman. O'Neal was named all-state first team and was an honor student.
Byers on Taylor O'Neal
"Taylor is one of three Floridians we are adding to our roster this fall. She is a long, quick and athletic outside hitter with great ball handling skills. She has played for both solid high school and club programs, which in turn have prepared her to make the step to the next level. Look for her to compete for playing time this fall as well."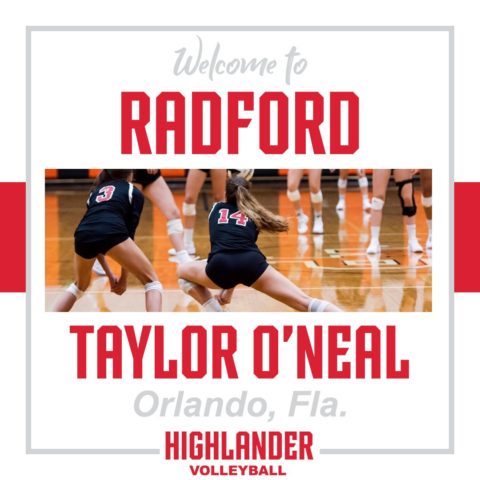 SAMANTHA REITZ
RS/MB | 6-1 | St. Louis, Mo. | Mehlville HS
Reitz played four years at Mehlville High School in St. Louis, Mo. She helped led her team to a 23-9 record and a district championship for the first time in 14 years as a senior. In her final season with the Panthers, Reitz was named first team all-district and all-conference. As a senior; Reitz played 71 sets, recorded 200 kills with a .374 hitting percentage, 12 solo blocks, 60 total blocks and 27 aces.
Byers on Samantha Reitz
"Sami is one of three middle blockers we have coming in this fall. She has great size at 6-2, really nice fast arm and is very good in transition. She has started at the open level for her club team HP STL the past few years that should help her with the transition to collegiate game. She's a tireless worker, which is needed in her position and that work ethic is her biggest asset."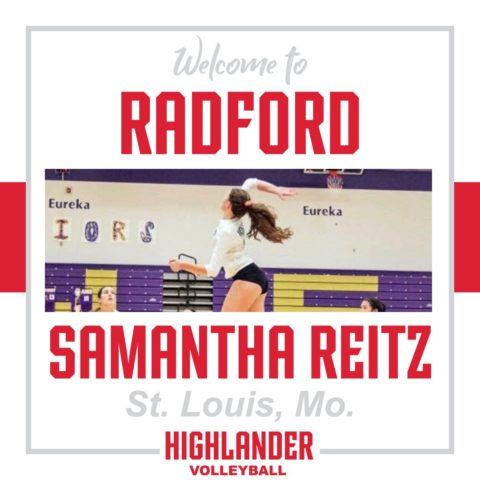 KYLIE TUXFORD
OH/DS | 5-9 | Mechanicsville, Va. | Hanover High School
Tuxford played at Hanover High School in Hanover, Va. She helped the Hawks become regional champs as a sophomore and senior. Tuxford also helped Hanover advance to postseason play in three of her four years. She was named Metro Player of the Year as a senior and first team all-state. The Mechanicsville, Va., native recorded over 1,000 career kills, 700 digs and 350 blocks.
Byers on Kylie Tuxford
"Kylie is a very athletic six rotation outside attacker that gives us some much needed depth in that position. She's quick, has a fast arm and possesses a high volleyball IQ for the game. Her ball handling skills should allow her to fight for playing time right away. Ky is a good kid that comes from a very long line of volleyball players and coaches."