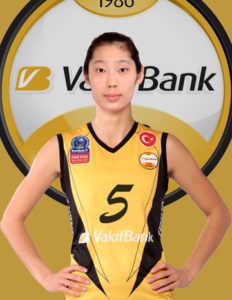 Awarded the Most Valuable Player in the Rio 2016 Olympics volleyball tournament, Zhu Ting will enter a new phase of her career. A phase that happens to be located in Istanbul, Turkey.
The outside hitter, who has only played for clubs in her home country of China, will join Vakifbank Istanbul this month. With the move, she will be bringing in approximately a $1.2 million (USD) annual salary.
Turkey has a reputation for excellence as well as high salaries. In 2015, 9 of the 10 top-paid European indoor women's volleyball players were members of  the club Vakifbank Istanbul, ranging from $1.1 million to $480,000. Ting will join the team at the top of that list.
She helped lead China to the Rio gold medal over Serbia last month and finished as the top scorer of the entire tournament. She totaled 179, including a tournament-high 33 points in the match against the Netherlands.
While in Turkey, Ting is still searching for improvement despite her extensive list of accolades. She has been nominated to add a huge new award to her list- 2016 Sportswoman of the Year Award, given by the Women's Sport Foundation. She was also elected to the Olympic tournament's "Dream Team" that will be announced after voting ends Sept. 11.
| | |
| --- | --- |
| | |
| 2016 Olympic Games | Most Valuable Player |
| 2016 Olympic Games | Best Outside Spiker |
| 2015 FIVB World Cup | Most Valuable Player |
| 2015 Asian Championship | Best Outside Spiker |
| 2015 Asian Championship | Most Valuable Player |
| 2014 FIVB World Championship | Best Outside Spiker |
| 2014 FIVB World Championship | Best Scorer |
| 2013 Asian Volleyball Championship | Best Spiker |
| 2013 FIVB World Grand Prix | Best Outside Spiker |
| 2013 Montreux Volley Masters | Best Scorer |
| 2013 FIVB Junior World Championship | Best Outside Hitter |
| 2013 FIVB Junior World Championship | Most Valuable Player |
| 2012 Asian Junior Championship | Best Spiker |
| 2012 Asian Junior Championship | Most Valuable Player |