A week after captaining Russia to the title at the 2018 Volleyball Nations League, the first-ever title of its kind, 23-year old Dmitry Volkov underwent plastic surgery on his nose.
He posted a photo of himself shortly after the surgery to his Instagram story, asking his fans to vote on weather or not he was "beautiful." No indication has been made as to whether the surgery was for medical or cosmetic purposes.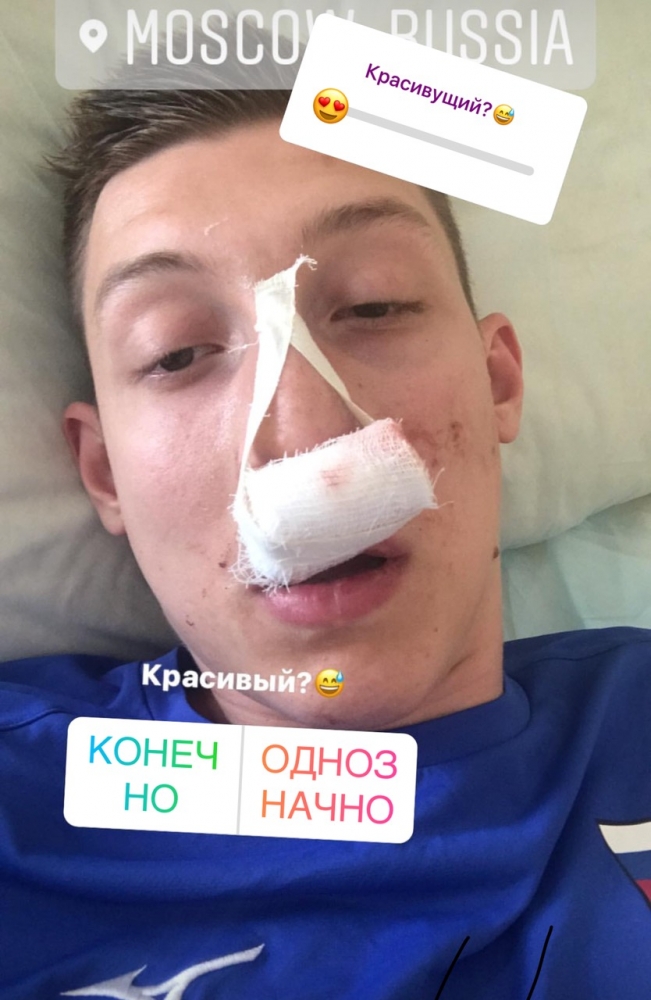 Volkov, who is a 6'7″ outside hitter, plays for Fakel Novy Urengoy professionally in Russia's top league. He's been with the Russian National Team at least since their 2015 bronze medal at the European Games, and was on the gold medal rosters at both last year's European Championships and this year's Nations League.
He was named the best outside hitter at both those European Championships, and at the Nations League, where he played sparingly in the preliminary rounds but scored 48 points in 13 sets on 48.65% hitting in the Final 6. That ranked him 6th in scoring, and his 5 aces tied him for 3rd-most.
The Russians were sent on break after the Nations League until July 23rd, when they resumed training for the World Cup. They play in Group C, where in preliminary play they will face Australia, Cameroon, Serbia, Tunisia, and the United States, with the top 4 of those 6 teams advancing. Pool C will be held from September 12th-18th in Bari, Italy. Volkov is on Russia's preliminary 29-man training camp roster.