FIVB Men's Club World Championship
October 18-23
Sports Club of Minas Tenis Clube, Betim, Brazil
Fresh off a Rio 2016 win with the Brazilian national team, William Arjona, the setter for Sada Cruzeiro, earned top honors at the FIVB Men's Club World Championship last week in Brazil. Cruzeiro swept Zenit Kazan in the gold-medal match (25-21, 25-23, 25-15).
Arjona has been with the team since 2011 and has been a part of all three of its club world championships (2013, 2015, 2016). While he himself didn't contribute much to the team's scoring — he added only nine points in the tournament — his setting was instrumental to Cruzeiro's victory.
"These awards are not among my goals, to be honest," he said in an FIVB press release. "Sometimes good things just happen. And an award like this needs good performances on the rest of the team — the receivers and the attackers, too. So this happens when the whole team does well. It's something to be very happy about and to enjoy."
Tournament dream team
The champions Sada Cruzeiro contributed four to the tournament dream team, and second-place Kazan added two.
Evandro Guerra led Cruzeiro with 12 spikes and two aces in the first-place match, while Yoandy Leal added 13 points. Wilfredo Leon led Kazan with 10 spikes, two aces, and one block.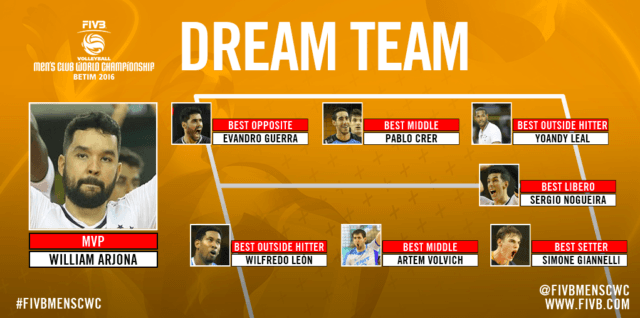 Best scorers
Thomas Edgar of Personal Bolivar led with 74 points in the tournament — 66 spikes, three blocks, and five aces. Guerra came in a close third, with 63 (50 spikes, six blocks, seven aces). Arjona's total of nine (four spikes and five aces) was good for a 48th-place tie with Samuel Fuchs of Minas Tenis Club.
Final standing
The championship match was the first time Cruzeiro has swept Kazan in the four times the teams have met. The third-place match between Bolivar and Trentino Volley was a five-set battle, however, with Trentino narrowly coming out on top to win its sixth club world championship medal (four gold, two bronze).