Tours made a statement at their most recent 2018 CEV Men's Challenge Cup match against Olympiacos Piraeus as nearly all 2,800 fans held up "No Racism" signs after fans made remarks to Cameroon's Nathan Wounembaina in the previous match.
During the first leg of matches between the two teams in the Challenge Cup, fans shouted monkey screams each time that Wounembaina would touch the ball through the first set. Wounembaina tried to get some help from the fans torment from the officials but was blown off, causing him to abruptly leave the court – which suspended him for two matches.
This sparked an anti-racism campaign within the club and it's community, using Wounembaina's photo with a hashtag #SayNoToRacism.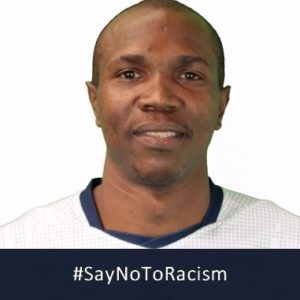 In that first match, Tours lost in three sets but rallied back in front of a supportive crowd to win in three during the second leg of the competition. This forced a golden set to be played between the two squads, to which, Olympiacos Piraeus took the win 15-11.
Wounembaina was able to play in the rematch between the two squads, scoring 17 points in the loss.
This is Wounembaina's first season with Tours after he transferred from Chaumont VB52 this summer. Tours won the Challenge Cup last year but will not be defending their title this season with the loss.