FIVB Chetumal Three Star
Chetumal, Mexico
Oct. 24-28, 2018
Women Only
The quarterfinals will include two teams each from Brazil, Canada and the United States as well as one each from Mexico and Russia.
The field was set after two knockout rounds on Friday.
Americans Caitlin Ledoux/Geena Urango won two matches to claim their spot, while the remaining seven teams played just once after winning pool titles on Thursday.
Ledoux/Urango topped France's Alexandra Jupiter/Aline Chamereau (21-12, 21-10) and Italy's No. 2 seed Marta Menegatti/Viktoria Orsi Toth (21-19, 21-19).
Joining the pair in the quarterfinals are:
Three of the Round 2 matches went to tiebreak.
Walsh Jennings/Sweat topped France's No. 16 Lezana Placette/Alexia Richard (21-13, 17-21, 15-10).
Bocahrova/Voronina outlasted Finland's No. 4 Riika Lehtonen/Niina Ahtiainen (23-21, 18-21, 23-21).
Bansley/Wilkerson moved past No. 15 Michala Kvapilova/Michaela Kubickova of the Czech Republic (21-18, 19-21, 15-12).
The four quarterfinal matches, which will keep countrywomen separated, are slated to begin at 5 p.m. ET.
Walsh Jennings/Sweat vs. Maria Clara/Elize Maia
Bocharova/Voronina vs. Wilkerson/Bansley
Taiana/Victoria vs. McNamara/McNamara
Ledoux/Urango vs. Revuelta/Orellana
The semifinal matches also will be played on Saturday at 10 and 11 p.m. ET.
The medal matches are set for 3 and 5 p.m. ET on Sunday.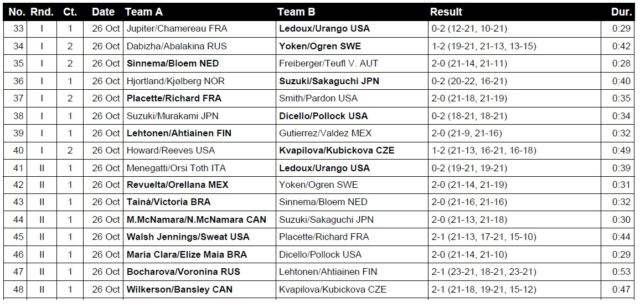 Semifinal 1 – 10 p.m. ET
Semifinal 2 – 11 p.m. ET