Much like the FIVB's new star rating system for their tournaments, the AVP has added a new elevated beach volleyball series into their line-up called the Gold Series.
There will be just three tournaments this season what will be grouped into this Gold Series category – New York, Manhattan Beach and Chicago. So far this year, there have been two stops on the AVP Tour – Huntington Beach and Austin, with New York being the third and the first in the Gold Series line-up.
At the Gold Series tournaments, AVP athletes will have the opportunity to earn more prize money for competing. For regular AVP events the purse prize in $150,000, while the Gold Series events will offer more.
Gold Series Purse Prize Amounts
New York City Open – $175,000
Manhattan Beach Open – $225,000
Chicago Championships – $225,000
In addition, AVP players will earn the opportunity to earn more points through the Gold Series events. The points are based on the size of the purse prize. In a regular AVP tournament, players earn a top amount of 750 points, but will now be increased to a maximum of 1,200 points for the highest purse prize event.
AVP Tour Points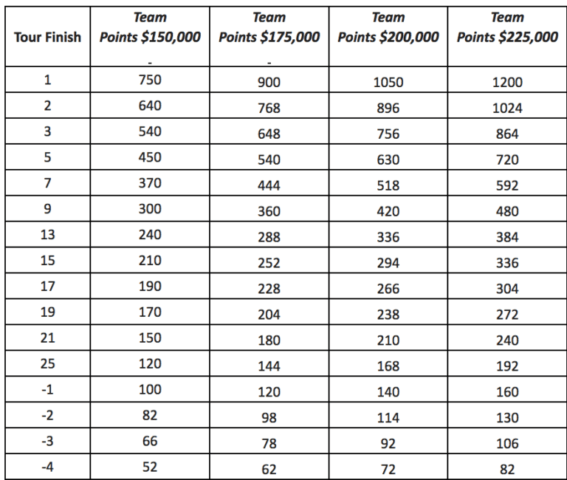 Fan Experience
With the Gold Series coming into effect, the fan experience will change as well, with new surprises that will add more fun and excitement to tournament goers.
Schedule
Huntington Beach – May 4-7
Austin – May 18-21
New York (Gold Series) – June 8-11
Seattle – June 22-25
San Francisco – July 6-9
Hermosa Beach – July 20-23
Manhattan Beach (Gold Series) – August 17-20
Chicago Championships (Gold Series) – August 31-September 3
Results So Far
Phil Dalhausser/Nick Lucena have dominated the men's side of the AVP Tour so far, accumulating 1,500 points and $30,000 in prize money for the start of the 2017 tour. Taylor Crabb/Jake Gibb come in second on the men's side with 1,180 points after a third and second place finish, earning $17,000 in prize money so far.
In the women's side, April Ross and Whitney Pavlik have earned a total of 1,290 points and $22,000 in prize money.
Huntington Beach – $150,000 purse prize
Men – Phil Dalhausser/Nick Lucena
| | | | | | |
| --- | --- | --- | --- | --- | --- |
| Finish | Player | Partner | Seed | Winnings | Points |
| 1 | Phil Dalhausser | Nick Lucena | 3 | $15,000.00 | 750 |
| 2 | Ryan Doherty | John Hyden | 7 | $10,000.00 | 640 |
| 3 | Taylor Crabb | Jake Gibb | 1 | $7,000.00 | 540 |
| 3 | Theo Brunner | Casey Patterson | 2 | $7,000.00 | 540 |
| 5 | Trevor Crabb | Sean Rosenthal | 4 | $5,200.00 | 450 |
| 5 | Billy Allen | Stafford Slick | 5 | $5,200.00 | 450 |
| 7 | Jeremy Casebeer | John Mayer | 6 | $3,800.00 | 370 |
| 7 | Brian Bomgren | Tim Bomgren | 11 | $3,800.00 | 370 |
| 9 | Ty Loomis | Ty Tramblie | 8 | $2,500.00 | 300 |
| 9 | Mark Burik | Avery Drost | 9 | $2,500.00 | 300 |
| 9 | Marty Lorenz | Adam Roberts | 12 | $2,500.00 | 300 |
| 9 | Ed Ratledge | Eric Zaun | 15, Q4 | $2,500.00 | 300 |
| 13 | Curt Toppel | Gregg Weaver | 10 | $2,000.00 | 240 |
| 13 | Michael Brunsting | Chase Frishman | 13, Q2 | $2,000.00 | 240 |
| 13 | Maddison McKibbin | Riley McKibbin | 14, Q3 | $2,000.00 | 240 |
| 13 | Branden Clemens | Ben Vaught | 16, Q9 | $2,000.00 | 240 |
Women – Emily Day/Brittany Hochevar
| | | | | | |
| --- | --- | --- | --- | --- | --- |
| Finish | Player | Partner | Seed | Winnings | Points |
| 1 | Emily Day | Brittany Hochevar | 1 | $15,000.00 | 750 |
| 2 | Betsi Flint | Kelley Larsen | 6 | $10,000.00 | 640 |
| 3 | Whitney Pavlik | April Ross | 2 | $7,000.00 | 540 |
| 3 | Lane Carico | Lauren Fendrick | 4 | $7,000.00 | 540 |
| 5 | Kim DiCello | Emily Stockman | 5 | $5,200.00 | 450 |
| 5 | Jennifer Fopma | Kelly Reeves | 7 | $5,200.00 | 450 |
| 7 | Caitlin Ledoux | Heather McGuire | 9 | $3,800.00 | 370 |
| 7 | Alix Klineman | Jace Pardon | 16, Q7 | $3,800.00 | 370 |
| 9 | Angela Bensend | Geena Urango | 3 | $2,500.00 | 300 |
| 9 | Nicole Branagh | Xi Zhang | 10 | $2,500.00 | 300 |
| 9 | Karolina Marciniak | Kendra VanZwieten | 11 | $2,500.00 | 300 |
| 9 | Janelle Allen | Briana Hinga | 13, Q1 | $2,500.00 | 300 |
| 13 | Sheila Shaw | Brittany Tiegs | 8 | $2,000.00 | 240 |
| 13 | Amanda Dowdy | Irene Hester Pollock | 12 | $2,000.00 | 240 |
| 13 | Katie Jameson | Tracy Jones | 14, Q3 | $2,000.00 | 240 |
| 13 | Bre Moreland | Kerri Schuh | 15, Q4 | $2,000.00 | 240 |
Austin
Men – Phil Dalhausser/Nick Lucena
| | | | | | |
| --- | --- | --- | --- | --- | --- |
| Finish | Player | Partner | Seed | Winnings | Points |
| 1 | Phil Dalhausser | Nick Lucena | 1 | $15,000.00 | 750 |
| 2 | Trevor Crabb | Sean Rosenthal | 2 | $10,000.00 | 640 |
| 3 | Billy Allen | Stafford Slick | 3 | $7,000.00 | 540 |
| 3 | Jeremy Casebeer | John Mayer | 4 | $7,000.00 | 540 |
| 5 | Ed Ratledge | Eric Zaun | 12, Q1 | $5,200.00 | 450 |
| 5 | Maddison McKibbin | Reid Priddy | 13 | $5,200.00 | 450 |
| 7 | Brian Bomgren | Tim Bomgren | 6 | $3,800.00 | 370 |
| 7 | Michael Brunsting | Chase Frishman | 11 | $3,800.00 | 370 |
| 9 | Marty Lorenz | Adam Roberts | 7 | $2,500.00 | 300 |
| 9 | Mark Burik | Avery Drost | 8 | $2,500.00 | 300 |
| 9 | Derek Olson | Curt Toppel | 9 | $2,500.00 | 300 |
| 9 | Kevin McColloch | Roberto Rodriguez-Bertran | 10 | $2,500.00 | 300 |
| 13 | Ty Loomis | Ty Tramblie | 5 | $2,000.00 | 240 |
| 13 | Francisco Quesada-Paneque | Troy Schlicker | 14, Q7 | $2,000.00 | 240 |
| 13 | Orlando Irizarry | Ian Satterfield | 15, Q11 | $2,000.00 | 240 |
| 13 | Piotr Marciniak | Raffe Paulis | 16, Q13 | $2,000.00 | 240 |
Women – April Ross/Whitney Pavlik
| | | | | | |
| --- | --- | --- | --- | --- | --- |
| Finish | Player | Partner | Seed | Winnings | Points |
| 1 | Whitney Pavlik | April Ross | 2 | $15,000.00 | 750 |
| 2 | Kim DiCello | Emily Stockman | 3 | $10,000.00 | 640 |
| 3 | Angela Bensend | Geena Urango | 4 | $7,000.00 | 540 |
| 3 | Amanda Dowdy | Irene Hester Pollock | 9 | $7,000.00 | 540 |
| 5 | Jennifer Fopma | Kelly Reeves | 5 | $5,200.00 | 450 |
| 5 | Karolina Marciniak | Kendra VanZwieten | 8 | $5,200.00 | 450 |
| 7 | Betsi Flint | Kelley Larsen | 1 | $3,800.00 | 370 |
| 7 | Sheila Shaw | Brittany Tiegs | 7 | $3,800.00 | 370 |
| 9 | Caitlin Ledoux | Heather McGuire | 6 | $2,500.00 | 300 |
| 9 | Aurora Davis | Bree Scarbrough | 13, Q2 | $2,500.00 | 300 |
| 9 | Kimberly Smith | Xi Zhang | 14, Q6 | $2,500.00 | 300 |
| 9 | Nicolette Martin | Allie Wheeler | 15, Q9 | $2,500.00 | 300 |
| 13 | Janelle Allen | Briana Hinga | 10 | $2,000.00 | 240 |
| 13 | Alix Klineman | Jace Pardon | 11 | $2,000.00 | 240 |
| 13 | Katie Spieler | Amanda Wiggins | 12 | $2,000.00 | 240 |
| 13 | Karissa Cook | Lara Dykstra | 16, Q13 | $2,000.00 | 240 |