FORT LAUDERDALE MAJOR
Fort Lauderdale, Florida
Feb. 26-March 4
While the tournament officially began with four country quota matches on Monday, the Fort Lauderdale Beach Major began in earnest on Tuesday with the qualifying rounds and shocks were a plenty.
The No. 2, 3, 4 and 5 qualifiers on the men's side, including defending Fort Lauderdale gold medalists Alvaro Filho/Saymon Barbosa, the No. 3 seed from Brazil, are out. Also making an early exit are: No. 2 seed Mariusz Prudel/Jakub Szalankiewicz (Poland), who won the Kish Island Three Star on Sunday; No. 4 seed Markus Bockermann/Lars Fluggen (Germany) and No. 5 seed Billy Allen/Ryan Doherty (USA). All four fell in the second round of qualifying.
No. 14 seed Ondrej Perusic and David Schweiner (Czech Republic) topped the Brazilians in straight sets, while No. 18 Mathias Bernsten and Hendrik Mol (Norway) knocked out Prudel/Szalankiewicz. Chilean cousins Esteban Grimalt and Marco Grimalt, the No. 13 seeded qualifier, ousted the Germans, while Austria's 12th-seed Martin Ermacora and Moritz Pristauz bested the Americans in three sets (21-18, 21-23, 15-7). 
Also moving on to the main draw are: Brazilians Pedro Solberg/Geroge Wanderley, Nico Beeler/Marco Krattiger (Switzerland),  Christiaan Varenhorst/Jasper Bouter (Netherlands), and Christopher McHugh/Damien Schumann (Australia).
Advancing through the country quota to the qualifier on the men's side was American duo Trevor Crabb and Skylar Del Sol, while Brazilians Taiana Lima and Carol Horta advanced on the women's side.
Crabb/Del Sol lost in the opening round of qualifying in a three-set match against Ermacora/Pristauz, who later downed countrymen Allen/Doherty.
Lima and Horta continued their success in the qualifying rounds, winning two straight-set matches to move on to the main draw. The pair are in their first tournament together.
"It was really important for us to play in the county quota because we are a new team and we practically don't know each other on the court," Carol said.  "We had only one practice since we went to the country quota we start learning about each other.  Then with the qualification tournament as well, it gives us much better hopes for the main draw."
Americans Brittany Hochevar and Emily Day, the 11th seed in the qualifiers, advanced with a three-setter over Switzerland and a straight set win over Austria.
The remainder of the six women's qualifiers on to the main draw are: No. 2 seed Isabel Schneider/Victoria Bieneck (Germany), No. 3 Nadezda Makroguzova/Svetlana Kholomina (Russia), No. 4 Valentyna Davidova/Ievgeniia Shchypkova (Ukraine), No. 8 Sanne Keizer/Madelein Mepperlink (Netherlands), No. 12 Taylor Pischke/Jamie Lynn Broder (Canada) and No. 26 Ingrid Lunde/Oda Johanne Ulveseth (Norway).
Main draw play begins Wednesday morning with modified pool play action.
Men's Qualifying Results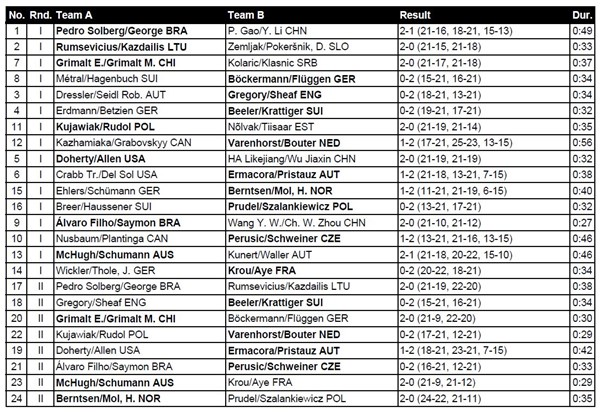 Women's Qualifying Results