Brazilian Bruno Rezende, Dutchman Nimir Abdel-Aziz, Bulgarian Rosalyn Penchev, Serbian Uros Kovacevic and Italian Simone Anzani reportedly took their game to the sand as French national team member Earvin Ngapeth hosted a beach tournament, July 11-12 in Saint Jean de Mont.
Ngapeth's French National cohorts Kevin Leroux, Jean Patry and Jonas Aguenier also were in attendance.
The prize money for the 3-on-3 event was $7000 euros, 3500 each for the men's and women's brackets. The event also featured a youth bracket for players born after 1998. Nearly 300 participants were a part of the event.
On June 23, Ngapeth announced his team for the event in the tweet below
⚠️ Ma team de cette année pour le @NgaInvitational ⚠️ Ça va décoller sur le sable avec @swan0u et @nimirabdelaziz 🚀! Et toi ? Ta team est prête à venir nous défier ? Par ici —> https://t.co/B7ogJAj85P pic.twitter.com/XOsMhQ8eV6

— Earvin Ngapeth (@EarvinNgapeth) June 23, 2018
Here is a video of the group from the tournament twitter page:
On est làaaaaaa ! @stjeandemonts @brunorezende1 @nimirabdelaziz @swan0u pic.twitter.com/ce6wv7eDm7

— Ngapeth Invitational (@NgaInvitational) July 11, 2018
And one with a little on-court action.
On finit la journée par une victoire 💪🏿
Merci à tous d'être venus !
On vous attend encore plus nombreux demain sur la plage de Saint Jean de Monts ☀️🏐🌴 pic.twitter.com/WjgW8nJf57

— Ngapeth Invitational (@NgaInvitational) July 11, 2018
The pre-tournament video announced that "Earvin Ngapeth and his friends invite you to come and join the best players in the world."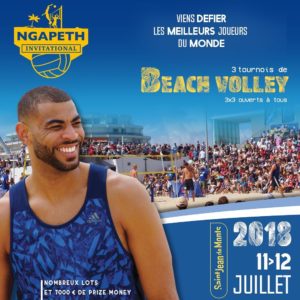 Ngapeth took advantage of his friends being in France for the finals of the inaugural Volleyball Nations League tournament. The French lost to Russia in the championship match in Lille on July 8. The United States picked up the bronze and Rezende's Brazilian squad finished fourth.
Ngapeth scored 115 points in VNL play, second most on the French team and 34th overall, with 87 kills, 11 blocks and 17 aces. Stephen Boyer led the squad with 182 points (160 kills, 20 blocks, 2 aces).
The 6-4 outside hitter was MVP of France's 2015 and 2017 World Championship teams and earned three best outside hitter accolades internationally.
Professionally, Ngapeth played for Italian club Modena from 2014 until Russian side Zenit Kazan announced his signing on June 18. He was tabbed as the best player in Italy's Serie A1 in 2016