Argentine men's volleyball head coach Julio Velasco, coaching in his last tournament with the team before leaving to take over the same role for Modena in Italy, has been suspended for Saturday's match against Poland.
"Video footage of your celebration after Argentina's victory last night shows that you made an offensive gesture four times, which was caught by the television broadcast of the Event and which was insulting and detrimental to the image of the Event and the FIVB," the letter reads.
Video of the act is at the end of this article, scroll down at your own discretion
The celebration was in part a protest against what Argentina believed to be unfair officiating in the match.
The decision, made under an urgency provision in the rules because of the short turnaround time between matches, was that Velasco will miss Saturday's match against Serbia. The FIVB also "warned" Velasco to "be conscious of his conduct during FIVB competitions," and reserved the right to refer the matter to the FIVB Disciplinary Panel for more sanctions.
Velasco is allowed in the stands (one of the few seen in the stands in Varna), but is not allowed to have contact with his players or coaches during the match.
The win kept Argentina barely alive for advancement to the Final 6, though it would still take a near-miracle for them to get there after results were carried forward from the first round. It was also Poland's first loss of the tournament.
Velasco, a volleyball Hall of Famer born in Argentina but naturalized as Italian in 1991, led Italy to the World Championship in 1990 – their first-ever world title. He would in total lead Italy to 5 World League titles, 3 European Championships, and another World Championship in 1994..
🇦🇷Julio Velasco, trener Argentyny na trybunach. W dzisiejszym meczu z 🇷🇸Serbią drużynę prowadzi jego asystent. pic.twitter.com/wuPUEVdScF

— POLSKA SIATKÓWKA (@PolskaSiatkowka) September 22, 2018
Letter, as posted by the Argentina volleyball federation: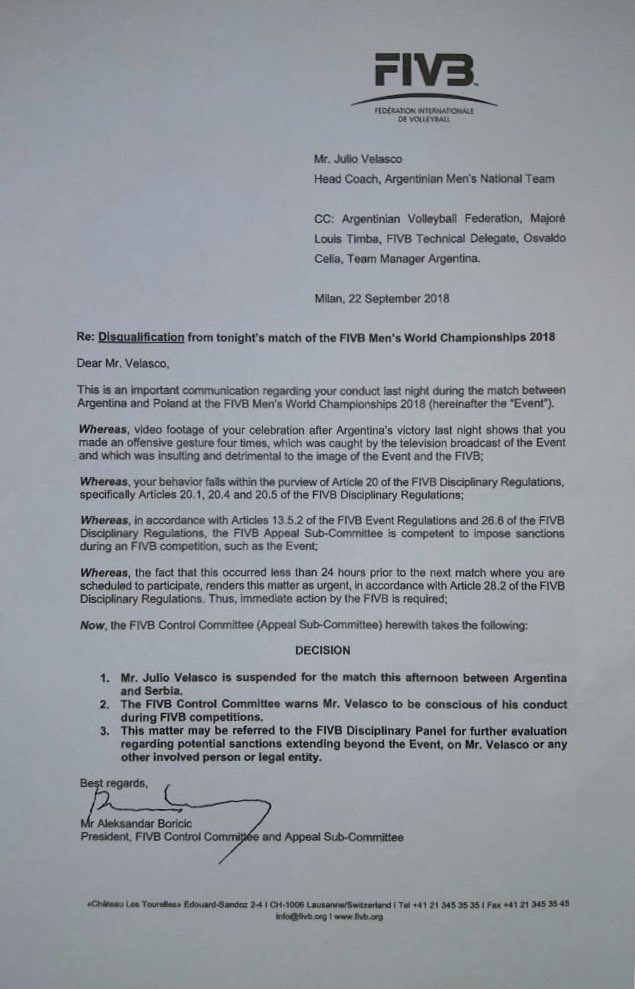 Julio Velasco: de Ferro, como toda gente de bien pic.twitter.com/zkpAgOfNvV

— Matías Palacios (@palaciosmatias) September 22, 2018