FIVB Huntington Beach Open
May 2-6, 2018
Huntington Beach Pier; Huntington Beach, California
The field was narrowed from 32 to 12 in both men's and women's action at the Huntington Beach Four-Star on Friday.
At the end of the day, 12 women's teams remained, including five American duos, three Brazilians, two Canadians and two Germans. Top seeded Brooke Sweat/Lauren Fendrick will take on Kelly Reeves/Brittany Howard in Round 5 on Saturday in the lone USA/USA faceoff. 
The day began with third round women's action, which featured eight matches, continuing the double-elimination format.
Sweat/Fendrick kicked off action with a straight-set win over Germany's Karla Borger/Margareta Kozuch. Summer Ross/Sara Hughes also were winners, topping countrywomen Emily Stockman/Kelley Larsen, while Alix Klineman/April Ross bested Brazil's Taiana Lima/Carol Horta in straight sets.
Brazilians Barbara/Fernanda and Maria Antonelli/Carol also moved on.
Americans Brittany Hochevar/Kelly Claes and three other home-standing duos moved on to the top 24.
Claes/Hochevar lost in the next elimination round but three other American pairs moved on to the top 16: Kelly Reeves/Brittany Howard, Stockman/Larsen and Lane Carico/Caitlin Ledoux.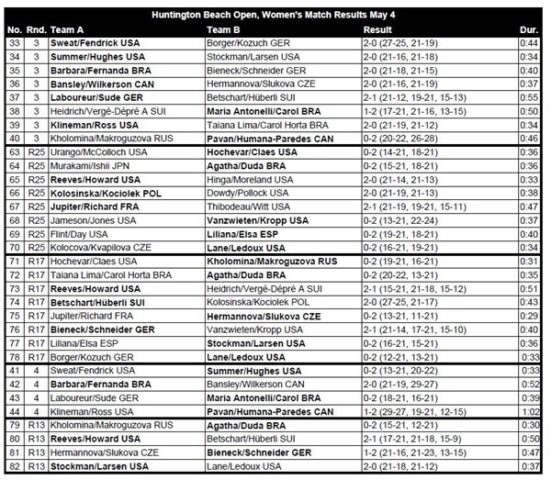 On the men's side, the Top 12 consists of four Brazilian pairs, two Americans and two Latvians as well as teams from Italy, the Netherlands, Poland and Spain.
John Hyden/Theo Brunner and Phil Dalhausser/Nick Lucena are still in action for the United States. Hyden/Brunner won both of their matches on Friday, besting Austrians Clemens Doppler/Alexander Horst in straight sets and topping Italy's Enrico Rossi/Marco Caminati. Dalhausser/Lucena won their Round 3 match over Brazil's Alvaro Filho/Saymon Barbosa in tiebreak (21-18, 15-21, 15-11), but fell to Latvia's Aleksandrs Samoilovs/Janis Smedins 24-22, 21-18 in Round 4. The pair is still in the running for the title due to the double-elimination format.
Remaining in the competition for Brazil are Vitor Felipe/Guto Carvalhaes, Pedro Solberg/George, Alvaro Filho/Saymon and Evandro/Andre. Pedro/George will face off with Vitor/Guto with a spot in the quarterfinals on the line.
Round 5 matches are slated to begin at 12:20 p.m. ET Saturday.