Lucerne Three-Star
Lucerne, Switzerland
May 9-13, 2018
Double-Gender
Amidst a rain storm, pool play action got underway at the Lucerne Three-Star on Thursday.
On the men's side, each team played one match with winners earning a ticket to the single-elimination rounds, while the losers will have a chance to move on in Friday action. Pool winners also will be crowned on Friday as Thursday's winners face off.
Pools D, E and G each saw both matches go the distance, ending in tiebreak wins. Pool E took things a step further with both three-set affairs featuring all deuce sets as Serbia's Lazar Kolaric/Stefan Basta and Poland's Maciej Rudol/Kacper Kujuwiak secured the victories. Rudol/Kujiwiak lost in extra points in Set 1 (24-22), but rebounded with 23-21 and 15-13 wins, while Kolaric/Basta held on for a 26-24, 19-21, 15-13 victory.
"It was a tough beginning," Kujawiak said. "We were close in the first set, but we made a few mistakes. When we were down, we came back better and better. In the end it was really tight, we felt the pressure, but we won and we are very happy about it."
Two other three-setters saw the match go to extra points in the final stanza as Pool F's Enrico Rossi/Marco Caminati (Italy) and Pool G's Adrian Heidrich/Mirco Gerson (Switzerland) won 18-16 and 16-14 respectively.
Americans Sean Rosenthal/Chase Budinger, Bill Kolinske/Miles Evans and Casey Patterson/Stafford Slick all picked up straight set wins, while John Mayer/Trevor Crabb must fight for their lives on Friday after falling to Belgium's Dries Koekelkoren/Tom Van Walle 21-19, 18-21, 15-11.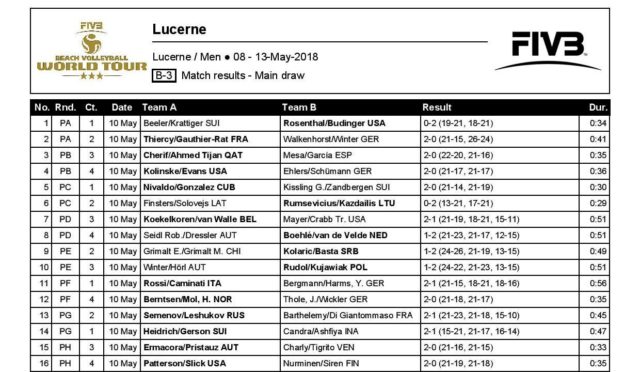 On the women's side, American qualifiers Lane Carico/Lara Dykstra and countrywomen Emily Stockman/Kelley Larsen each won their opening match to move on to the knock-out round, while Betsi Flint/Emily Day made the Top 24 by rebounding for a 21-17, 21-11 win in the third place matches. Carico/Dykstra rallied for a tiebreak win over Canada's Taylor Pischke/Jamie Lynn Broder (13-21, 23-21, 15-8) in their Pool G match.
"It feels awesome," Carico said. "It always feels good to come through a qualifier, because you cannot take anything for granted. So we are happy to be here and we are fired up! I always set my goal at the top, so we are just going to take it one point at a time and hope for the best."
Also in action was USC standout and 2018 Pac-12 Beach Freshman of the Year Tina Graudina, who is competing for her Latvia alongside Anastasija Kravcenoka. This is the duo's third FIVB event, following November's Sydney Two Star (9th) and January's The Hague Four Star (17th). The pair, which claimed gold at the 2016 U22 European Championship, won its opening pool play match 21-17, 21-18 over Angela Lobato/Amaranta Fernandez of Spain.
Friday will bring the battles for pool supremacy.