VOLLEYBALL AT THE 2018 ASIAN GAMES – WOMEN'S INDOOR TOURNAMENT
August 20th, 2018 – September 1st, 2018
Bulungan Sport Hall & Gelora Bung Karno Sports Complex, Jakarta, Indonesia
The final day of women's preliminary play at the 2018 Asian Games saw 3 teams eliminated, while the biggest action came via a 3-2 win by Vietnam over Kazakhstan that cemented their spot in the championship bracket.
Championship Bracket, 2018 Asian Games – Women's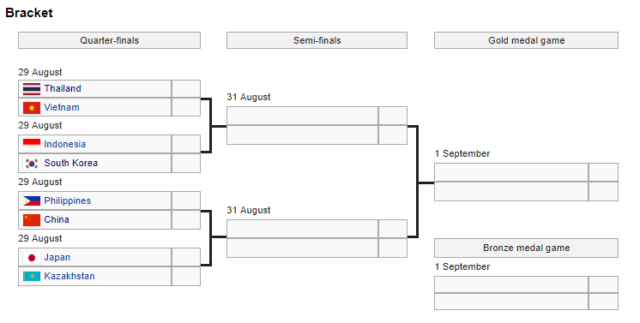 Day 5 Results
Pool A – Japan def. Hong Kong 3-0 (25-4, 25-7, 25-11)
In one of the most lopsided games of international volleyball you'll ever see, Japan swept Hong Kong 3-0 on Monday, allowing Hong Kong to score just 22 points in the match. With the sweep, Japan locked up their 2nd seed in the pool, which means a match against Kazakhstan in the opening round. The Japanese used the same 6 players throughout the entire match, and were led by 17 kills from Yuki Ishii and 14 from Miyu Nagaoka. They hit 50/77 as a team (64.9%) while Hong Kong hit just 10/79 (12.7%). Japan also had 8 aces in the match, while conceding none, although just 2 blocks (Hong Kong hardly hit anything worth blocking).
Pool A – Thailand def. Indonesia 3-1 (25-19, 20-25, 25-13, 25-13)
Thailand, who surprised earlier in the tournament by sweeping Japan and going undefeated through pool play, beat Indonesia 3-1 on Monday. Outside hitter Chatchu Moksri had 24 points (18 kills, 4 aces, 2 blocks) to carry the load for Thailand. In spite of having veteran setter Nootsara Tomkom, still Asia's best at 33, at their disposal, the team only hit 43% in the match; it was their defense that was dominant, holding Indonesia to  27% hitting. That included a 53% excellent service receipt. Aprilia Manganang led Indonesia with 16 kills, but she also had 7 errors for just a .170 efficiency rate.
Pool B – China def. India 3-0 (25-18, 25-19, 25-9)
Tournament favorites China took care of business in their final match, sweeping already-eliminated India 3-0. China rolled through the preliminary rounds without losing a set, and with a 1.736 points ratio – tops of the tournament by almost .300 points. In spite of having nothing substantive to gain from the match, and playing against a much weaker opponent, China played their 'A' lineup for most of the match, though they  did eventually put a few subs on the floor – including using both Ding Xia and Diao Linyu at setter. Li Yinging had one of the best all-around games yet of her young career finishing with a team-high 14 points: 9 kills, 3 blocks, and 2 aces. She's still defensively challenged, but in 3 service receipt attempts, she didn't have any errors, with 2 digs on 5 tries. Olympic MVP Zhu Ting had 9 kills, 3 blocks, and 1 ace, and had a tougher go in the back line where she's usually reliable: she had 3 service reception errors and another 3 dig errors.
Pool B – Vietnam def. Kazakhstan 3-2 (20-25, 19-25, 29-27, 25-19, 15-7)
The last two matches of the day would determine which team between Chinese Taipei and Vietnam would advance to the quarterfinals. Taipei needed Vietnam to lose to Kazakhstan, or they needed to beat South Korea (a much longer shot), to have a spot in the tournament. Vietnam needed either a Taipei loss and a 5-set win, or a Taipei win and a 3-or-4 set win (which would have given them tiebreakers over Kazakhstan).
Vietnam handled their business with a 3-2 win over Kazakhstan, which, barring a big upset, ensured that both teams would wind up in the knockout rounds. After Kazakhstan won the first two sets relatively easily, Vietnam fought back and took the last 3 to virtually seal advancement.
Vietnam had 10 aces in the match, but Kazakhstan countered with 18 blocks, including 5 from Kristina Anikonova.
Pool B – South Korea defeat Chinese Taipei 3-0 (26-24, 25-9, 25-23)
By the time Chinese Taipei started their match as underdogs to South Korea, they knew what they needed to do in order to advance: beat the defending champions, by any score. Two competitive sets, separated by a lopsided 25-9 result in between, sealed their fate and the finals bracket. The Koreans were led by 13 points, all on kills, from Kim Yeon-koung in a match that was very hitting-dependent, without much scores coming from blocks or aces. South Korea finished 2nd in Pool B, which means they won't have to see China until at least the final, if at all.
Final Pool Standings
Pool A
Pos
Team
Pld
W
L
Pts
SW
SL
SR
SPW
SPL
SPR
Qualification
1
 Thailand*
4
4
0
12
12
1
12.000
322
221
1.457
Quarter-finals
2
 Japan*
4
3
1
9
9
3
3.000
290
197
1.472
3
 Indonesia (H)*
4
2
2
6
7
8
0.875
317
328
0.966
4
 Philippines*
4
1
3
3
4
9
0.444
260
312
0.833
5
 Hong Kong
4
0
4
0
1
12
0.083
190
321
0.592
Pool B
Pos
Team
Pld
W
L
Pts
SW
SL
SR
SPW
SPL
SPR
Qualification
1
 China
5
5
0
15
15
0
—
375
216
1.736
Quarter-finals
2
 South Korea
5
4
1
12
12
4
3.000
382
299
1.278
3
 Kazakhstan
5
2
3
7
9
10
0.900
386
406
0.951
4
 Vietnam
5
2
3
6
8
11
0.727
369
406
0.909
5
 Chinese Taipei
5
2
3
4
7
13
0.538
370
441
0.839
6
 India
5
0
5
1
2
15
0.133
292
406
0.719
* – Advanced to Quarterfinals
Consolation Bracket
11th place game – Hong Kong vs. India (loser finishes 11th)
9th place game – Chinese Taipei vs. winner of 11th-place game (winner finishes 9th)