Pool play is officially out of the way in the 2018 FIVB Women's Volleyball Nations League and the semifinals are next. Following the original rounds of group play, the Final Six split things into two more pools. That allowed six teams to be whittled down to four, with the final four and placement matches occurring tomorrow and on July 1.
In the Final Six pool play, Netherlands went 0-2 in Pool A while Serbia went 0-2 in Pool B. Those are the two eliminated, with the United States, Brazil, China and Turkey all standing. From there, the teams cross compare for the semifinals, with the Pool A winner (Brazil) facing the Pool B runner-up (Turkey) and vice versa for the Pool B winner (USA) against the Pool A runner-up (China).
Of course, with a full round-robin in the initial pool stage, every team has already faced each other. Back in week two on May 22, Brazil took down Turkey 3-1 in Ankara with 22 more kills despite funneling into the powerful Turkish block 14 times. USA meanwhile defeated China 3-0 in Jiangmen in week four on June 7 as Michelle Bartsch-Hackley (18 points) kept pace with Zhu Ting (14 points) to lead the way to victory.
The full bracket and schedule can be seen below:
BRACKET: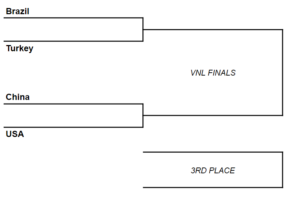 SCHEDULE:
Nanjing, China | Nanjing Olympic Sports Center Gymnasium
Time Zone: China Standard Time (UTC +08:00)
Semifinals
| Date | Time | | Score | | Set 1 | Set 2 | Set 3 | Set 4 | Set 5 | Total | Report |
| --- | --- | --- | --- | --- | --- | --- | --- | --- | --- | --- | --- |
| 30 Jun | 15:00 | Brazil  | – |  Turkey | – | – | – | | | 0–0 | |
| 30 Jun | 19:45 | United States  | – |  China | – | – | – | | | 0–0 | |
3rd place match
| Date | Time | | Score | | Set 1 | Set 2 | Set 3 | Set 4 | Set 5 | Total | Report |
| --- | --- | --- | --- | --- | --- | --- | --- | --- | --- | --- | --- |
| 1 Jul | 15:00 |   | – |   | – | – | – | | | 0–0 | |
Final
| Date | Time | | Score | | Set 1 | Set 2 | Set 3 | Set 4 | Set 5 | Total | Report |
| --- | --- | --- | --- | --- | --- | --- | --- | --- | --- | --- | --- |
| 1 Jul | 19:00 |   | – |   | – | – | – | | | 0–0 | |