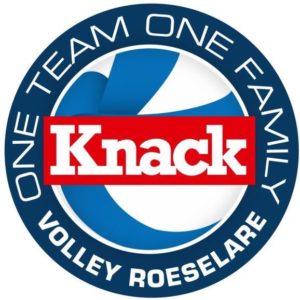 Belgian side Knack Volley Roeselare was given a gift direct advancement for the Group stage of 20 teams in the reformatted 2018-2019 Champions League, rather than fighting through qualifying rounds like Belgian teams have had to do in the past. That was part of a general upgrade of the Belgian league's status in the tournament, which includes them receiving a 3rd bid.
The team that represents the Flanders team from Roeselare next season, however, will look very different from the one that placed 2nd in last year's Belgian EuroMillions League with a 13-3 record, and was swept out of the Championship series against Noliko Maaseik.
That includes two big pickups from North America: Sam Holt from the U.S. and Brett Walsh from Canada.
The almost-25-year-old outside hitter Holt, younger brother of U.S. National Team fixture Maxwell Holt, is a 6'7″ (201cm) outside hitter. After trying out and not being chosen for the Korean V-League, where 7 spots were open for 24 players, Holt became free for transfer. He spent the first 2 years of his professional career in Italy, first with Sir Safety Perugia, and then with Verona, Oltona, and Lagonegro.
The man passing to him will be Brett Walsh, who is currently serving as the backup setter on the Canadian men's National Team at the Volleyball Nations League. Another young player, recently turned 24, he comes from Gi Groupa Monza in Italy, where he played his first professional season last year as the backup to American Kawika Shoji. Now in Belgium, he'll have the chance to start for Knack Volley.
The team has also added 22-year old Norwegian middle blocker Rune Fasteland, who stands 6'9″ (206cm) tall as part of an overall youth movement for the team.
Among the departures is domestic 21-year old Thomas Konings, a 6'8″ opposite. His leaving really hurts, as he's a potential National Team member and a domestic player in a league that limits foreign players, and has been with the team for 3 years: since he was 18 years old. He departs for the league's 8th-place team last season, Volley Gent, which the club says is in part to allow him better focus on his university studies. Gent (often anglicized as Ghent) is considered a university town, and is home to the huge Ghent University.
Also departing from the club is Piotr Orczyk, a 25-year old who left to join PGE Skra Belchatow: champions of his home league in Poland. Spaniard Miguel Angel Fornes left as well, creating the hole for Fasteland in the middle.