Lucerne Three-Star
Lucerne, Switzerland
May 9-13, 2018
Double-Gender
Eight men's and eight women's pairs fought through two qualifying rounds to earn berths to the Lucerne Three-Star 32-team main draw on Wednesday. Pool play begins on Thursday.
Advancing on the women's side were teams from Brazil, Czech Republic, Germany, Italy,  Japan, Norway,  Russia and the United States.
Americans Lane Carico/Lara Dykstra won in straight sets in Round 2, while countrywomen Delaney Knudsen/Kendra Vanzwieten were outlasted in the opening round 21-12, 16-21, 15-10 to end their stay at the tournament.
Also moving on were: Brazilians Juliana Felisberta/Andressa Cavalcanti, Czech pair Martina Bonnerova/Sarka Nakladalova, Germans Teresa Mersmann/Cinja Tillmann, Italians Marta Menegatti/Laura Giombini, Japan's Chiyo Suzuki/Reika Murakami, Norway's Victoria Faye Kjolberg/Ane Guro Tveit Hjortland, and Russia's Olga Motrich/Yulia Abalakina.
Of the eight second round matches, just two went to tiebreak, with Suzuki/Murakami and Kjolberg/Hjortland each claiming their second three-set win of the day to move on.
"It feels really good," Kjolberg said. "We played two games with a tie-break today. We won and we made the main draw, two times in a row. We hope we can do it again and reach the ninth place or better."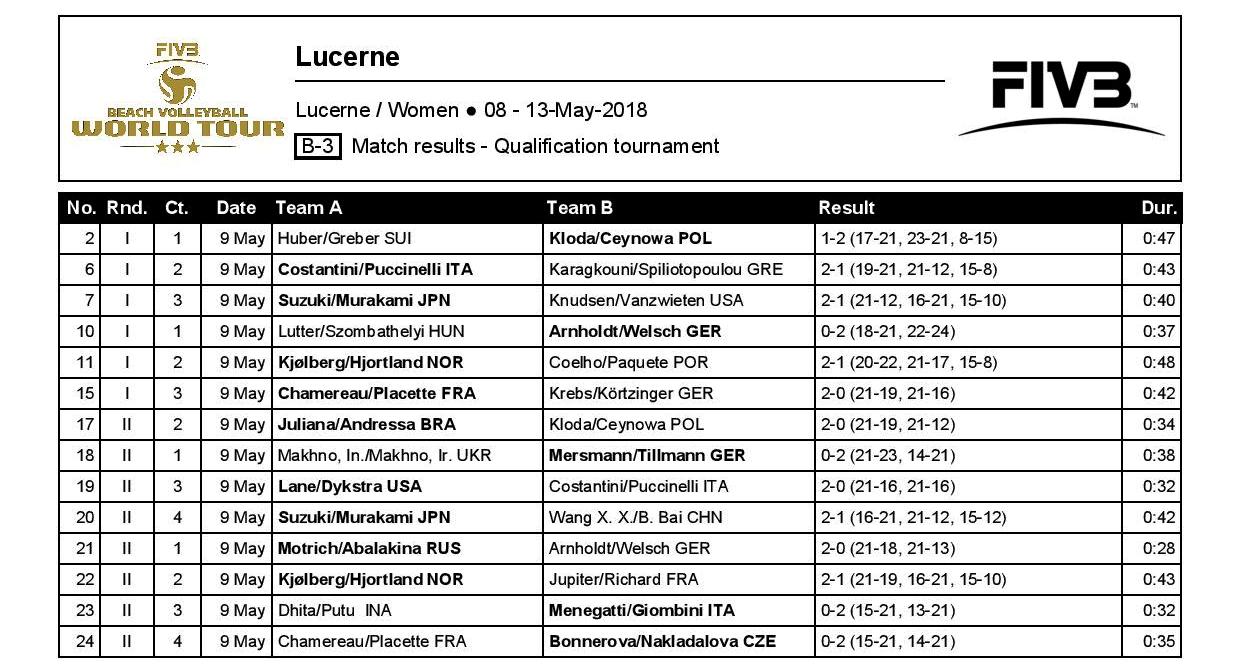 On the men's side, three German teams and one pair each from France, Russia, Serbia, Spain and the United States are through to the main draw.
Sean Rosenthal and former NBA star Chase Budinger claimed straight set wins over Likejiang Ha/Jiaxin Wu of China and Aaron Nusbaum/Michael Platinga of Canada to earn their first FIVB wins as a pair besides an opening round win via injury at the Huntington Beach Four-Star last week.
Serbia's Lazar Kolaric/Stefan Basta were the tiebreak kings, winning both of their matches in three-sets, holding on for victory after dropping set two of each contest.
"Yes, it is always the hardest to play qualifications, but we made it and it feels awesome!" Kolaric said. "Last week in Turkey our main goal was just to qualify for the main draw, but then we made it all the way to the fifth place. Now we are on our way – we are winning this tournament!"
The Americans and the six other teams to move on did so with straight-set victories. Russians Konstantin Semenov/Ilya Leshukov and German duos Nils Ehlers/Lorenz Schuemann and Julius Thole/Clemens Wickler had to post just one win after receiving byes. Rounding out the teams who qualified for the main draw were France's Olivier Barthelemy/Romain Di Giantommaso, Germany's Arne Bergmann/Yannick Harms and Spain's Raul Mesa/Christian Garcia.