The NCAA Beach Volleyball Tournament in Gulf Shores, Alabama has been determined, with USC looking to defend their 2016 national title. VolleyMob has kept up with the all the action this year and will make our predictions on who will be this year's champion.
Teams & Seeds
USC
UCLA
Pepperdine
Florida State
Hawaii
Long Beach State
LSU
South Carolina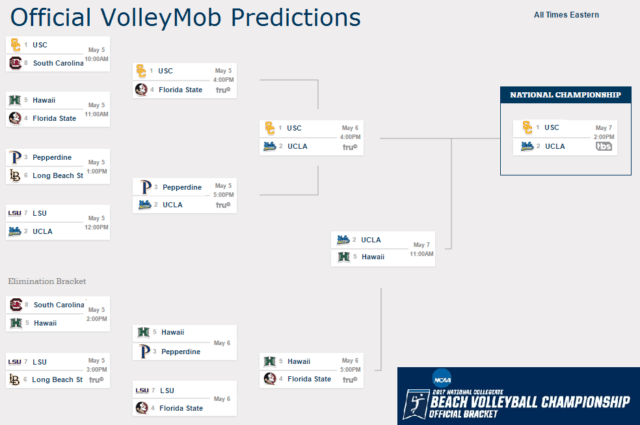 VolleyMob's Predictions
Match 1 – USC def. South Carolina 5-0
Match 2 – Florida State def. Hawaii 4-1
Match 3 – UCLA def. LSU 5-0
Match 4 – Pepperdine def. Long Beach State 3-2
Match 5 – Hawaii def. South Carolina 3-2
Match 6 – LSU def. Long Beach State 3-2
Match 7 – USC def. Florida State 4-1
Match 8 – UCLA def. Pepperdine 3-2
Match 9 – Hawaii def. Pepperdine 4-1
Match 10 – Florida State def. LSU 4-1
Match 11 – USC def. UCLA 3-2
Match 12 – Hawaii def. Florida State 3-2
Match 13 – UCLA def. Hawaii 4-1
Match 14 – USC def. UCLA 3-2
VolleyMob predicts that USC will repeat as the 2017 national champions.
USC
USC has been a force to be reckoned with this season. They only dropped one match to UCLA in the Pac-12 conference tournament and turned around to defeat them again in the finals to claim the title. In the #1 flight for USC sits Sarah Hughes and Kelly Claes, who up until mid-way through the season, when St. Mary's Lindsey Knudsen and Payton Rund defeated them in three sets, were on a 103-match win streak that dated back two years. The pair and team have proven to be beatable but are way too dominate to go down without a fight.
UCLA
Three of UCLA's four losses on the season have come to #1 USC, with their fourth to Pepperdine early in the year. The Bruins were able to snap USC's 62 match win streak at the Pac-12 Championships this past weekend. UCLA has proven capable of taking down the top teams in the nation.. The Bruins have the McNamara twins who have won the Pac-12 Pair of the Week twice this season and are 26-6 on the year from the #1 spot, but it will be the bottom end of the lineup who will be key to a title. They won at the 4 and 5 line against USC in each of the teams' two matchups in the Pac-12 tournament.
Pepperdine
Pepperdine was able to snatch up the West Coast Conference Tournament title two weeks ago against Loyola Marymount 4-1. The team has a 24-3 record going into the NCAA Tournament, with all their losses coming to top-five programs.  The Waves were led by Delaney Knudsen and Madalyn Roh in the #1 spot and Brittany Howard and Corrine Quiggle in the #2 position. Half of the Waves season was spent playing top-15 teams, they have the resume to make a run at the NCAA Tournament.
Florida State
Florida State rolled to the CCSA championship two weeks ago, posting a 6-0 weekend record. The team's last loss came to Pepperdine on April 15 with a losing score of 1-4. The Seminoles have gone 27-7 on the year with a tough schedule, losing all their matches to top-five teams – USC, Pepperdine, and UCLA. Florida State struggle when the competition is high but have been led by Katie Horton and CCSA Freshman of the Year Francesca Goncalves, who have picked up two CCSA Weekly honors this season.
Hawaii
Like most of the other top-five teams in the nation, Hawaii has only lost matches to the top of the pack teams. The Sandbows have had no troubles taking down their unranked foes but struggle with a tougher match-up. Hawaii ended their regular season with their second consecutive Big West title.
Long Beach State
Long Beach State has struggled with top-ranked opponents, but handle all other competition with ease. At the Big West Championships, the Beach were not able to get past Hawaii to lose out on the title. The Beach will start with Pepperdine in their first-ever NCAA Tournament and have not yet defeated them this season, so their opening match will prove to be difficult.
LSU
LSU has earned their first-ever NCAA Tournament berth after a record season for the program. The Tigers climbed the rankings all year to a #7 finish and a 26-6 overall record. For the team, the #1 position is their strong point with their youngest duo – freshman tandem of Claire Coppola and Kristen Nuss who have won a team-best 26 matches this season. Early in the season, the Tigers faltered with losses to Florida State and Florida Atlantic right off the bat, followed by defeats to UCLA, USC, and Long Beach State. The team turned it around to go on a 23-match winning streak before falling to Florida International in the CCSA tournament.
South Carolina
South Carolina has a tough test ahead of them: taking on USC in their first match of their first-ever NCAA Tournament. On the year, the Gamecocks have won a program-best 23 matches as a team, with Macie Tendrich setting the school-record with 27 individual wins in a season. The Gamecocks have struggled against ranked foes this season and had a hiccup late when they dropped a match to unranked Tulane to end the regular season.