On July 10, soccer superstar Cristiano Ronaldo announced he was leaving Spanish club Real Madrid after nine years and joining Italian club Juventus.
The 33-year old signed a three-year contract worth more than $35 million per season after completing a $123 million Euro transfer deal with Juventus.
The signing sparked a challenge from the Italian Volleyball Federation (FIPAV Lazio), asking Ronaldo to go head to head with national team outside hitter Ivan Zaytsev to show who pulls louder.  The initial post asked for 1000 likes on Facebook. To date, the post has more than 1,300 likes and 338 shares.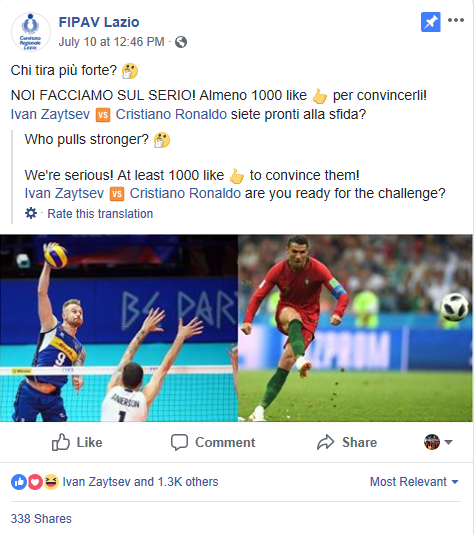 The Federation also has tried to push the hashtag #CR7 vs. #IZ9, denoting Ronaldo's trademark initials and jersey number and Zaytsev's initials and jersey number.
Ronaldo's addition to Juventus is being looked upon much like Zaytsev's return from playing professionally in Russia to join Sir Safety Perugia in Italy's Serie A1 in 2016.
Zaytsev has proven his presence on the court in 2018, clocking a 134 kilometer per hour(83.3 mph) serve during the team's Volleyball Nations League match with Serbia, setting a world record for serving speed.
After seeing the federation's challenge, Zaytsev chimed in on his personal Facebook page that he is game. He also drops a self deprecating statement that Ronaldo probably won't know who he is.
He then chides Ronaldo to "not look for excuses to pull you back" … "Let's start the challenge."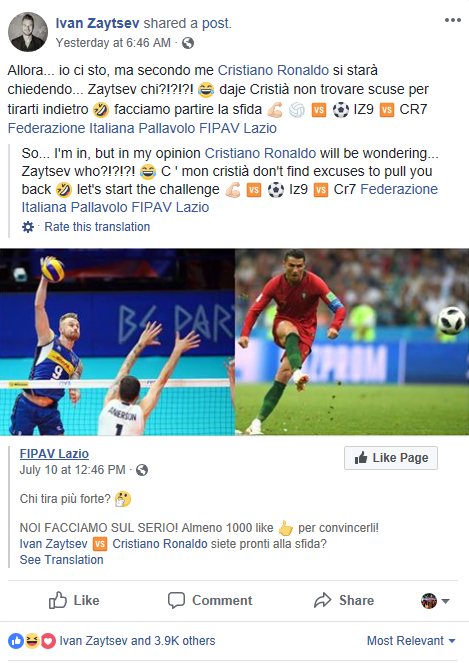 Ronaldo has yet to reply, but his impact on his Italian side, Juventus, has already caused ripples in the social media atmosphere.
The Ronaldo Effect™ 📱 pic.twitter.com/4j4pXrt1dZ

— B/R Football (@brfootball) July 12, 2018