Throughout the 2018 beach season, former Michigan State indoor star Chloe Reinig and a few other fifth-year players heading from the gym to the beach will walk through their transitions to the beach game.
Reinig was an Honorable Mention All-American in 2014, a two-time AVCA All-Region selection (2014, 2015) and two-time All-Big Ten honoree (first team 2014; honorable mention 2015) for the Spartans. The three-time Academic All-Big Ten honoree registered 1,259 kills (3.05 per set) , while adding 301 blocks (0.73 per set) and 231 digs at MSU.
"Chloe brings a ton to the team," LMU beach coach John Mayer said. "There are the obvious things like her physical presence at the net both with blocking and attacking. But the best part has been her willingness to learn and be open to all the new stuff we've thrown at her. She's brought a great attitude and work ethic every day and that has meant so much to our team. It's going to be exciting to see the type of beach player she can become!"
In this first edition, Reinig shares about how she chose her new home at Loyola Marymount, the move from Michigan and her first steps as a beach player.
———
Let's start off at the beginning…
Last fall I made the cross country (35 hour) drive from East Lansing, Michigan to my new home in Los Angeles, California. Luckily, I had the help of a dependable older brother and a not-so-dependable, gas guzzling Chrysler Aspen. Along the way we stopped in Denver to see my little brother, in Las Vegas (because Vegas), and took a little detour to check out the historic Hoover Dam. Aside from my entire body seizing up in sweat, and my palms death-gripping the steering wheel every time we started to scale a mountain, it wasn't as horrific of a drive as it probably sounds.
These signs signaled that it was time for me to pull over and let my brother drive while I ducked my head and closed my eyes the whole way up. If you're from an area with mountains you're very familiar with these signs.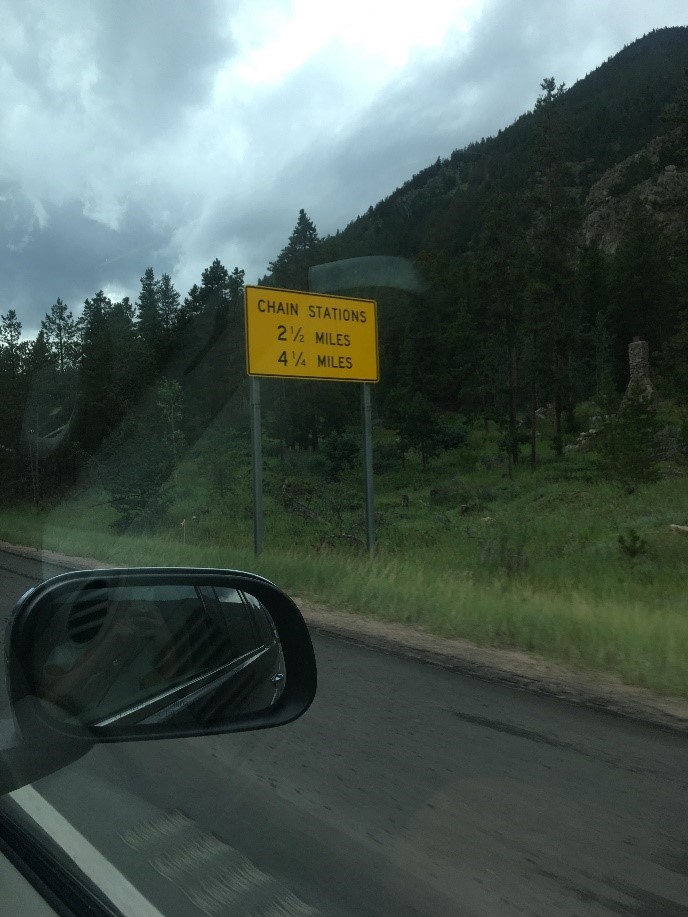 We got to see some of the world's most beautiful and natural landforms, the pic below was taken somewhere in Utah I believe. I hadn't seen much of that part of the country and some of it is truly breathtaking. While it was quite the trek, my brother and I shared many stories, memories, and a lot of laughter along the way. It was a trip I will remember for the rest of my life.
Upon arrival, I quickly got settled in after a rather large trip to IKEA and a lot of unpacking. I soon met my roommate Cierra who played at Colorado for her undergrad, and we forged a friendship right away. Some of the reasons why I chose Loyola Marymount (LMU) were because of the people here, how I interacted with the team and coaches and how down to earth everybody was. To me, the process of choosing a school when I was 14 and going on college visits, compared to when I was 22 and once again visiting schools was totally different. I really knew what I was looking for at this point, why I wanted those things and how to get them/recognize them in a school/program. My three main points are team/coach interactions/how you mesh with the program, the school's academic integrity, and location/area. LMU checked all three of these components with ease. I loved the coaching staff and how chill they were while they simultaneously demanded respect. The team was very welcoming, and it seemed as if there wasn't any drama or looming problems in the air. LMU is a fantastic school with outstanding academics, and obviously Los Angeles is one of the greatest areas to be in, full of opportunities both in the volleyball world and outside of it.
One of my earliest and fun memories here was when Cierra and I went to watch BOTH our coaches play in the Manhattan Beach Open. We walked up to quite the scene: dozens of courts set up, hundreds of people, and some pretty impressive volleyball. After our first few steps, I remember turning to Cierra and saying, "I wonder when walking this (walking in the sand) will start to be easy for us, when it will be almost like walking on pavement". Since we both were short of breath after just a couple paces. We watched an entire day of competitive, sweaty, and inspiring play, while getting a tan and eating some pretty bomb Acai bowls (shoutout to Paradise Bowls, a MUST if you're in the LA area).
Flash forward a few months and we had our first play date, an off-season tourney in Huntington against some of the bigguns like USC, Long Beach, etc. At this point in my volleyball career I'm thinking "Play it cool Chloe, you've played in some of the biggest arenas against some of the best teams in the country, you got this. I'm 22 years old for Heaven's sake, older than most girls out here." Well, that confidence quickly vanished. I stepped onto the beach court and once again felt like a freshman. Once again, my heart fluttered a million beats a minute and that lump in my throat just wouldn't clear, just like first match of my freshman season at MSU when we played Penn State at Penn State and I was in the starting lineup.
The first match was pretty rough… I was barely allowing myself to play because I was so nerved up. After the match I apologized to my partner saying I was sorry for freaking out and for being a deer in the headlights out there. She just laughed and said "it's all good. You're gonna kill it this next match, let's just have fun and enjoy the day." And that's the world of Beach. Yes, there is still tons of pressure and yes-holy moly it's hard, but at the end of the day we're just chillin' on the beach, playing the sport we love with some good friends around us. It is such an incredibly cool environment. Instead of sitting inside all day in a fluorescently lit, smelly, either too hot or too cold gym, no offense indoor I did it for many years— we get to sink our toes in the sand, eat sun-kissed strawberries as our snack, and jump in the ocean between matches. Our parents get to unfold a beach chair, prop up an umbrella, and enjoy a nice day at the beach. It's a win-win for everyone.
Now a few more months have gone by, and newsflash, WALKING IN THE SAND IS STILL NOT EASY. Although, I feel that I do have my "sand legs" now. When I first got here, muscles in my legs and feet that I never knew even existed ached. My sunglasses tan came in quite nicely as well. I was worried that when I came back from Christmas break (in Michigan remember-where there is only snow not sand in those months), I would have to go through the same process all over again. Thankfully, it was just muscle memory at that point. The muscles weren't brand new like they were in the fall, they just needed to be woken up from the long winter's break.
As we start out the month of February, season is just a few weeks away. I have my partner Kekai, and we are PUMPED for season. We just found out who our partners were the other day. Kekai is extremely competitive, forward, and aggressive just like I am, yet we also have some individual qualities that balance the other out nicely. The key to beach, I have learned, is a good partnership. A good working relationship that relies heavily on trust and the ability to communicate with one another. With Indoor, I feel that you can get away with being a bit quieter, moodier perhaps, or any variety of quirks because there are six of you on the court and some things are bound to go unnoticed. With Beach, there is no hiding. Every move and every word is seen and heard by both your partner and the crowd. There is no subbing, you have to tough out your 'rough days' and make them into just not-as-great days. So now that we have set partnerships it's a great opportunity to iron out these kinks in practice before the real competition begins! Every day at practice is a chance to get better together and learn more about each other to make the best situation possible for season! All experience is good experience!
There is a lot more to the similarities and differences between the Indoor and Beach games however, I wanted this initial post to be my story so you all have some sort of background, then the next coming posts will contain more specific lessons I have learned throughout this process! Thanks for reading!
p.s. Have to plug myself-my Twitter is @chloe_reinig and my Instagram is @chloereiniggg, toss me a follow if you want to stay up to date on the journey! If not, reading my blog will do just fine 🙂
AND SO IT BEGINS….