Langkawi One-Star
The semifinals are set for the Langkawi One-Star with teams from Austria, Germany, Russia and Thailand still in line for a podium spot on the men's side.
Austria's Simon Fruhbauer/Jorg Wutzl faces off with Germany's Paul Becker/Eric Stadie, while Russia's Petr Bakhnar/Tara Msykiv take on Thailand's Nuttanon Inkiew/Sedtawat Padsawud. The semis are set for 9 and 10 p.m. ET. The winners will face off for the title at 3 a.m., with the third place match slated for 2 a.m.
Becker/Stadie and Nuttanon/Sedtawat each picked up three-set wins in the quarterfinals to claim their spots. Bakhnar/Myskiv also went the distance to stay in the podium race, besting Canadians Felipe Humana-Paredes/Cameron Wheelen after dropping the opening set.
Fruhbauer/Wutzl moved on in straight sets after posting a pair of three-setters to reach the semis.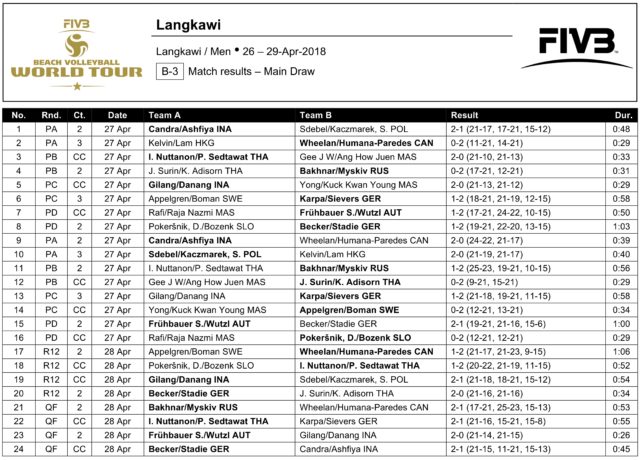 On the women's side, the last four remaining teams are Australia's Phoebe Bell/Jessyka Ngauamo, Czechs Martina Bonnerova/Terez Pluharova, Dutch pair Katja Stam/Julia Wouters and Russians Ksenia Dabizha/Dari Mastikova.
All but the Dutch received a bye into the quarterfinals. Once there, it was the Czechs who had the longest road, rallying for a three-set win over top-seeded Erika Bobadilla/Michelle Valiante of Paraguay.
The semis are slated for 11 p.m. ET and midnight with the Russians and Aussies facing off first followed by the Dutch and the Czechs. The tournament wraps with the third place match at 4 a.m. and the title being decided at 5.