QINZHOU THREE STAR
Oct. 11-15, 2017
Qinzhou, China
The first tournament for new American pairing April Ross and Kelly Claes, the No. 3 overall seed, ended in the opening round as the duo fell to No. 30 seed Kinga Kolosinska and Karazyna Kociolek of Poland 21-19, 21-15 in the main draw on Thursday.
"I know Kinga and Katarzyna are very good and I knew that it was a really good team that we were up against," Ross said. They were just much more ready than we were. It's just not being sharp. We closed the gap and then I missed a serve and that was kind of the story of the entire match. We were doing something good, and then we were doing something bad. If we were more consistent, our good is good enough is win, but we just made too many mistakes."
Fellow Americans Lauren Fendrick and Nicole Branagh, Emily Day and Brittany Hochevar, and Summer Ross and Brooke Sweat fared better with straight set wins. Top-seeded Fan Wang and Xinyi Xia of China also moved on in just their second tournament as a duo.
Two matches went the distance as Czech duo Martina Bonnerova and Sarka Nakladalova won 17-21, 21-17, 15-10 and Finnish team Niina Ahtiainen and Anniina Parkkinen  moved on with a 21-15, 14-21, 15-13 victory.
All three qualifiers lost in straight sets, although New Zealand's Alice Bain and Julia Tilly fought to an extended 29-27 loss in Set 2 of their battle with No. 8 seed Leila Consuelo Martinez Ortega and Lidy Echeverria Benitez of Cuba.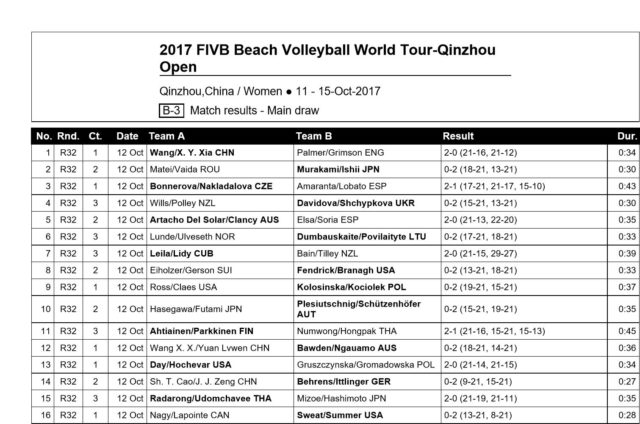 On the men's side, the top four seeds moved on, while the American representation is heading home.
Both American teams are out in the opening round with Mark Burik and Bill Kolinske falling in straight sets to top seed Dries Koekelkoren and Tom van Walle of Belgium, 32-30, 21-14. New pairing Eric Zaun and Stafford Slick also fell in the Round of 32, succombing to French pair Youssef Krou and Quincy Aye 21-11, 21-14.
"(We survived) by fighting hard and working hard," van Walle said. "I think we started well, but then at 16-11 we made some mistakes and they made some good blocks, and then we brought ourselves into trouble. You see those guys can also play very well and we made our lives difficult. But in the end, we were able to get it done as a team."
The tournament's No. 2 seed Pereira Santos and Cherif Younousse of Qatar, No. 3 Nadir Diaz Gomez and Bayard Sergio Reynaldo of Cuba and No. 4 seed Juan Virgen and Lombardo Ontiveros of Mexico also moved on in straight sets.