With the recent devastation of hurricanes Irma and Maria in the Caribbean and two earthquakes in Mexico, the volleyball community at large has reached out to show support for affected nations.
FIVB, NORCECA Look to Aid Puerto Rico
In the wake of the hurricanes, FIVB President Ary S. Graca sent a letter to NORCECA President Cristobal Marte Hoffiz. In it, Graca shared his sadness, prayers and sympathy for the region.
"I was saddened and very shocked to see the news about the terrible devastation caused by the series of hurricanes in the Caribbean with tragic loss of life and catastrophic damage to buildings and infrastructure.
"I sincerely hope that your family and volleyball family are all safe and that no-one hast lost their homes. The FIVB extends its heartfelt sympathy to all the people of the beautiful Caribbean islands who have been affected by these appalling hurricanes.
"Please let me know how all NORCECA National Federations are coping in the face of these natural calamities"
President Hoffiz in turn expressed concern and desire to help Puerto Rico in the wake of the hurricanes
"Our prayers are with our friends from Puerto Rico who have suffered the direct impact of these hurricanes," Hoffiz said. "I hope we can in some way give assistance to Puerto Rican Federation as they try to overcome this situation of calamity. The Puerto Rican Federation is one of the most important within NORCECA as they are the only with professional leagues in both genders."
He also offered assistance to all affected nations, including Dominica, Dutch and French St. Martin, British Virgin Islands, U.S. Virgin Islands, Anguilla, Antigua & Barbuda, Guadeloupe, Saba, St. Eustatius and St. Kitts and Nevis.
"In these moments of sorrow and calamities we sincerely extend our solidarity and promise to do our best to knock all the doors looking for relief and assistance," Hoffiz said. "I am sure that with an all-out joint effort we will be able to overcome these awful circumstances."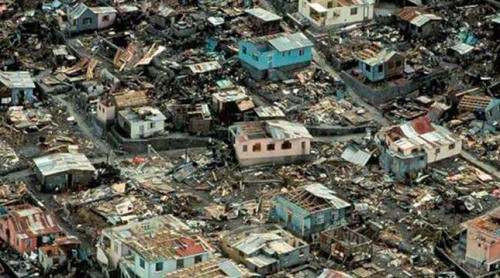 Due to the damage from the hurricanes, Puerto Rico and Cuba both were forced to withdraw from the NORCECA Continental Championships. The confederation has since scheduled a second tournament to decide the final two qualifiers for the 2018 World Championships.
NORCECA President Reaches Out To Mexico
In addition to the weather related tragedies in the Caribbean, Mexico has been hit with two devastating earthquakes in recent weeks. First, an 8.1 magnitude quake off the southern coast on Sept. 7, which killed at least 90, and most recently a 7.1 magnitude event on Sept. 23, which has killed more than 200.
In the wake of those tragedies, NORCECA President Hoffiz sent a letter to Mexican Volleyball Federation President Jesus Perales.
""The terrible news has left us stunned by the fatalities that have taken place and the pain that grips the Mexican people," Hoffiz said. "The volleyball community worldwide, beg the Almighty to grant them the strength of spirit to face these adversities and offer resignation to so many families who have been affected by this cataclysm."
Mexican coach Jorge Miguel Azair expressed his team's mixed emotions about playing in the NORCECA Continental Championship this week.
"For us it is quite difficult to be here now because of the situation that is going on in our country," Azair said. "But we are fortunate to have the privilege to represent our country and compete. Since we struggled a lot in the Pan Am Cup, we have been working hard. We have developed better break point and side out parts of our game, not just being in-system. Since Puerto Rico and Cuba are not coming, we have to adjust to the new tournament schedule. But we are fortunate to be here."