The FIVB announced the 2019 Volleyball Nations League slate on Tuesday.
The marquee women's match, pitting 2018 VNL winners from the United States against the 2018 World Champions from Serbia, is set for Week 2 in Italy (May 28-30). The 2018 VNL gold medal rematch between the Americans and Turkey will be played in China on Week 4.
On the men's side, VNL champion Russia will take on World Champion Poland on Week 3 in Iran (June 14-16). A rematch of the 2018 VNL title match between Russia and France will be played on Week 1 in Serbia.
The American women will host a pool of Korea, Germany and Brazil on Week 3 (June 4-6). The 2018 gold medalists will take on runnerup Turkey on Week 4.
China will host four times (Weeks 2 in Macao, Week 3 in Hong Kong, Week 4 and 5). China, which was the site of the 2018 finals where the USA defeated Turkey,  also hosts the 2019 finals from July 3-7.
Italy is set to host twice (Weeks 2 and 4) as are Turkey (Weeks 2 and 5).
Week 1: The USA begins the tournament in Bulgaria in a pool with Japan and challenger teams in Bulgaria and Belgium.
From there, it is on to Italy to face challenger Dominican Republic, Serbia and Italy.
After returning the states, Team USA is back on the road, wrapping up the preliminary rounds in China and Russia. Week 4 will pit the team against Poland, Turkey and China, while Week 5 will see the Americans face the Netherlands, Thailand and Russia.
Women's action is slated to begin May 21-23, while men's play kicks off May 31-June 2.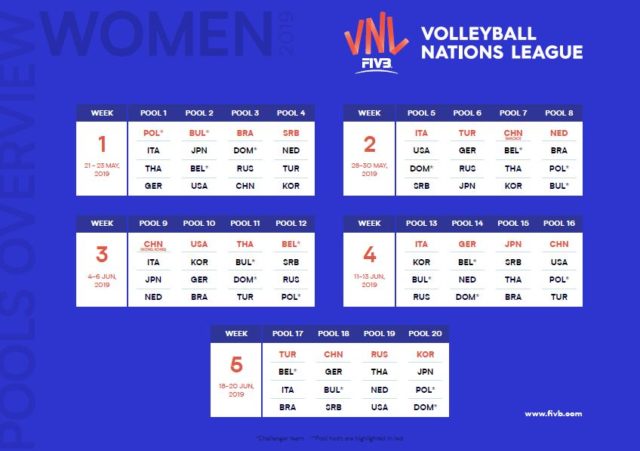 The men's finals will be played in the United States from July 10 to 14. But first, five weeks of preliminary action will take place around the globe, including a Week 4 visit to the USA.
The American men, which earned bronze at Worlds and the VNL in 2018, begins its quest for another medal in Poland, facing Brazil, Australia and Poland on Week 1.
Week 1: USA, Brazil and Australia play in Poland
Week 2: USA, Italy, Portugal play in Russia
Week 3: Argentina, USA and Germany play in France
Week 4: Japan, China and Canada play in the USA
Week 5: USA, Serbia and Iran play in Bulgaria
China is set to host two weekends (Weeks 1 and 2) as are Iran (Weeks 3 and 4), Brazil (Weeks 4 and 5) and challenger Bulgaria (Weeks 3 and 5).