FIVB/P1440 Las Vegas Open
Las Vegas Festival Grounds; Las Vegas, Nevada
Oct. 15-21, 2018
Watch Live: Finals will air live at 4 p.m. ET Sunday on ESPN2
After four days of competition, the Las Vegas Open medal race is down to four teams as two Canadian pairs will meet in the final and two Brazilian sides will vie for third place on Sunday.
No. 2 seed Heather Bansley/Brandie Wilkerson and No. 3 Sarah Pavan/Melissa Humana-Paredes will meet in the first ever all-Canadian FIVB World Tour title match.
Bansley/Wilkerson earned their way to the final with straight set wins over Spain's Liliana Fernandez/Elsa Baquerizo (21-14, 21-15) and Americans Emily Stockman/Kelley Larsen (25-23, 21-12) in the Round of 16 and quarterfinals, before outlasting Brazilians Maria Antonelli/Carol Solberg Salgado in the semifinals (21-18, 22-24, 15-11).
"It was a very emotional match," Wilkerson said. "All four of us wanted it really bad and we played each other multiple times this year and that's very tough mentally. Heather and I just steadied out, we stayed together and made sure we cleaned up on our end and took care of what we needed to do."
Bansley/Wilkerson have earned four podium finishes in 2018, winning gold at the Warsaw Four Star (July 1), silver at the Ostrava Four Star (June 24) and bronze at the Itapema Four Star (May 20) and Gstaad Major (July 15).
Pavan/Humana-Paredes advanced through three sweeps, downing Poland's Kinga Kolosinska/Katarzyna Kociolek (21-17, 21-15), Italy's Marta Menegatti/Viktoria Orsi Toth ((21-14, 21-16) and Brazil's Ana Patricia/Rebecca (21-14, 21-19). The pair has yet to lose a set in tournament.
""It feels great that we've managed to play so well and to have such an amazing game leading to the final," Humana-Paredes said. "Our blocking-defense and our serving have been crucial for us and this is the result. We need to stay focused on setting ourselves up for being able to take advantage of it."
"Now we have the last game of the year in front of us, so we got nothing to hold back and we're going to leave everything on the court," Pavan said.
Pavan/Humana-Paredes are seeking their third FIVB title of 2018, following wins at the Gstaad Major (July 15) and Xiamen Four Star (April 22). The pair also won the title at the Commonwealth Games (April 12).
Maria Antonelli/Carol outlasted Americans Sarah Sponcil/Kelly Claes in the Round of 16 (18-21, 21-15, 15-11) and downed Switzerland's Nina Betschart/Tanja Huberli (21-19, 21-13) in the quarterfinals to set up the semifinal meeting with Bansley/Wilkerson.
Ana Patricia/Rebecca earned their spot in the quarterfinals on Friday, topping Japan's Megumi Murakami/Miki Ishii (21-11, 21-12). The team went the distance with Americans Betsi Flint/Emily Day on Saturday (18-21, 21-18, 15-11) before falling to Pavan/Humana-Paredes.
No. 4 seed Maria Antonelli/Carol are aiming for their fourth podium finish of the year, following runnerup efforts at the Hague Four Star (Jan. 7), Huntington Beach (May 6) and Espinho Four Star (July 7).
No. 8 Ana Patricia/Rebecca are looking to secure their third straight medal, following gold at the Qinzhou Three Star (Oct. 4) and silver at the Yangzhou Four Star (Oct. 14).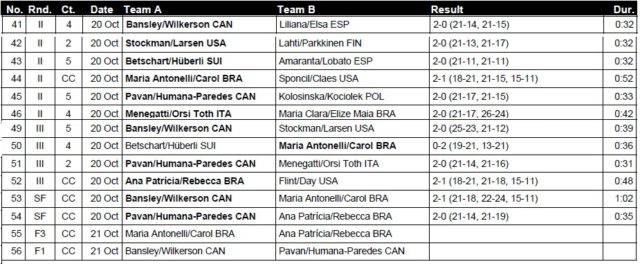 Bronze medal – 1:15 p.m. ET
Gold medal – 4 p.m. ET