AVC WOMEN'S WORLD CHAMPIONSHIP QUALIFIER
Baluan Sholak Sports Palace; Almaty, Kazakhstan (Pool A)
Nakhon Pathom Gymnasium; Nakhon Pathom Thailand (Pool B)
Sept. 20-24, 2017
The four Asian Volleyball Conference tickets to the 2018 World Championships were officially punched on Sunday with China (4-0) and Kazakhstan (3-1) earning the Pool A spots and Korea (4-0) and Thailand (3-1) claiming the top two spots in Pool B. The top two finishers in each five team pool were awarded berths to Worlds.
Korea and Thailand faced off on Sunday after already securing their spots in the World Championships by virtue of record on Saturday. Korea earned the top spot in the pool, however, winning via sweep on Sunday.
In Pool A, China finished out its perfect 4-0 mark at the qualifier with a sweep of Chinese Taipei. The Chinese did not drop a set in the competition, winning all four matches 3-0. Kazakhstan closed out its AVC stay with a sweep of Fiji (0-4).
Pool A 
China def. Chinese Taipei 3-0 (25-18, 25-14, 25-10)
Kazakhstan def. Fiji 3-0 (25-8, 25-19, 25-14)
China completed its fourth-straight sweep, downing Chinese Taipei on Sunday.
"It has been a long and difficult tournament, but we are happy to succeed with our goal of getting the ticket to Japan," captain Zhu Ting said.
Ting scored a match-best 13 points to pace the Chinese attack, but three others scored in double-digits: Gong Xinagyu (11), Liu Xiaotong (10) and Yan Ni (10).
Chinese Taipei could not compete with a taller Chinese team or get past their own miscues in a 25-18 Set 1 loss. A quick middle attack by Yuan Xinyue and Yan carried China to a 25-14 Set 2 victory. China jumped ahead 5-0 in Set 3 and never looked back, cruising to a 25-10 win and the top spot in Pool A.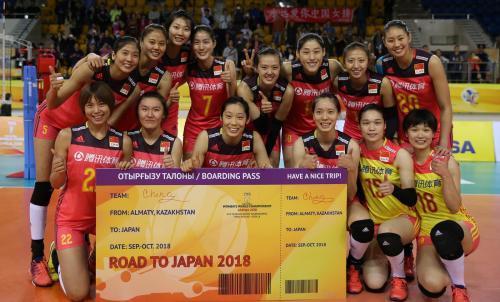 Captain Radmila Bersneva and Katerina Tatko led Kazakhstan with 12 points apiece in the the team's drubbing of Fiji. The Kazakhs notched 44 kills, six blocks and seven aces to punch their ticket to Worlds.
"We have fulfilled the honour to join the 24 strongest teams in the competition in Tokyo," Kazakh coach Vyacheslav Shapran said. "We managed to form a powerful team within a short period of time. It was through hard work, patience, and everyone's support that we earned this ticket."
The match started with an offensive domination by Kazakhstan, which converted on 19 kills, while holding Fiji to just four putaways. Even with their bench players on the court, the Kazakhs closed out a 25-8 win. Set 2 saw more court time for the Kazakhstan bench players and brought several miscues, but, in the end, Yana Petrenko and Alessya Safronova came through to cap a 25-19 victory. Aces and a balanced offense guided by backup Aliya Batkuldina led the host team to a 25-14 win.
Anaseini Seniloli paced Fiji with 12 points. The AVC qualifier was the first major international constitution for the team.
"It has been a very good experience for us this week, as we managed to compete with top-level volleyball teams," Fiji coach Basilio Kalokalodromu said.
Pool B
Vietnam def. Iran 3-1 (24-26, 25-22, 25-17, 25-19)
Korea def. Thailand 3-0 (25-22, 25-16, 25-21)
With neither team having dropped a set in their first three matches, something had to give in the finale between Korea and Thailand. In the end, despite the sweep, Thailand will make its fifth straight Worlds appearance. Korea will be making its first appearance since missing out on the 2014 event.
"After we lost to Thailand at the Asian Championship in Philippines, we trained hard, hoping to improve on our receiving and serving," Korean coach Hong Sungjiin said. "As a result, we played well in this tournament including a win over hosts Thailand. In fact, our setter and attackers had bad communications among them. We then trained harder to improve our teamwork and communications. It worked impressively in this tournament. From now, we have to train much harder in our good preparation for the next year's World Championship. As for Kim Yeonkoung, I think she keeps herself fit physically and mentally and of course, she can be a major force of Korea at the 2020 Olympics in Japan."
Kim Yeonkoung and Kim Heejin notched 15 points apiece to lead Korea. Yeonkoung downed 14 kills, while Heejin added 11 kills, three aces and a block.
No. 10 Korea jumped ahead 7-2 in Set 1 only to see Thailand battle back to tie it at 9. In the end, Korea came out on top 25-22 with help from Yeonkoung and Lee Jaeyeong. After blazing to a 15-6 lead in Set 2, Korea had to endure a 9-5 Thai run, which narrowed the gap to five at 20-15. Yeonkoung came through in the end for the 25-16 Korean win. Down 12-7 early, Thailand battled but could not break through in a 25-21 loss.
"Korea performed exceptionally well today," Thai coach Danai Sriwacharamaytakul said. "They served well and also won several points on their turnovers. We tried to change our tactics by making use of the players rotation, but our efforts were still in vain."
Tran Thi Thanh Thuy notched 22 kills, two aces and a block as Vietnam rallied for a four-set win after dropping a close opening set.
"It was a very difficult match," Vietnam coach Irisawa Hidehiro said. "We lost the first set because, I think, we have played Iran for several times and they started to learn our tactics. Actually, I admit that we had a tight schedule ahead of this tournament. After the Asian Championship in Manila last month, we then competed in the South East Asian Games. After the SEA Games, some of my players had injuries and a few had a bad condition on mentality. That's why we could not combine good players with hard training in preparation for this tournament. Still, I'm happy with my team's performance."
Three other players joined Tran with double-digit scoring efforts: Le Thanh Thuy (18), Nguyen Thi Ngoc Hoa (17) and Ha Ngoc Diem (15).
Iran capitalized on Vietnamese miscues in Set 1, going up 15-10 and pushing on to a 24-17 advantage. Vietnam saved seven set-point tries, before Iran clinched the 26-24 win. The Vietnamese evened the match with a 25-22 Set 2 win after seizing a 14-7 lead and persevering through an Iranian rally that tied it up at 18-all. The teams tied at 11 in Set 3 and continued to a 25-17 win with offensive help from Tran Thi Thanh Thug and Ha Ngoc Dium and stuffs by Tran and Hoa. Vietnam led from start to finish in Set 4, winning 25-19 to close out its stay at the AVC Qualifier, finishing fourth in Pool B.
Mahsa Saberi and Neda Chamlanian notched 16 and 13 points respectively for Iran. Saberi downed 11 kills, while Chamlanian added five aces.