The FIVB has announced that the Stade Pierre Mauroy in Lille, France will be the location of the FIVB Men's Volleyball Nations League Finals that are set to take place from July 4-8, 2018.
The stadium opened up in 2012 and is home to the French Ligue 1 football team Lille OSC. The facility has a retractable roof and plays host to a number of sports – rugby, basketball, handball and tennis.
"Stade Pierre Mauroy reflects our vision for the Volleyball Nations League perfectly. It is an advanced, modern stadium which will give fans an unrivaled experience, whether they are experiencing the atmosphere live or watching at home," said FIVB President Ary S. Graca. "The FIVB aims to be at the cutting edge of sports entertainment and we firmly believe that State Pierre Mauroy gives us the perfect platform to achieve this goal."
The FIVB has partnered with IMG to help with producing their content in-house, with Stade Pierre Mauroy giving spectators a brand new experience when watching the event.
In 2017, France won the FIVB World League in dramatic fashion over Brazil and have continued to impress internationally following the event.
"I look forward to France welcoming the Volleyball Nations League Finals. It is recognition of the work done by the France players and coaches and the guarantee that we will play in front of our fans at a tournament of this kind for the first time ever. Last year in Brazil we were able to test what it was like playing in a football stadium full of fans. It will be similar at the Pierre Mauroy stadium, but this time the fans will be cheering for us! Whether it is in Lille or at the Kindarena in Rouen, where we have always received a warm welcome, or at the new venue in Aix-en-Provence, these matches will be a chance for us to experience some great moments with our fans. We will do our best to provide our fans with a spectacular event and the best results possible," said France's head coach Laurent Tillie to the FIVB.
2018 FIVB Men's Nations League Pools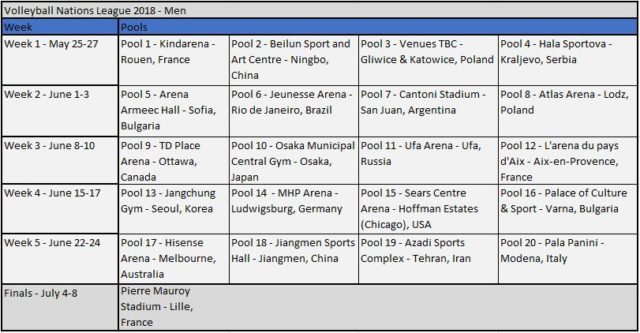 The Nations League is newly formed with 2018 being the first year of the event, replacing the World League and World Grand Prix. There are a total of 16 teams that will participate – 12 being the core teams along with 4 challenger teams. There will be a minimum of 15 matches played by each team, with more allotted to teams that advance to the finals.
For the men the core teams are:
Argentina
Brazil
China
France
Germany
Iran
Italy
Japan
Poland
Russia
Serbia
USA
The challengers are:
Australia
Bulgaria
Canada
South Korea