The bracket has been announced. The reaction videos and photos are there to see. Now let's take a quick look at the 64-team field.
Conference breakdown
Pac-12: 9 – Colorado, Oregon, Oregon State, Stanford, UCLA, USC, Utah, Washington, Washington State
Big Ten: 8 – Illinois, Michigan, Michigan State, Minnesota, Nebraska, Penn State, Purdue, Wisconsin
ACC: 6 – Florida State, Louisville, Miami (Fla.), N.C. State, Notre Dame, Pittsburgh
Big 12: 4 – Baylor, Iowa State, Kansas, Texas
SEC: 4 – Florida, Kentucky, LSU, Missouri
Big East: 2 – Creighton, Marquette
Big West: 2 – Cal Poly, Hawai'i
West Coast Conference: 2 – BYU, San Diego
Missouri Valley: 2 – Missouri State, Northern Iowa
Colonial: 2 – College of Charleston, James Madison
Twenty-two conference will be represented by just one team.
Series Regulars
Two schools have cemented themselves as mainstays in the NCAA Tournament: Penn State and Stanford. The two schools have made all 37 NCAA fields.
Penn State was selected as the No. 1 overall seed, while Stanford was picked as No. 3 overall.
Each is seeking its record eighth national title.
Looking to Add to the Trophy Case
Eight previous NCAA Champions are among the 2017 field.
Hawaii (1982, 1983, 1987)
Nebraska (1995, 2000, 2006, 2015)
Penn State (1999, 2007, 2008, 2009, 2010, 2013, 2014)
Stanford (1992, 1994, 1996, 1997, 2001, 2004, 2016)
Texas (1988, 2012)
UCLA (1984, 1990, 1991, 2011)
USC (1981, 2002, 2003)
Washington (2005)
They're Back
VCU is making its first appearance since 2005 after winning the Atlantic 10 Conference tournament title.
Newbies
Kennesaw State and Stony Brook are making their NCAA debuts.
KSU, which won the Atlantic Sun regular season and tournament titles, is heading to its first berth after an emotional journey.
Stony Brook earned its spot with a pair of upsets at the America East Tournament, becoming the first No. 4 seed to win the affair. Check back Tuesday to learn more about the Seawolves journey to NCAAs.
Host Teams/Sites
Five Pac 12 teams will act as host schools (Stanford, USC, UCLA, Utah, Washington), while three from the Big Ten (Minnesota, Nebraska, Penn State) are among the 16 seeded teams.
The 16 sites for first and second round matches are:
Ames, Iowa – host No. 14 Iowa State
Austin, Texas – host No. 11 Texas
Gainesville, Florida – host No. 2 Florida
Lexington, Kentucky – host No. 4 Kentucky
Lincoln, Nebraska – host No. 5 Nebraska
Los Angeles, California – host No. 10 USC
Los Angeles, California – host No. 15 UCLA
Minneapolis, Minnesota – host No. 7 Minnesota
Omaha, Nebraska – host No. 9 Creighton
Palo Alto, California – host No. 3 Stanford
Provo, Utah – host No. 13 BYU
Salt Lake City, Utah – host No. 11 Utah
Seattle, Washington – host No. 8 Washington
University Park, Pennsylvania – host No. 1 Penn State
Waco, Texas – host No. 12 Baylor
Wichita, Kansas – host No. 16 Wichita State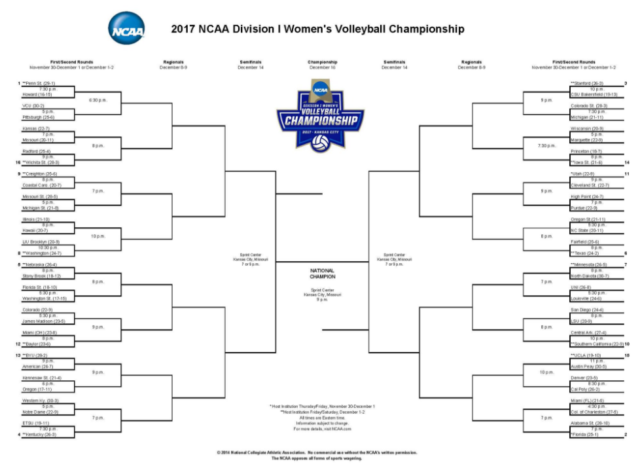 Now try your hand at predicting the outcomes in VolleyMob's Bracket Challenge.