2017 Women's NCAA Tournament
November 30-December 16
November 26 – Selection Show
Sprint Center – Kansas City, Missouri
Live on ESPNU
VolleyMob Predictions
ESPNU will air the 2017 NCAA Women's NCAA Division I Volleyball Selection Show at 9 PM ET. The show will reveal the seedings for the upcoming NCAA Tournament that will begin on November 30 and concludes with the finals on December 16 at the Sprint Center in Kansas City, Missouri.
There are a total of 64 teams that will make the tournament this season, with the top-16 teams earning the right to host the first two rounds of the tournament in their home arenas. The winner of each four-team bracket will advance to the region tournaments that will be played on December 8-9. These regional matches will know their host following the first round, typically given to the highest-remaining seed of the four participating teams. From here the final four teams will move on to the Final Four in Kansas City.
Enter now to play in the VolleyMob Prediction contest! (Rules and prize info below)
*Alphabetical order
Florida
Kentucky
Penn State
Stanford
The NCAA threw us a curve ball in the top-four pairings by giving Kentucky a top-spot in the tournament – the other three were more than expected to take a #1 seed for their respective regions. Florida finished the season with a 25-1 record while sharing the SEC crown with Kentucky who finished with a 26-3 record on the year.
Out of the Big Ten, Penn State was a no-brainer choice for the top-four, as they clearly had the resume over Nebraska, the Big Ten co-champion. Stanford, the reigning NCAA Tournament champion, slid into the top-four following a 26-3 season record and claiming the Pac-12 title.
Top-16 Tournament Seeds
Penn State
Florida
Stanford
Kentucky
Nebraska
Texas
Minnesota
Washington
Creighton
USC
Utah
Baylor
BYU
Iowa State
UCLA
Wichita State
There are only three Big Ten hosts, which is a shock, considering it is the most dominant conference in the nation. On the other hand, there will be five Pac-12 hosts – this makes for half of the hosting duties coming out of the top two conferences in the nation.
Penn State & Wichita State Sites
#1 Penn State vs. Howard
VCU vs. Pitt
Kansas vs. Missouri
Radford vs. #16 Wichita State
Penn State nabbed the #1 seed in the tournament and will take on Howard who are making their third straight appearance in the NCAA Tournament. On the other hand, VCU is making their first appearance since 2005 and will take on Pitt who won their share of the ACC this season.
Wichita State picks up their first-ever hosting duties at the #16 seed in the tournament and is set to take on Radford who enters the NCAA Tournament for the second time in five years and fourth time in school history.
A struggling Kansas team will face Missouri in their first round match-up. Going back to last season, the Jayhawks were stunned by Creighton in the first round of the tournament.
Creighton & Washington Sites
#9 Creighton vs. Coastal Carolina
Missouri State vs. Michigan State
Illinois vs. Hawaii
LIU Brooklyn vs. #8 Washington
Creighton claimed a recent Big East title over Marquette to clinch an automatic berth into the tournament. They enter with a top-16 seed and will take on Coastal Carolina who enters their fourth-straight NCAA Tournament. Missouri State takes on Michigan State, who was looking to take a potentially higher seed in the tournament but faltered late in the season in big match-ups.
Illinois eeked into the tournament and will take on Hawaii in their first round match-up. Finally, Washington rolls into the tournament with a #8 seed and are set to take on LIU Brooklyn who are entering their second straight NCAA Tournament.
Nebraska & Baylor Sites
#5 Nebraska vs. Stony Brook
Florida State vs. Washington State
Colorado vs. James Madison
Miami (OH) vs. #12 Baylor
Despite being a co-Big Ten title holder, Nebraska was held out of the top-four and will take on Stony Brook in their first match of the tournament as the #5 seed. Baylor steals the #12 seed after a great Big 12 run this season to take on Miami (OH) who clinched their 10th NCAA Tournament berth and second-straight appearance.
Florida State and Washington State each make the tournament based on steady season performances in the ACC and Pac-12, respectively. Colorado had a tremendous season and will battle it out against James Madison who is in their second-straight NCAA Tournament and sixth overall.
BYU & Kentucky Sites
#13 BYU vs. American
Kennesaw State vs. Oregon
WKU vs. Notre Dame
ETSU vs. #4 Kentucky
A steady BYU will take on American, who has now made their fifth straight NCAA Tournament appearance.
#4 Kentucky is the wildcard selection into the top-four of the tournament and will face off against ETSU who is in their second NCAA tournament in program history and first since 2012. The Wildcats had a high RPI late in the year that helped them gain a higher position in the tournament, taking away from Nebraska and Texas who are arguably better squads in better conferences.
Kennesaw State has made their first NCAA Tournament this season as they won the ASUN championship and will take on Oregon who is under first-year head coach Matt Ulmer. WKU squeaked into the tournament with the automatic bid out of the C-USA as they took down North Texas for the title. The Mean Green took down the Toppers towards the end of conference play and were looking to make the last four into the tournament, but fell short – they will take on Notre Dame who finished the season 22-9.
Stanford & Iowa State Sites
#3 Stanford vs. CSU Bakersfield
Colorado State vs. Michigan
Wisconsin vs. Marquette
Princeton vs. #14 Iowa State
Colorado State's 23rd straight NCAA Tournament appearance will be a difficult first-round match as they take on a red-hot Michigan team, who came out of the woodworks these past two weeks, producing upset after upset. Iowa State also clinches hosting duties and will take on the Ivy League champions, Princeton who makes the tournament for the second straight season and seventh overall.
#3 Stanford will take on CSU Bakersfield who makes the tournament for the first time since 2014. The Cardinals clinched the Pac-12 title this season with just one loss in the league to Washington and are looking to reclaim the national title after winning in 2016.
Wisconsin is the team that wasn't really a shock out of the Big Ten that didn't earn a top-16 seed despite being ranked high all season. The Badgers have a solid youthful squad this season but lost a lot in senior power from last season that leaves them slightly short-handed this season. They are set to take on Marquette, who earned an at-large bid into the tournament after taking second in the Big East.
Utah & Texas Sites
#11 Utah vs. Cleveland State
High Point vs. Purdue
Oregon State vs. NC State
Fairfield vs. #6 Texas
Texas takes the #6 seed in the tournament following a 16-0 mark in the Big 12 and 23rd conference title. This comes at a blow for the Longhorns after posting strong wins on the season but had a lower RPI due to a slightly easier Big 12 schedule late. They will face off against Fairfield who is now in their third straight NCAA Tournament and 10th overall.
This is the first time that NC State has made the tournament since 2012, with being one of the last teams to make it into the mix. The Wolfpack are under first-year head coach Linda Hampton-Keith and went 20-11 this season, losing out on the ACC title late in the season. They will take on Oregon State who has been a steady competitor in the Pac-12 this season.
Utah claimed hosting duties after a 22-9 season and 13-7 Pac-12 Conference mark. They had a difficult schedule and took care of business when need to earn their #11 seed. They will take on Cleveland State who has made their way into the tournament for the third straight season.
High Point found their way into the tournament without an automatic bid to take one of the last four in spots to take on Purdue who have been a tyrant in the Big Ten late in the season.
Minnesota & USC Sites
#7 Minnesota vs. North Dakota
UNI vs. Louisville
San Diego vs. LSU
Central Arkansas vs. #10 USC
UNI squeaked their way into the tournament with an at-large bid for the 21st time in program history and will take on Louisville who was red-hot in Dani Busboom's first season at the helm with a 24-6 record. The Panthers fell short of the Missouri Valley Conference title this weekend, losing to Missouri State, who clinched the automatic berth from the conference.
Minnesota claimed the #7 seed in the tournament following a less than expected Big Ten finish and will face off against North Dakota who down Sacramento State in the Big Sky tournament to earn their second straight NCAA Tournament berth.
USC earned the #10 seed despite a loss to UCLA in their final Pac-12 title match and will take on Central Arkansas who is in their first NCAA Tournament since 2013.
San Diego claimed the WCC title to find their way into the NCAA Tournament and will take on LSU who claimed a last-four in position to the tournament.
UCLA & Florida Sites
#15 UCLA vs. Austin Peay
Denver vs. Cal Poly
Miami (FL) vs. College of Charleston
Alabama State vs. #2 Florida
UCLA's late Pac-12 win over USC helped their NCAA Tournament chances by earning them a #15 seed and hosting duties. They will take on Austin Peay who earned their first NCAA Tournament berth since 2010. Florida claimed the #2 seed in the tournament after taking a share of the SEC title with Kentucky. They will face off against Alabama State who is in their second straight NCAA Tournament and fourth in five seasons.
Denver is making their fourth straight NCAA Tournament appearance and will take on Cal Poly who earned an at-large bid to the tournament. Miami (FL) started the season off strong and only lost five matches on the year, all being against ACC opponents and will take on a last four in College of Charleston squad.
Last Four In
NC State
LSU
High Point
College of Charleston
First Four Out
Maryland
Iowa
Dayton
North Texas
FULL BRACKET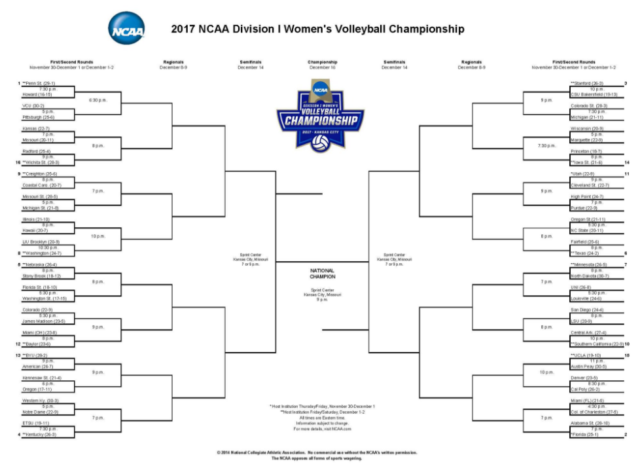 VolleyMob Prediction Contest Rules and Prizes
PRIZES
The top 3 overall finishers in the contest will each receive VolleyMob t-shirts that will indicate that they are a true volleyball expert (ARV $20).
Good luck, and if you have any questions, leave them in the comments below!
Other Rules:
Anybody can enter, but to win prizes, all standards below must be met and agreed to.
Prize winners must be at least 18 years old
Prize winners must live in the United States or Canada
It is up to prize winners to determine whether or not receiving prizes for the contest is a violation of rules governing their status as an amateur athlete
All entrants agree that they will not hold VolleyMob liable for any effects of participating in this contest.
Entrants are responsible for any and all taxes associated with the prizes they win.
If we are unable to contact winners through the contact information they provide, winners forfeit those prizes.
1 entry per person. If it is discovered that you have entered multiple times, all of your entries may be invalidated.
No purchase necessary
Note: this contest is not affiliated the NCAA.