QINZHOU THREE STAR
Oct. 11-15, 2017
Qinzhou, China
Saturday night's finals are set for the Qinzhou Three Star and the predicted favorites will not be taking the court.
The top two seeds are out after the semifinal round late Friday night. Top seeded Fan Wang and Xinyi Xia of China and No. 2 seeded Americans Summer Ross and Brooke Sweat were bested in straight sets by a pair underdogs from Poland and Australia respectively.
Polish No. 30 seed Kinga Kolosinska and Katarzyna Kociolek, who have been giant killers in the tournament, will vie for their first ever FIVB medal. The duo started the tournament on fire, taking out Americans April Ross and Kelly Claes in the opening round, and continued their winning ways by another American duo in Ross/Sweat. The duo are in just their second tournament together, following a fifth place finish at the CEV Satelitte tournament in Satu Mare Sept. 24.
"It was a little bit crazy, because it's so windy and it's very hard to control the ball," Kocoiolek said. "But we did our best, we tried to catch every ball and finish every ball. I think we deserved to win. You can trust us, we keep our words, like we said we were going to win, and we want to do it again"
Fifth seeded Australia pair Mariafe Artacho and Taliqua Clancy will be across the net in the gold medal match, also trying to earn their first FIVB medal as a pairing.
"We are so excited! It's our first semifinal on a World Tour event together and it's really special," Clancy said. "It's always hard to play the Chinese, especially at their home, so it's really nice to get the win."
Quarterfinals
Wang/Xia edged out Ukrainian pair Valentyna Davidova and Ievgeniia Shchypkova in the day's lone three setter at 21-16, 17-21, 15-10. Sweat/Ross moved on with a 21-16, 21-18 win over Germans Kim Behrens and Sandra Ittlinger.
Fourth-seeded Americans Lauren Fendrick and Nicole Branagh were bounced in the quarters by the Australians in straight sets.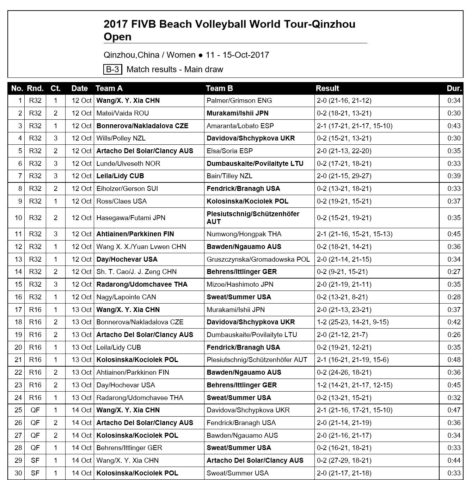 The men's final will feature No. 15 seed Maxim Sivolap and Igor Velichko of Russia against Mexican fourth seed Juan Virgen and Lombardo Ontiveros after both sides registered upsets in the semifinals.
The Russians knocked out No. 3 seed Nadir Diaz Gomez and Bayard Sergio Reynaldo 21-18, 16-21, 15-10 to ensure their first ever FIVB World Tour medal. The duo took out No. 2 seed Jefferson Santos Pereira  and Cherif Younousse of Qatar in the round of 16.
"In the second set, we were kind of loosened up and then we wanted to catch up with them, but then we thought we should give this set up and play stronger in the tiebreaker," Velichko said.
Virgen/Ontiveros bested top seeded Belgian pair Dries Koekelkoren and Tom van Walle in straight sets in the other semifinal, 21-13, 21-19.
"It was not easy. Maybe in the first set, it was rather manageable," Virgen said. "In the second set, Belgium tried to fight back, while we became a little tired, but thankfully, with Lombardo's final point, we won the match."
Quarterfinals
Both finalists had to first survive three-set affairs in the quarterfnals. Virgen/Ontiveros won the first set and edged France's Youssef Krou and Quincy Aye 19-17 in the third to move on to the semis.
Sivolap/Velichko had to first get past Germans Nils Ehlers and Lorenz Schumann to earn a shot at a medal. The Russians survived a 21-18, 14-21, 15-13 effort.
In the other quarterfinals, top seeded Koekelkoren/van Walle and Cubans Nivaldo and Gonzalez advanced in straight set wins.