2017 FIVB BEACH VOLLEYBALL WORLD CHAMPIONSHIPS – VIENNA
July 28 to August 6
Vienna Centre Court, Vienna, Austria
Co-ed
Championships
The FIVB has announced the opening pool play rounds for the Vienna World Championships that are set for July 28 to August 6. There are 96 men's and women's teams from 40 countries represented at the competition that will offer out a $1 million purse prize and $60,000 to split for the first-place winners.
Recently, the drawing of lots ceremony that took place on July 1 determined the 12 pools of four teams for each gender. The match schedule will feature 28 games on three courts for the first four days of the competition, July 28-31. Women's group play will end on August 1 while the men's pool play matches will conclude August 2. The top two teams from each pool will advance to the Round of 32, the first elimination round, along with the top four third place teams based on match points, set-point ratios and/or rally-point ratios. A 'Lucky Loser' round will commence for the teams ranked fifth through 12th, with the top four advancing in the tournament. The Lucky Loser matches will take place on August 1 for women and August 2 for men.
The women's semifinals and medal matches will be held on August 5 while the men's semifinals will occur on August 5, as well. The finals match for the men will take place on August 6.
Kerri Walsh Jennings and new partner Nicole Branagh will begin their World Championship journey with Germany's Isabel Schneider/Victoria Bieneck. Walsh Jennings has won the event three times in her career, all with Misty May-Treanor. Their reign lasted across three consecutive World Championships (2003, 2005 and 2007).
The most recent women's team to take the top prize at the event was Agatha Bednarczuk/Barbara Seixas of Brazil. The pair is no longer a team, with Bednarcauk pairing with Eduarda 'Duda' Santos Lisboa and Seixas with Fernanda Alves.
On the men's side, the reigning champions and Olympic champions, Bruno Schmidt and Alison Cerutti will open their World Championship play with Aldevino Nguvo/Justino Tovela of Mozambique.
Below is the pool play schedule (click on the image for a PDF version of the schedule).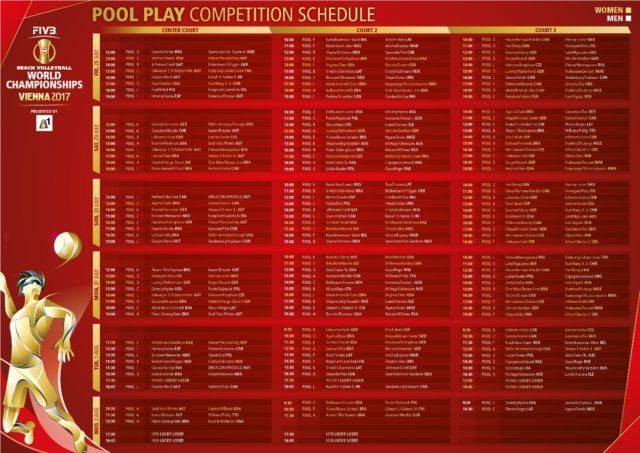 Past Winners