One of the challenging things about being a fan on international volleyball is trying to figure out when matches are going to played overseas and if you watch the matches live, you have to figure out the time difference.
With the FIVB Volleyball Women's World Championship being played in Japan in September and October, depending on where you are at in the world, you may be spending your waking hours fighting sleep or having lunch while watching your team play.
The Women's World Championship has three rounds before the semifinal and finals. In the First Round, each pool will play three matches per day in the host cities of Yokohama (Pool A), Sapporo (Pool B), Kobe (Pool C) and Hamamatsu (Pool D). Matches will be played for the First Round from September 29th (Saturday in Japan) to October 4th (Thursday). Per FIVB regulations, the official start times are set before the tournament and for the First Round they are displayed from Japan (Japan Standard Time +9 hours UTC) on the far right, through the remaining time zones subtract the time difference from Japan. The list finishes with Los Angeles (Pacific Daylight Time, -7 hours UTC) on the far left, 16 hours earlier than Japan, the earliest of the time zone in the list.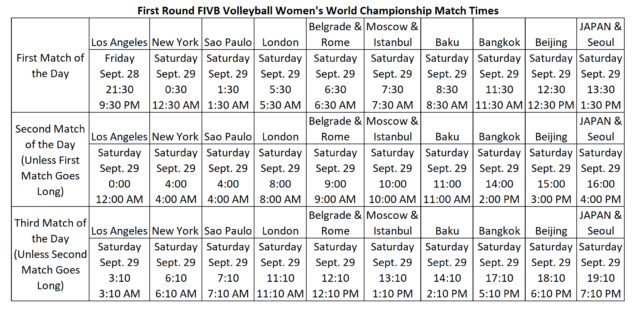 The Second Round is split into two pools of eight, with the top four teams from each of the First Round pools advancing to the Second Round. In the Second Round, each pool will play four matches per day between October 7th (Sunday) and October 11th (Thursday) with a rest day on October 9th (Tuesday).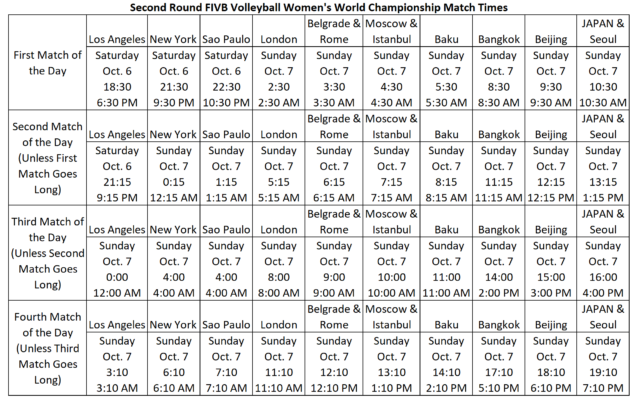 The Third Round is split into two pools of three, with the top three teams from each pool in the Second Round advancing to the Third Round. In the Third Round, there will be one match played per day per pool for two matches per day total. These matches will start October 14th (Sunday) and end on October 16th (Tuesday).

After the Third Round, the top two teams in each pool will advance to the semifinals, while the third place finishers will playoff for 5th place. On October 19th (Friday), there will be three matches played. The two semifinals and the 5th place match. If Japan advances to the semifinal, I wonder if the matches will be moved around to put the Japanese team in prime time for better ratings.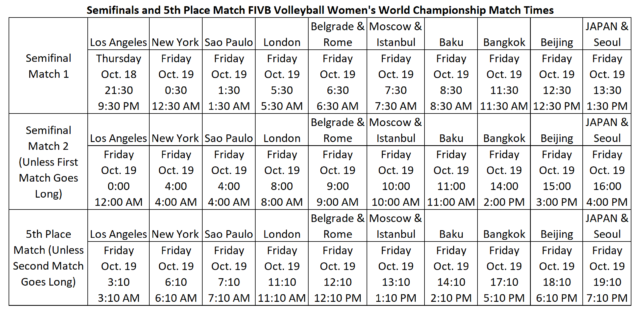 Lastly on October 20th (Saturday), the Championship and 3rd place matches will be played. These matches are a little later than in other rounds.