The FIVB has announced the formation of the FIVB Volleyball Challenger Cup that will run in conjunction with the newly formed FIVB Nations League this coming summer.
The competition will feature both men and women and will hold teams that are not competing in the Nations League along with one host team and five teams from the five continental confederations. The teams from the different confederations will be determined as follows: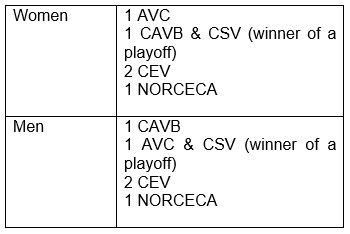 Each Continental Confederation is responsible for hosting an event that will determine the teams that will qualify for the event. They are free to organize a tournament or use an existing competition to define their qualified teams. The CEV will use their Golden European League to determine their teams, as the top two finishers in each gender will qualify.
The Challenger Cup will be held prior to the FIVB Nations League Finals with the winner earning the right to participate in the FIVB Promotion Playoff – competing against the fourth-ranked challenger team at the end of round-robin play in the Nations League. The challengers in the Nations League are:
Men – Australia, South Korea, Canada, Bulgaria
Women – Argentina, the Dominican Republic, Poland, Belgium
The winner of this playoff will automatically earn a spot in the 2019 FIVB Nations League.