After earning the number two overall ranking from the NCAA Tournament committee, the Florida Gators earned the possibility of hosting all the way through the Elite Eight as they look to get to Kansas City. Assuming they can make it out of the first weekend though – unlike last year – the Sweet 16 and Elite Eight will occur in Gainesville. Otherwise, it would be the highest remaining seed; so in order it would be then go to Minnesota then Los Angeles (USC then UCLA).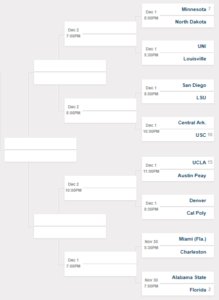 Overall, the biggest test in the bracket may come for some of the other seeded teams as some difficult unseeded opponents await in the second round for a multitude of reasons. We start though with the highest seed, who is the easy choice for the top team in the region.
Team to Beat: Florida
There's a reason that the Gators are the highest seed in the region and got the two-seed. They had an electrifying 25-1 season with just one four-set loss to Kentucky and have won 11 straight matches as co-SEC champions. They have all kinds of balance with four players averaging over 2.40 kills per set and three over 1.10 blocks per set. They have a star in the middle in Rhamat Alhassan who's posted big numbers in NCAA Tournament matches before too but has never made the Final Four after two Elite Eights and a second round out in her career.
The road to that Final Four and Kansas City sets up pretty nicely for Florida though. Not only is this the best team Alhassan has been a part of, but in her two Elite Eight appearances they were forced to take on Stanford and Texas. This year Minnesota potentially looms in the Regional Final, but it's a younger Golden Gophers team at several spots. Still, that should present a difficult challenge, but beyond that no one in their four team pod should give too much trouble and the winner of the UCLA pod will be a solid underdog to Florida in Gainesville as well. It seems likely that the Gators will chomp their way to their eighth Final Four in program history as it all begins this weekend.
The Other Seeds: Minnesota, USC & UCLA
Minnesota was rated in the top four in the NCAA Tournament committee's initial release previewing the top 10 about a month out, but couldn't hold their spot as they lost three of their final six matches. Still, they had an overall strong season and now can lean on their mix of experience and young talent to play outside of the tough Big Ten. No one represents that mix of experience and youth more than Samantha Seliger-Swenson (junior), who has been to a pair of Final Fours the last two seasons, and Stephanie Samedy (freshman), who leads the team in kills.
Potentially awaiting them in the Sweet 16 could be USC, who started the season unranked and rose up the rankings early on. They're tested too with matches against Michigan, Northern Iowa, Creighton and Kentucky in the non-conference before a loaded Pac-12 schedule where they finished second. They won't be fazed by the prestige surrounding Minnesota, especially with a roster that features six seniors and four juniors.
The final seeded team is another Los Angeles school in UCLA, who actually just downed USC on the road to finish their season. Overall they've collected nine straight set victories, as they look to make a Sweet 16 and pose a threat to Florida with a team that made the Elite Eight last season. However, they have plenty of new impact players this season and have a tough opening pod to get through first. They also played Stanford extremely tight in their most recent loss (coming in five sets), so it's possible they're peaking at the right time and could indeed look to shake things up.
On a Collision Course: Florida & Minnesota
Assuming Florida retains their position as the hosting favorite to the Elite Eight and Minnesota can get through their first three matches, these two teams are on pace to face each other as the highest seeds in the region. What a match it could be with a team who is looking to breakthrough for their first Final Four with this senior class vs. a Big Ten squad that has made the NCAA Semifinals the past two seasons.
Minnesota has shown an ability to go on the road and win big matches too, as they did in the non-conference when they went to Austin and downed Texas in four sets. For Florida, their lone loss came at home as well. It would be quite a strength vs. strength matchup too, as behind Seliger-Swenson, Minnesota leads the Big Ten in assists per set and kills per set. Florida meanwhile had the top defense in the SEC allowing just a .132 hitting percentage behind 3.12 blocks per set.
Bracket Busters: San Diego & Cal Poly
These two teams are ranked in our VolleyMob Top 25 Power Rankings, but without overly difficult schedules and high RPI ratings didn't get to host. They each have the confidence of being champions though as San Diego won the West Coast Conference while Cal Poly went undefeated in the Big West. They haven't been as tested as a team would be in a big conference, but San Diego did win at BYU and at Hawaii – showing it can down strong competition on the road. Cal Poly meanwhile took down Wichita State and swept Hawaii.
It's not just some wins that have shown the potential of these teams, but their losses as well. All of the Toreros losses came to ranked teams in UCLA, Texas, Utah and BYU. The Utah match came later in the non-conference too and would be a good comparison to USC from the Pac-12 as it took the Utes five sets to down San Diego at home. For Cal Poly, they're a little familiar with the Pac-12 (with UCLA potentially in their future) as their losses came to Oregon and Washington.
It's quite possible that San Diego is actually the third or fourth best team in the region, while Cal Poly has an opportunity to show they are for real. Beyond that, it would be entertaining to say the least to see UCLA transfer and Cal Poly star Torrey Van Winden take on her former team.
Toughest First/Second Round Pod: Los Angeles (Galen Center/USC)
Minnesota could have a difficult second round matchup with a giant killer in Northern Iowa or an ACC champion in Louisville while UCLA has a very good Austin Peay team and could meet Cal Poly in the second round. From top to bottom though, the pod playing at USC in the Galen Center is the most difficult.
Obviously you have a seeded team in USC, but how about their first round opponent. It's not just any automatic qualifying mid-major school as they will get the tough test of Central Arkansas. The Bears rolled to a 27-4 season and are 9-2 on the road, so they won't just lay down.
The intriguing part of the pod comes from the other first round matchup with San Diego and LSU. The Tigers were one of four teams from the SEC to make the tournament, but they are the underdogs to a team from the West Coast Conference in San Diego. The Toreros RPI was 20, which is why they didn't host, but they are ranked 14th in the VolleyMob Top 25. That essentially means two teams who could have hosted are in the same pod and are just separated by a few hours by drive, which makes this the toughest pod in the region.
Top First Round Matches:
Louisville vs. Northern Iowa
San Diego vs. LSU
Charleston vs. Miami (FL)
Austin Peay at #15 UCLA
Central Arkansas at #10 USC