VOLLEYBALL AT THE 2018 ASIAN GAMES – MEN'S INDOOR TOURNAMENT
August 20th, 2018 – September 1st, 2018
Bulungan Sport Hall & Gelora Bung Karno Sports Complex, Jakarta, Indonesia
While there were a number of classification matches on Thursday at the 2018 Asian Games, the highlights were the two men's semi-finals, where Iran brorught to an end Qatar's magical undefeated run at the tournament via a 3-0 sweep; and South Korea topped Chinese Taipei 3-2 to ensure their 14th-straight trip to the podium at the Asian Games.
Championship Bracket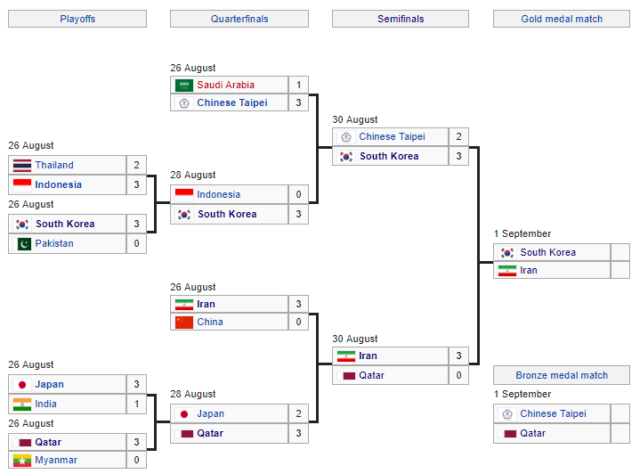 Semi-Finals Recaps
South Korea def. Chinese Taipei 3-2 (20-25, 25-20, 25-16, 20-25, 15-12)
World #21 South Korea needed 5 sets to take down world #37 Chinese Taipei, with Thursday's semi-final finishing with a similar scoreline as the teams' matchup in pool play, including the 15-12 5th set that was the same score as the 5th set between the two on August 20th to open the tournament. Sungmin Moon led all players with 20 points, including 18 kills, but a 4th-set rest for him is what let Taipei back into the match.
In that 4th set, South Korea put both Moon and a few other of its big hitters on the bench, allowing Chinese Taipei to take an early lead and then pull away to win the set and force a tie-breaker.
Taipei then had a 11-9 lead and a 12-11 lead before South Korea scored the last 4 points to finish the match. Liu Hungmin had 12 kills and 2 blocks to lead Taipei.
In total, South Korea had a statistical edge that betrayed the outcome on the scoreboard. They hit 72/140 (51.4%) and held Taipei to 58/123 hitting (47.2%).
Iran def. Qatar 3-0 (25-23, 25-19, 25-18)
The 2nd semi-final was far-less competitive than the first, with defending champions Iran handing Qatar its first loss of the 2018 Asian Games. The Iranians were led by 16 from Amir Ghafour, who hit 51.6% overall.
Saeid Marouf, who was expected to miss this tournament with an injury, had another brilliant performance, handing his teammates 37 running sets (12.33/set) – meaning sets where they faced 1 or 0 blockers. His 12.33 running sets-per-set were the highest of the semi-finals by far, and made him the only player with a double digit average in that category.
For Qatar, who will play Chinese Taipei in the bronze medal match, Mubarak Hammad led them with 11 kills on 21 shots: the only Qatari in double figures.
Consolation Brackets
6 teams have found their placement in the consolation brackets. Myanmar is 11th, India 12th, Kazakhstan 17th, Mongolia 18th, Hong Kong 19th, and Maldives 20th. The rest of the spots will be decided over the next 2 days.