VOLLEYBALL AT THE 2018 ASIAN GAMES – MEN'S INDOOR TOURNAMENT
August 20th, 2018 – September 1st, 2018
Bulungan Sport Hall & Gelora Bung Karno Sports Complex, Jakarta, Indonesia
Tuesday, the 5th day of men's volleyball action at the 2018 Asian Games, was light, in quantity, on matches that advance toward the final. What it lacked in number, though, it made up for in drama. especially in the bottom-half of the bracket, where Qatar kept their magical run alive with a 3-2 win over defending silver medalists Japan. Qatar has still not lost a match at this year's Asian Games, after finishing in 6th place, with just a 4-4 record, last year.
With the win, Qatar is guaranteed to at least match their best-ever finish at the Asian Games. 2018 marks their 7th year of participation in the 16 editions of men's indoor volleyball at the Asian Games, with their previous best finish being 4th, at a home tournament, in 2006.
Qatar Finishes, historically, Asian Games:
1982 – 8th place
1998 – 10th place
2002 – 8th place
2006 – 4th place
2010 – 8th place
2014 – 6th place
2018 – at least 4th place
Championship Bracket After Tuesday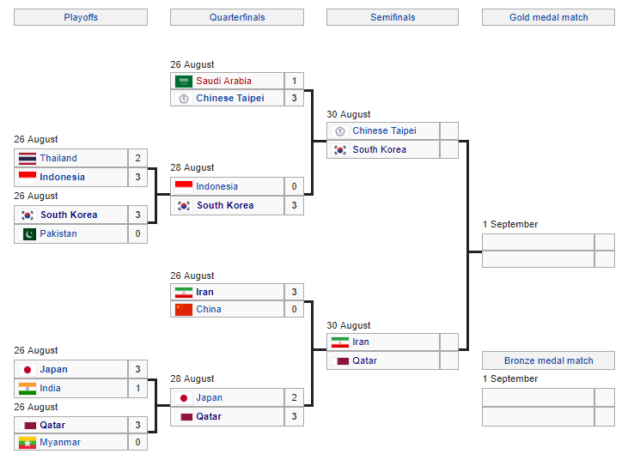 Tuesday Championship Bracket Results
Qatar def. Japan 3-2 (25-18, 26-28, 26-21, 22-26, 24-22)
Including a final tie-breaking set that climbed the ladder far past the requisite 19 before a winner could be declared by 2, Qatar defeated Iran 3-2 in one of Tuesday's quarterfinals. The 2 hour and 24 minute marathon, which is likely the longest match of the tournament so far, ended on a Ribeiro kill for Qatar, picking out Japan's Naoya Takano for the final point. That was Ribeiro's 18th kill on the night, which was 2nd on his team only to Mubarak Hammad, who had 25 to go with 5 blocks and an ace for a 31-point game. Japan had two players with double-digit kills: Takuya Takamatsu and Shunsuke Chijiki, with 23 and 24, respectively.
Japan hit 46% in the match, and Qatar just 43%, but the difference was the number of those misses that went for errors. In spite of the lengthy match, Qatar had only 19 total errors in the game, including just 8 service errors. Japan gave up 30 points in total on errors, betraying their usual consistent, if not explosive, selves.
South Korea def. Indonesia 3-0 (25-22, 25-18, 25-18)
In the early match on Tuesday, South Korea swept the hosts Indonesia 3-0 to advance to the semi-finals of the tournament for the 14th-straight edition, dating back to 1966. Their next challenge will be to keep their legendary medals streak alive. They've won bronze at the last two Asian Games, were champions the two years before that, and have only once participated and failed to medal: in 1962, when they placed 5th (the last time the Asian Games were hosted in Indonesia).
At just 1 hour and 25 minutes long, the match was an hour shorter than the one that followed it.
South Korea had a balanced attack, with all three starting hitters recording double-digit spikes. Outside hitter Kwangin Jeon had 13, outside hitter Jiseok Jung had 12, and opposite Gunmin Moon finished with 14.
Those hitters were the biggest advantage in the match for South Korea. Whereas Indonesia hit just 41% in the match, and just .258 efficiency-wise, South Korea landed 65% of their shots for a .487 efficiency rate.
Consolation Bracket Through Tuesday
In a pair of interesting regional matchups, Thailand knocked off Myanmar and Pakistan picked off India, both by 3-1 scores, in the consolation bracket on Tuesday. In both cases, those countries have significant land borders with each other.