VOLLEYBALL AT THE 2018 ASIAN GAMES – MEN'S INDOOR TOURNAMENT
August 20th, 2018 – September 1st, 2018
Bulungan Sport Hall & Gelora Bung Karno Sports Complex, Jakarta, Indonesia
The Iranian men won their 2nd-straight title at the Asian Games on Saturday, sweeping South Korea 3-0 in the men's gold medal match for a perfect 5-0 tournament finish. Iran has now won 13-straight matches at the Asian Games and 21 of their last 22 dating back to 2010, where their only loss came in the championship match.
The silver for South Korea was their 7th runner-up finish all-time, and makes for 14-straight trips to the podium for them, a streak that dates back to 1966.
Chinese Taipei beat Qatar 3-1 in the bronze medal match, which tied 1998 as their best-ever finish at the tournament (they were only 9th in 2014).
Championship Bracket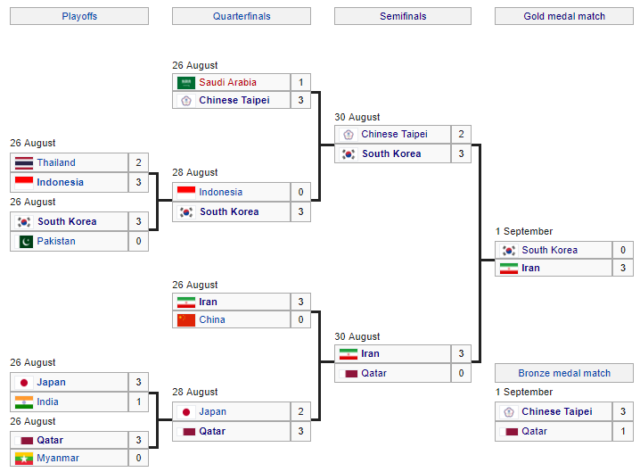 Gold Medal Match
Iran def. South Korea 3-0 (25-17, 25-22, 25-21)
Behind another superb setting performance from Saeid Marouf, Iran swept South Korea on Saturday in the gold medal match. The Iranians were led in scoring by Mortez Sharifi, who had 13 kills and an ace; and Amir Ghafour, who had 12 kills, 1 ace, and 1 block, for 14 points each. Iran needed only 66 swings to polish off South korea, which included 42 total kills – for a 63.64% hitting rate.
Iran also had 8 blocks, including 6 from Mohammad Mousavi.
South Korea had just 1 player in double digit scoring: Jiseok Jung, who had 11 kills and 2 blocks in the match on 73% hitting. As a team, South Korea hit 53.4%, which would be a big number in most matches. They gave up 20 points on errors, however, and didn't do enough in the service game to counteract that.
The match was played efficiently as a whole – there weren't many digs by either team, meaning short rallies and quick points.
Bronze Medal Match
Chinese Taipei def. Qatar 3-1 (25-22, 25-23, 17-25, 25-16)
Chinese Taipei had 4 players with double-digit kills as they handed Qatar, who started the tournament with 5 straight wins, a second-straight loss in the bronze medal match.
Wu Tsunghsuan led Taipei with 14 kills and an ace on 50% hitting.
Mubarak Hammad had 16 kills, 3 blocks, and 1 ace for Qatar in the match.
As compared to the gold medal match, where the teams combined for just 7 digs/set, in the bronze medal match the teams combined for 22 digs/set. Taipei also had 73% excellent reception.
Consolation Brackets
7th-12th: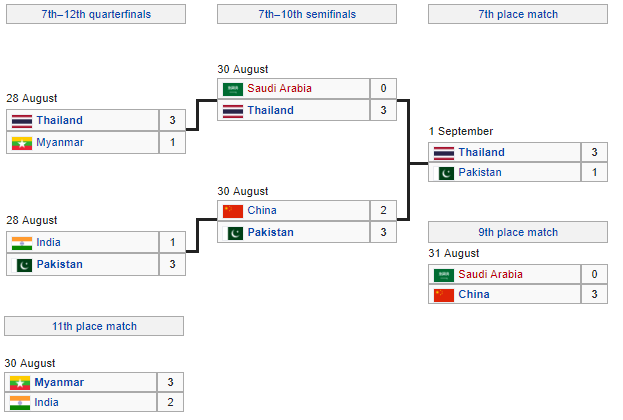 13th-20th: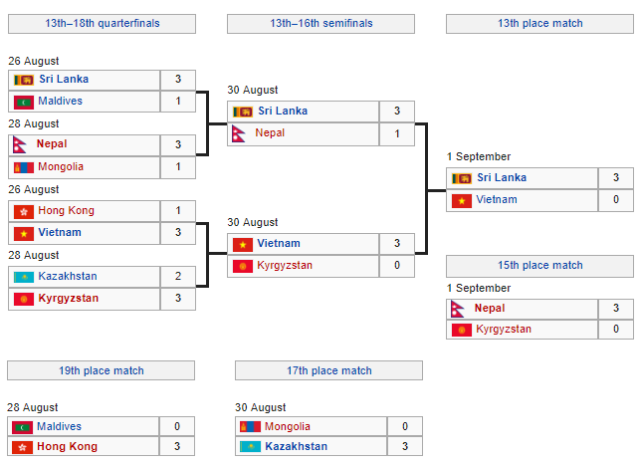 Final Standings
| Rank | Team | Pld | W | L |
| --- | --- | --- | --- | --- |
| |  Iran | 5 | 5 | 0 |
| |  South Korea | 5 | 4 | 1 |
| |  Chinese Taipei | 5 | 3 | 2 |
| 4 |  Qatar | 7 | 5 | 2 |
| 5 |  Japan | 5 | 4 | 1 |
| 6 |  Indonesia | 5 | 2 | 3 |
| 7 |  Thailand | 7 | 5 | 2 |
| 8 |  Pakistan | 6 | 3 | 3 |
| 9 |  China | 6 | 3 | 3 |
| 10 |  Saudi Arabia | 5 | 2 | 3 |
| 11 |  Myanmar | 5 | 2 | 3 |
| 12 |  India | 7 | 3 | 4 |
| 13 |  Sri Lanka | 6 | 4 | 2 |
| 14 |  Vietnam | 6 | 3 | 3 |
| 15 |    Nepal | 5 | 2 | 3 |
| 16 |  Kyrgyzstan | 5 | 1 | 4 |
| 17 |  Kazakhstan | 4 | 1 | 3 |
| 18 |  Mongolia | 4 | 0 | 4 |
| 19 |  Hong Kong | 5 | 2 | 3 |
| 20 |  Maldives | 5 | 0 | 5 |