There is no question that the No. 1 overall seed in the bracket, Penn State, is the odds on favorite to win the 2017 NCAA title, a record eighth in program history, but there are a handful of teams in the upper left quadrant of the bracket that might have a say in that.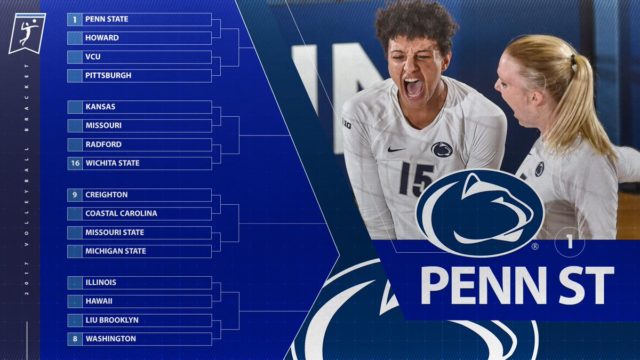 TEAM TO BEAT: PENN STATE
They have been No. 1 in the AVCA Coaches Poll and VolleyMob Top 25 for seven weeks running and finished the Big Ten as co-champions at 19-1. They lead the nation in hitting percentage (.347) and boast the nation's most efficient hitter in senior middle blocker Haleigh Washington, Player of the Year candidate. Washington also ranks 12th nationally in blocks per set with 1.50, leading the team to a 3.03 blocks per set tally, seventh most in the nation.
Add in senior middle Simone Lee, who is racking up 4.50 point per set (44th nationally) and 3.93 kills per set (52nd nationally) and a 6-2 offense that runs on all cyclinders and it is easy to see why this Penn State squad is primed to win the region and battle for another national title.
The Nittany Lions have just one black spot on an otherwise perfect record, a Sept. 22 loss to then No. 14 Nebraska, who went on to be a Top 10 team nationally.
THE OTHER SEEDS: WASHINGTON, CREIGHTON, WICHITA STATE
Washington earned the No. 8 overall seed by finishing second in the Pac-12 Conference at 14-6 behind league leader Stanford. The Huskies excel on the block, ranking fifth nationally (3.05 per set), with freshman middle Lauren Sanders leading the way with 1.47 stuffs per set. With 181 aces to its scredit, including 43 by senior libero Tia Scambray and 41 by senior libero Courtney Schwan, UW ranks 19th nationally. That it so say nothing of the team's balanced offensive attack with four players averaging more than two kills per set, including the late emergence of sophomore outside Kara Bajema. The Huskies, which won eight of their last 10, also have a few tricks up their sleeves, having switched to a 5-1 offense in their second to last Pac-12 match, so opponents will have to prepare for both offensive formations.
Creighton went 25-6, with two losses coming during the non-conference season as the team was without starting setter and 2016 Big East Player of the Year Lydia Dimke due to injury. All but one of the team's losses came to fellow NCAA teams. The lone exception, a sweep at the hands of Villanova on Nov. 17 after the Bluejays had already clinched the Big East title and No. 1 seed in the league tournament. Dimke is a key cog in the Creighton machine, whether dishing out assists (10.78 per set), serving up aces (26), racking up digs (2.58 per set), downing kills of her own (1.41 per set) or stuffing balls at the net (0.70 per set). She also has the Bluejay offense clicking at a .281 clip, which ranks 15th nationally, and has four offensive options registering more than two kills per set.
Wichita State ran the table in its first season in the American Athletic Conference with a perfect 20-0 mark, including 16 sweeps. The Shockers faced seven NCAA teams during non-conference action, registering wins over Creighton, East Tennessee State, Marquette and Miami (Ohio). Senior middle Abbie Lehman, the school's all-time block assists leader, paces the team offensively with 3.68 kills per set on a .446 hitting effort to go with her 1.38 blocks per set average. Lehman is far from the team's only option, however, as junior outside Tabitha Brown (3.58) and senior outside Mikaela Raudsepp (2.77) are right behind and each hits at a .240 or better clip. As a team, the Shockers rank in the nation's top 10 in kills per set (7th, 14.69), opponent hitting percentage (7th, .145), assists per set (7th, 13.81) and hitting percentage (9th, .301).
ON A COLLISION COURSE
Although the Nittany Lions could be tested by Wichita State in the Sweet 16, the Shockers lack of day-in-day out overtly physical play, which is par for the course in the Big Ten, should put Penn State firmly in the Elite Eight. Washington is the odds on favorite in the bottom of the bracket, but it could be a bumpy road with plenty of teams seeking to prove they belong dotting the way. A second round matchup with a feisty Illinois team or a potential Sweet 16 match with a red-hot Missouri State squad or even possibly a Michigan State squad that faded a bit down the stretch, could be pitfalls, en route to the anticipated No. 1 vs. No. 8 matchup.
Should Penn State survive the tests of the University Park region, a Final Four matchup with Nebraska could be on the horizon, although be sure that Russ Rose will have his squad focused on one match at a time after premature exits in the Sweet 16 the past two years.
Nebraska's biggest challenge could come in either BYU or Kentucky in the Elite Eight, but the draw of playing in front of a near home crowd in Kansas City, should help the Huskers power through. The all-Big Ten Final Four matchup would offer Penn State a chance to avenge its lone loss of the season against the co-Big Ten champs.
BRACKET BUSTERS: KANSAS, MICHIGAN STATE, MISSOURI STATE
Kansas faltered in its Big 12 finale and will be out for blood against former Big 12 foe Missouri in the opening round. The Jayhawks are also more than familiar with what has been happening down the road in Wichita and will be ready for the Shockers should the opportunity arise. Kansas came out of nowhere in 2015 with a Final Four run and despite some ups and downs, with the offensive firepower of senior right side Kelsie Payne and senior outside Madison Rigdon and guidance of senior setter Ainise Havili, the Jayhawks could be a threat in this region.
Michigan State can't be overlooked in the lower half of the bracket. The Spartans have been looming in the Top 15 throughout the season and four of the team's eight losses came at the hands of Penn State and Nebraska. A couple of stumbles in the final stretch, a sweep at the hands of instate foe Michigan and a four-set loss to Purdue in Week 14, should have the Spartans sufficiently fired up for the tournament, especially with a roster including seven seniors looking to go out with a bang. A balanced offense and strong service game could keep MSU in the regional race.
If Missouri State has its way, the Spartans will be out in the first round in one of just four opening round matches featuring two teams either ranked or receiving votes in the VolleyMob Top 25. The Missouri Valley Conference did not offer many tests and the team lost all five of its matches against ranked teams in non-conference play. It is hard to look past the Bears' 21 match win streak, however, and star player Lily Johnson, who was the Missouri Valley Player of the Year and a two-time VolleyMob Player of the Week honoree. Johnson is among the steadiest players nationally with 4.59 kills and 3.96 digs per set to go with 40 aces and a .259 hitting percentage.
TOUGHEST FIRST/SECOND ROUND POD: OMAHA (D.J. Sokol Arena)
In addition to the opening round barnburner between Missouri Valley champs Missouri State and Michigan State, host Creighton will face off with Sun Belt champs Coastal Carolina, which enters the NCAAs on a 14-match win streak. Granted, the Chanticleers were 74th in RPI, but there is something to be said for momentum.
TOP FIRST ROUND MATCHES:
Michigan State vs. Missouri State
VCU vs. Pittsburgh
Kansas vs. Missouri
Illinois vs. Hawaii
Creighton vs. Coastal Carolina