VOLLEYBALL AT THE 2018 ASIAN GAMES – WOMEN'S INDOOR TOURNAMENT
August 20th, 2018 – September 1st, 2018
Bulungan Sport Hall & Gelora Bung Karno Sports Complex, Jakarta, Indonesia
Thailand, even after the the loss of their top scorer Chatchu-On Moksri in the quarterfinals, made history on Friday by advancing to their first-ever Asian Games final in indoor volleyball. Building upon their bronze medal performance in 2014, Vietnam is now guaranteed of at least silver. They'll battle the defending Olympic Champions China in the gold medal match, after China made quick work of Japan 3-0.
Championship Bracket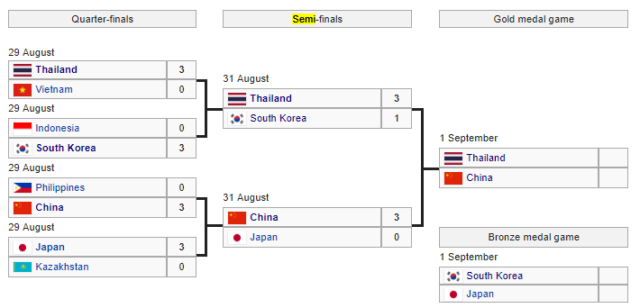 Semi-Finals
Thailand def. South Korea 3-1 (25-15, 25-20, 20-25, 25-22)
Thailand, playing without their leading scorer Chatchu-On Moksri, who went down in the quarterfinals with an ankle injury, still knocked off the defending Asian Games champions South Korea 3-1 on Friday.
As she went down, the team got its first appearance of the tournament from Ajcharaporn Kongyot, who had 5 kills and 2 b locks for Thailand. Kongyot had been dealing with a knee injury, but returned to training with the team earlier this week and made her tournament debut in the semi-final win.
Kongyot and Onuma Sittirak divided the opportunities that usually go to Moksri, and combined for 16 kills on 46 swings, so neither hit particularly well Pleumjit Thinkaow helped pick up some of the slack in efficiency with 12 kills on 22 swings, though the team hit just 58/160 (36.25%) in the match.
South Korea didn't do any better in that category, though. They hit 52/160 (23.50%). Kim Yeon-koung had 16 kills in the match, but it took her 50 swings to get there: both highs for any player on either team. When her teammates had opportunities, they weren't able to capitalize either: Park Joengah had 8 kills on 28 swings, for example. Kang Sohwi (10 kills, 20 swings) and Hyojin Yang (9 kills, 19 swings) were btter in the efficiency arena, but not enough to atone for their teammates.
South Korea out-blocked Thailand 11-1, but Thailand out-served Korea 9 aces to 1 – an area where coaches said the team needed to focus after the loss of Moksri.
China def. Japan 3-0 (25-22, 25-10, 25-22)
China were the favorites coming into the tournament, and they remain that way after another sweep. All 7 matches that China has played in at the Asian Games have ended the same way: 3-0.
Japan can take solace in the fact that they were the only team who has cracked 20 against China in two sets in Jakarta, though those two sets were separated by a 10-point clunker in the middle.
China was led in scoring by their two stars: veteran and Olympic MVP Zhu Ting, who had 14 kills and 4 blocks; and another all-around game from Li Yingying, who had 8 kills, 3 blocks, and 2 aces.
Japans Yuki Ishii got her usual load of kills, recording 14 to match Zhu, but there was one area that China absolutely dominated Japan: blocks. The Chinese had 11 (Zhu 4, Li 3, middle blocker Yuan Xinyue 4, Gong Xiangyu 2, Yan Ni 1).
China also had 8 aces to just 4 for Japan, though Japan overall was better in service reception in the match.
Medal Match Schedule:
The medal matches will take place on Sunday, September 1st at the GBK Indoor Tennis Center in Jakarta.
All times below are based on a 24-hour clock
| | | | | | | |
| --- | --- | --- | --- | --- | --- | --- |
| | | Local Time (UTC +7) | South Korea Time | Japan Time | Thailand Time | US Eastern Time |
| Bronze medal match | South Korea vs. Japan | 10:00 | 12:00 | 12:00 | 11:00 | 23:00 PM (Day Before) |
| Gold medal match | Thailand vs. China | 16:30 | 18:30 | 18:30 | 17:30 | 5:30 |
Consolation Bracket
The 9th, 10th, and 11th positions in the tournament (Chinese Taipei, India, Hong Kong, respectively) have all been sealed. Vietnam will play Kazakhstan for 5th, while Indonesia and the Philippines will play for 7th. The Vietnamese women placed 7th in their only other Asian Games appearance, in 2006, so win-or-lose, this will  be their highest-ever finish.