According to a post on pro beach volleyball player Ryan Doherty's facebook page, his partnership with John Hyden is over.  The duo, which won the 2017 AVP Gold Series title in Chicago, Sept. 3, joined forces in 2017 after Hyden's partner Tri Bourne announced he would miss the season due to a freak illness.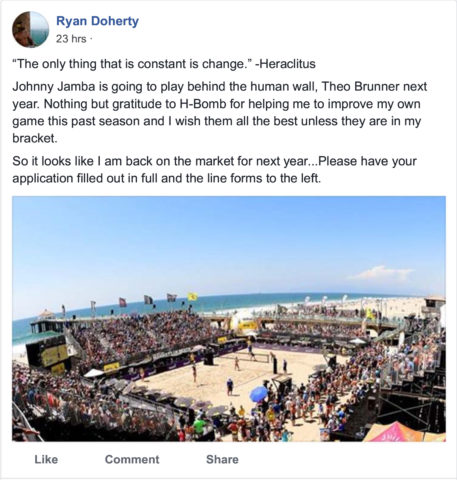 Doherty, a former pro baseball player who made his AVP debut in 2012. previously teamed up with Casey Patterson, Todd Rogers, Nick Lucena and John Mayer.
The first place finish at the AVP Chicago Championship was the lone tour victory of Doherty's career. He previously finished second at the AVP Huntington Beach Open (May 7, 2017), the FIVB Olsztyn Open (July 23, 2017) and in the Cayman Islands on a continental tour back on March 25, 2013.
With the pair's AVP title win in Chicago, Hyden became the oldest man to win an AVP championship, at age 45. Hyden made his FIVB debut in 2002 with Christian McCaw. He competed beiefly with Sean Scott (2011) and Nick Lucena (2013), before teaming up with Bourne in October 2013. Hyden/Bourne won the Berlin FIVB Grand Slam event in June 2014, finished second at the Xiamen Open in 2016 and took bronze at the FIVB World Tour Finals in September 2016.
Brunner, whom Hyden is pairing up with according to Doherty, previously partnered with Casey Patterson. The duo managed two third place finishes on the AVP Tour – in Huntington Beach and Manhattan, and finished fourth at the FIVB Rio Four Star.
VolleyMob will report any updates to possible pairings for Doherty and Patterson as they become available.