QINZHOU THREE STAR
Oct. 11-15, 2017
Qinzhou, China
Second seeded American duo Summer Ross and Brooke Sweat and fourth-seeded Lauren Fendrick and Nicole Branagh and are on to the quarterfinals of the Qinzhou Three Star after posting straight set wins in Friday's Round of 16.
Emily Day and Brittany Hochevar, battled in a three-set affair, but eventually fell to Germany's Kim Behrens and Sandra Ittlinger 21-14, 17-21, 15-12.
Top seeded Fan Wang and Xinyi Xia of China moved on to the next round with a straight set win.
Poland's No. 30 seed Kinga Kolosinska and Katarzyna Kociolek, who knocked out American April Ross and Kelly Claes in the Round of 32,  won the second three-setter of the day, topping Austria's Lena Plesiutchning and Katharina Schutzenhofer after dropping the opening set: 16-21, 21-19, 15-6.
"Today it was quite different because it was quite windy, it's a different game from yesterday," Kociolek said. "In the first set, we were a little bit lost in this wind, and then we knew how to play in it, and I think that's why we won the second and third set."
Czech pair Martina Bonnerova and Sarka Nakladalova played their second three-setter in as many days, but could not pull out another win, falling to Ukrainians Valentyna Davidova and Ievgeniia Shchypkova 23-25, 21-14, 15-9.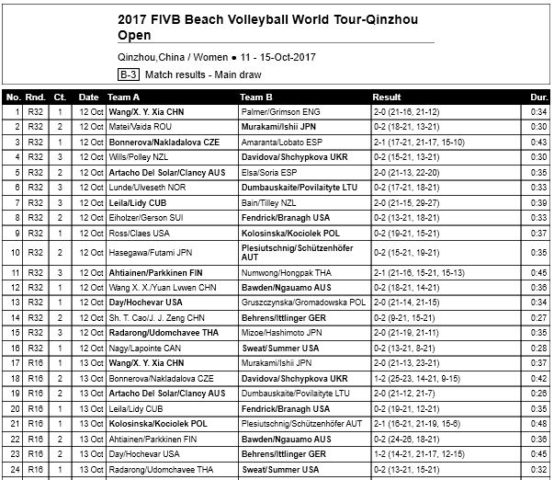 Top seeded Dries Koekelkoren and Tom van Walle are still in the running for their first FIVB World Tour title after edging out Australia's Cole Durant and Zachery Schubert 24-22, 20-22, 15-9.
"We kept fighting the whole game," Koekelkoren said. "The wind was very hard today, and that's the most important thing to handle. If you can play good with the wind, then you can win games. But it's hard, because you have to work really hard to play compact. Actually, the team that made less mistakes won the game. In the second set, we made too many mistakes, then we just tried to avoid the mistakes, and we won the tiebreaker."
No. 3 Nadir Diaz Gomez and Bayard Sergio Reynaldo of Cuba also advanced via a three-set win, although the duo had to bounce back after dropping the opening set to Aliaksandr Dziadkou and Aliaksandr Kavalenka of the Belarus (15-21, 21-16, 15-11). No. 4 seed Juan Virgen and Lombardo Ontiveros of Mexico had the easiest road with a straight-set win over Estonia's Kusti Nolvak and Mart Tiisaar.
No. 2 seed Jefferson Santos Pereira  and Cherif Younousse of Qatar are out, falling to Russia's Maxim Sivolap and Igor Velichko in straight sets (21-18, 21-12).
Still alive in the action are Dutch side Dirk Boehle and Steven Van de Velde, who earned their spot in the competition through Wednesday's qualifying round. The duo downed eighth seeded Li Zhouxin and Zhou Chaowei of China to earn its quarterfinal spot.
"We went all the way from the qualification to the quarterfinals, it feels great," Boehle said.
Countrymen and fellow qualifiers Tom van Steenis and Ruben Penninga, fell 21-12, 21-17 to Germany's Nils Ehlers and Lorenz Schumann to end their run.