P1440 San Jose Invitational
Avaya Stadium; San Jose, California
Sept. 28-30, 2018
Results/Live Streaming available on the P1440 app and on p1440.com
The final six teams per gender were added to the p1440 San Jose Invitational main draw on Thursday.
On the men's side, the qualifiers included 16-year old UCLA commit Miles Partain, who is competing with Paul Lotman. This is not the first professional venture for Partain, who last made an appearance at the 2017 AVP Hermosa Beach with his brother Marcus.
Due to NCAA regulations, Partain cannot accept any prize money, but can take expenses for the trip.
"It's really cool, just a great feeling to know I can play more volleyball the next day," Partain told p1440. "I'd be stoked to play against one of the top teams. I watch them on YouTube all the time so it'd be pretty cool to play against them. It's nice to have a mix of both."
Other qualifiers are:
Huber competed for his home country of Austria at the 2016 Olympics in Rio de Janiero with Robin Seidl. The pair went 1-2 in pool play, topping Americans Jake Gibb/Casey Patterson and falling to Spain's Adrian Gavira/Pablo Herrera and Qatar's Cherif Younousse/Jefferson Pereira. The duo then advanced to the next round through the Lucky Losers' bracket. Once in the knockout stage, the Austrians fell to Americans Phil Dalhausser/Nick Lucena.
Huber is competing at p1440 with Leo Wiliams (South Africa). Williams has played on the FIVB World Tour since 2012 and made 11 appearances in 2018, including at the Vienna Major and the Warsaw, Ostrava and Hague Four Star events. He finished 41st at each event, playing with Alistair Glossop in Vienna, Dominic Goliath in Warsaw and Ostrava and Grant Goldschmidt in the Hague. His best finish of the year was ninth at the Montpellier One Star on Sept. 1 alongside Jamaine Naidoo.
Friend is playing defense in this tournament with Bobby Jacobs after spending 2017 and 2018 as a blocker with Myles Muagututia on the AVP Tour.  The pair finished as high as ninth at the New York stop in June 2018 and in Hermosa Beach in July 2017.
"It's nice to have a big blocker up there, and this was our first tournament together playing, just figuring out each other, how to push him and how he can push me," Friend said. "It's fun for me playing defense. It's a whole new beast. I'm learning. I'm learning a ton. This was super fun, I'm excited to see this event and see how it all plays out, just to experience all of this."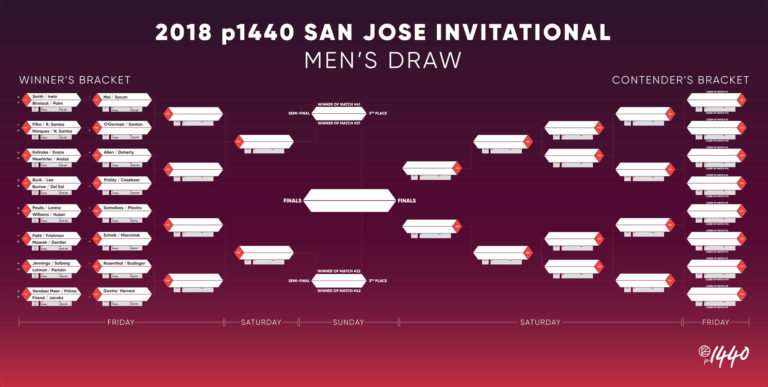 Joining the main draw on the women's side were:
Kathryn Hogan/Milena Matic (Serbia)
Heidi Hausheer/Lauren DeTurk
Jade Hayes/Cecilia Agraz
Alicia Zamparelli-Flavia/Tina Toghiyani
Elise Zappia/Tory Paranagua
Traci Weamer/Avery Bush
Zappia/Paranagua played together at the AVP Hermosa Beach Open in July, finishing 25th.
Hausheer/DeTurk and Hayes/Agraz both played at the AVP Manhattan Beach Open in August, finishing 33rd.
Zamparelli-Flavia is 43 years old and has been playing in the BVA, AVP and VNL since 2000. She participated in Manhattan Beach with Aurora Paaluhi, but failed to make it out of the qualifying bracket. She is paired up with Toghiyani, who played at five AVP stops in 2018, finishing as high as 29th in New York and San Francisco.
Bush paired with Camie Manwill for three of the six AVP stops in 2018, finishing as high as 25th in Hermosa Beach and Chicago. She also teamed up with Christina Matthews for the FIVB Huntington Beach event in May. Bush is joining forces with the 31-year old Weamer, who last competed on the AVP tour in 2016.