VOLLEYBALL AT THE 2018 ASIAN GAMES – WOMEN'S INDOOR TOURNAMENT
August 20th, 2018 – September 1st, 2018
Bulungan Sport Hall & Gelora Bung Karno Sports Complex, Jakarta, Indonesia
As compared to Asian men's volleyball, which has plenty of parity, Asian women's volleyball is very top-heavy. That was apparent on Wednesday in the women's quarterfinals, where all four matches ended in 3-0 sweeps, with only 4 of those 12 sets seeing the losing team push even into the 20s before defeat.
The results set up two intriguing semi-finals. In one half of the bracket, Thailand and South Korea will play in a matchup between a team with some depth at hitter (Thailand) against a team carried by a superstar Kim Yeon-koung. On the other side of the bracket is hard-hitting China against the stellar back-row defense of Japan.
Championship Bracket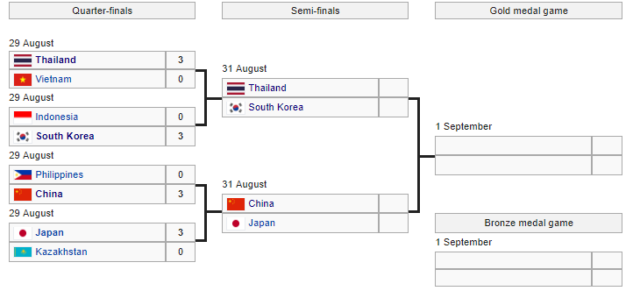 Thailand def. Vietnam 3-0 (25-23, 25-16, 25-20)
Thailand, led by 12 kills each from Chatchu Moksri and Pimpichaya Kokram, knocked off regional rivals Vietnam in a 3-0 sweep. Thailand continued to struggle hitting wise, landing just 39% of their shots in the match, but they held Vietnam to 33% to maintain an easy win. Thatdao Nuekjang had 3 aces for Thailand, a category that they led 5-3 overall. For Vietnam, Thi Nga Bui had 13 kills on 26 swings (26% hitting), and just 1 error. The rest of her team, however, had 17 hitting errors combined, as compared to just 13 for Thailand.
South Korea def. Indonesia 3-0 (25-22, 25-13, 25-18)
South Korea played spoiler for the home crowd and knocked hosts Indonesia out of the tournament in a sweep on Tuesday. South Korea was led by Kim Yeon-koung, who had 15 kills, 2 blocks, and an ace in the match. With only 19 swings, she landed 79% of her shots.
Indonesia's top scorer was Aprilia Santini Manganang, who had 16 kills on 49 swings.
South Korea led Indonesia 8 blocks to 5, and 7 aces to 2. The serve-and-receipt game has been the biggest indicator of success over the last week in Jakarta; besides the aces, Korea had a 59.57% excellent reception rate, as compared to just 37.31% for Indonesia.
Japan def. Kazakhstan 3-0 (25-16, 25-18, 25-21)
Japan had 16 kills from Yuki Ishii and 18 from Ai Kurogo to dominate Kazakhstan in 3 sets. Those two accounted for 34 of the team's 50 kills (68%). Both sides put up huge digs numbers, making it look more like a game of pepper than a full-speed match. Japan had 4 players that recorded at least 11 digs, while Kazakhstan's Tatyna Fendrikova had 20. Kristina Karapetan also had 4 blocks for Kazakhstan. Only 1 Kazakh player, Sana Anarkulova, had more than 4 kills, and she had 17.
China def. Philippines 3-0 (25-15, 25-9, 25-7)
China continued to thump their opponents in this tournament, using 9 players to beat the Phillipines 3-0. China hit 38/68 (56%) as a team, in spite of limiting their star Zhu Ting to just 8 swings in the match (she went 5-for-8). Liu Xiaotong and Gong Xiangyu received most of the action for China, with the former having 8 kills on 20 swings, and the latter 11 kills on 17 swings. China still had some weaknesses in the back row like they did on Monday – Zhu had 4 digs and 5 dig errors, and the team's 63.33% service reception rate was very good, but not on par with their dominance elsewhere in the match.